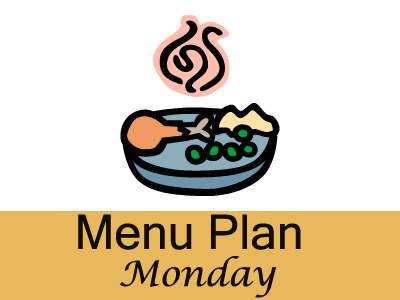 This week I am taking advantage of cooking once and eating twice again. This week I will be cooking a roast and then the second day making beef egg noodles. Those egg noodles are such a comfort food for me. My great grandma used to make them for me. Just thinking about them brings back such good memories.
I will also be making some chicken meals and one of my family's favorites Cheeseburger rolls. Most of the meal this week will be quick and easy to make. I am hoping to get some baking in this week too but I will have to see how the week goes.
Our menu plan, 
Dinners
Roast Beef, Mashed Potatoes, Carrots and Green Beans
Beef Egg Noodles, Salad, and Fruit
Curry Chicken, Rice and  Broccoli
Grandma's Pork Chops, Roasted Potatoes and Veggies and Fruit
Chicken Fajitas, Refried Beans, Chips and Salas
Cheeseburger Rolls, Salad and Fruit
Chicken Marsala over Egg Noodles, Salad and Fruit
Lunches
Tuna Sandwiches, chips and fruit
Leftovers
Sandwiches and soup
Breakfast
Oatmeal, Toast and Eggs
Pancakes, Eggs and Bacon
Mini Apple Nut Crumble Muffins, Eggs and Sausage
What will you be cooking this week?
[signoff]