If you have rhubarb from your garden or the store and want to make something delicious with it. This rhubarb bread recipe is quick, easy, and quite possibly the best rhubarb bread recipe too.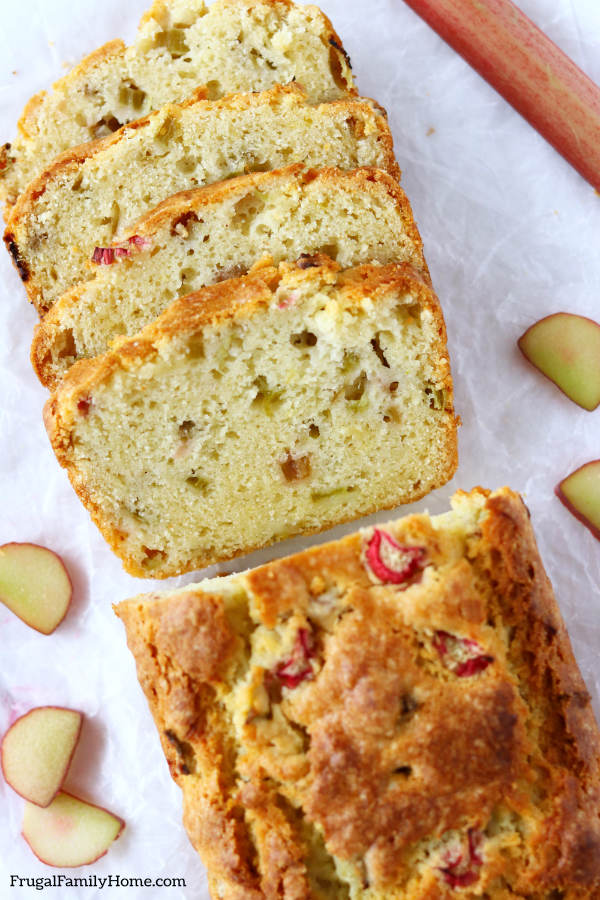 We grow rhubarb every year. We have two plants and this year they were producing like crazy. So I knew I had to come up with a new recipe to use it in.
And this recipe for rhubarb bread was voted by my family to be the best. They might be a little biased though.
I adapted my great grandma's banana bread recipe to make this yummy quick bread recipe and it's delicious.
Now if you've never eaten rhubarb, you might have been curious about this recipe. And it's the perfect recipe to use to introduce yourself to rhubarb.
But you might have a few questions first…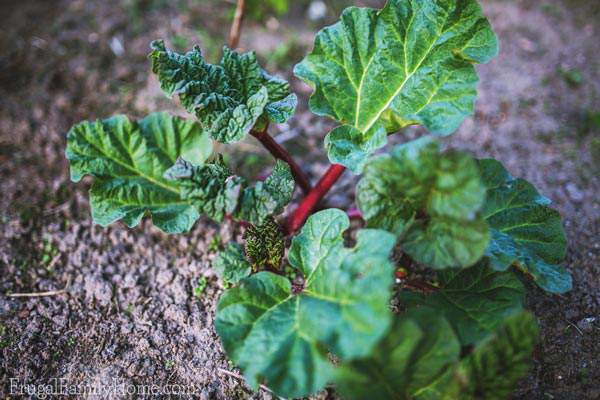 Can Rhubarb Make You Sick?
You might have heard that rhubarb can make you sick. The stalks are safe to eat but you don't eat the leaves, you want to remove them and get rid of them. Eating them can or will make you sick.
The red or green and red stalks, that is what you use.
It's kinda like a huge celery stalk. It's stringy and tart. But use it in ice cream, in rhubarb custard crisp, in a jam or in this recipe and it's delightful.
Is Rhubarb a Fruit or Vegetable?
Rhubarb is technically a vegetable. But it is used as a fruit in quick bread and desserts. Alone it is quite tart, but roasting it mellows the tartness of it a bit.
And now you know a little more about rhubarb, let's see how to make the best rhubarb bread.
More Rhubarb Recipes You Have to Try: Rhubarb Custard Crisp | Rhubarb Ice Cream | Roasted Rhubarb Jam
Rhubarb Bread Ingredients
These are the ingredients you'll need to make your own homemade rhubarb bread. You can get the full printable recipe below.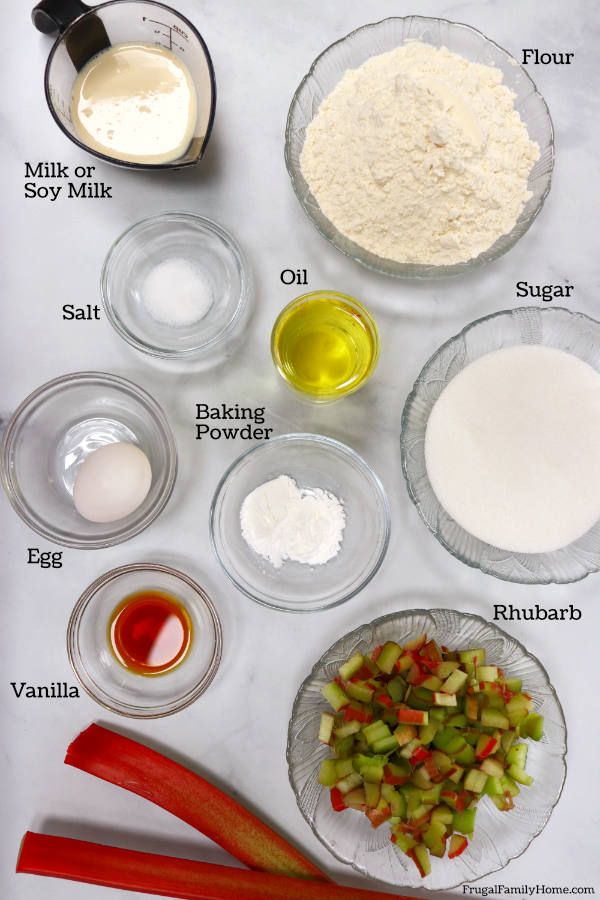 Flour, we use unbleached all purpose flour
Baking Powder, we like the aluminum free type
Salt
Sugar
Oil, Canola, Olive Oil use whatever oil you prefer
Egg or a tablespoon of soy flour with a tablespoon of water
Milk, or you can use soy milk or almond milk if you need to eat dairy free
Vanilla
Rhubarb, you can use fresh rhubarb or thawed and drained frozen rhubarb
How to Make Rhubarb Bread
I made a quick recipe video to show you how to make your own loaf of rhubarb bread. But you can also scroll down to see the recipe steps in photos and get more recipe tips too. Just in case watching a video isn't for you. Hey, I get it, videos aren't for everyone.
Homemade Rhubarb Bread, Step By Step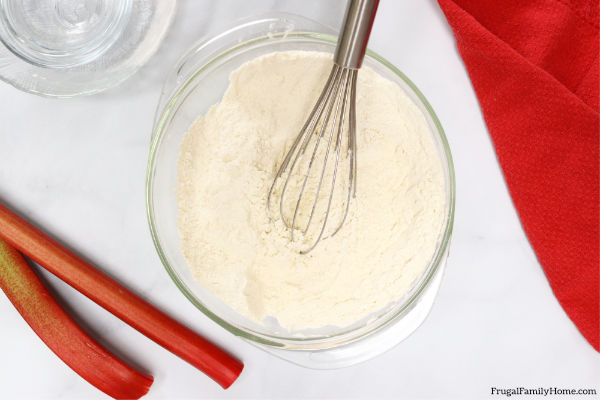 Step 1 The Dry Ingredients
Gather your dry ingredients (not the sugar) and measure them into a bowl. Then mix with a whisk. Set aside.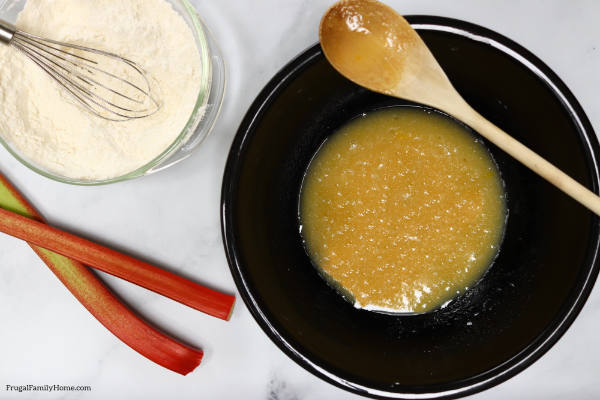 Step 2 The Wet Ingredients
To a large bowl, you'll want to add the sugar with the wet ingredients and mix well.
Step 3 Combined the Dry and Wet Ingredients
Next, you'll want to add your dry ingredients to the wet. Then mix, but don't over mix. Just mix until almost all the flour is mixed in.
Recipe Tip: Just mix until the dry ingredients are moistened. Over mixing the batter will cause tough bread. You don't want that.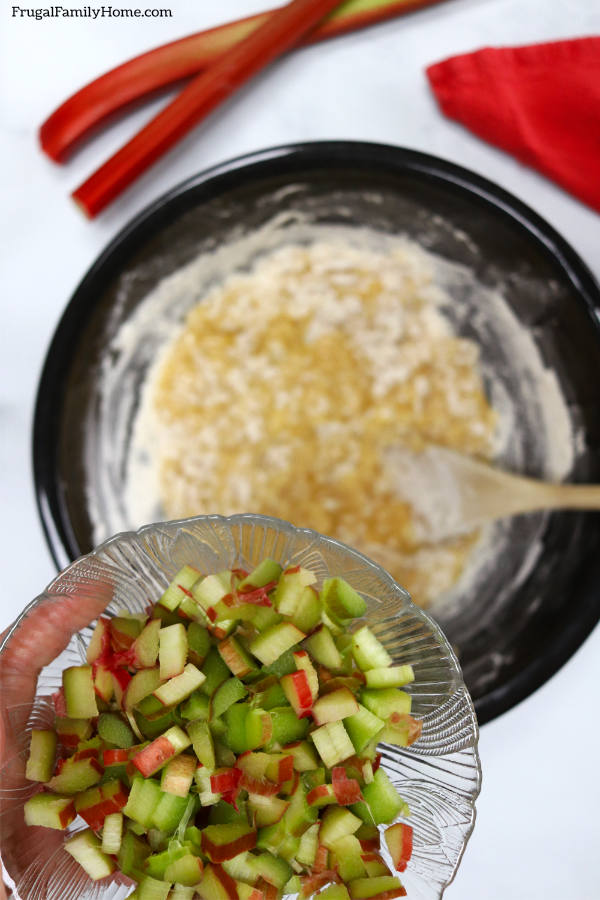 Step 4 Fold in the Rhubarb
Take the rhubarb you diced and fold it into the batter. And finishing moistening the dry ingredients too.
Recipe Tip: If you like big pieces of rhubarb in your bread, dice the rhubarb into bigger pieces. If you like little bits of rhubarb throughout the bread, dice it smaller.
Step 5 Get Ready to Bake
Scoop the batter into a greased loaf pan and bake until golden and a toothpick comes out clean when stuck in the middle. It will take about an hour to bake.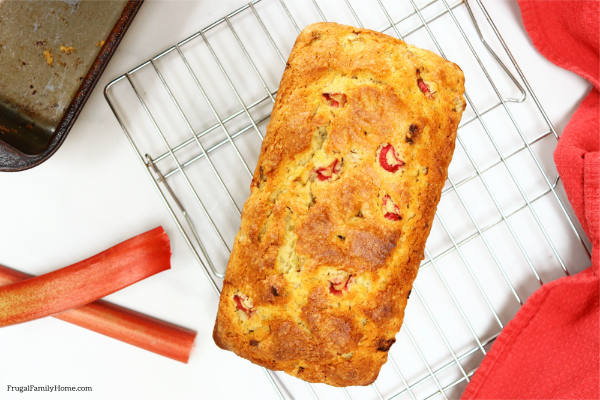 Step 6 Cool the Bread
Once your loaf of rhubarb bread is done. Let it cool in the pan on a wire rack for 5 minutes. This will make it easier to remove from the pan.
After 5 minutes remove from the pan, then let cool completely on a wire rack.
Now onto a few rhubarb bread tips…
How to Serve Rhubarb Bread
We like to serve our rhubarb bread warm with a little butter on it. Or just warm is good too. It really needs nothing else.
How to Store Your Rhubarb Bread
It's best to store your rhubarb bread wrapped in plastic or foil. I prefer foil. You can store it at room temperature for 2-3 days. It will keep 3-4 days in the refrigerator.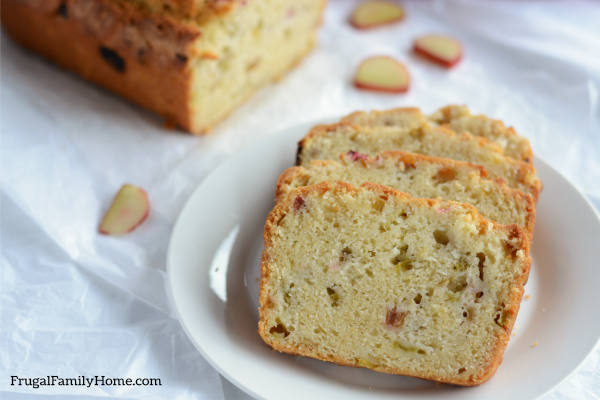 Can you Freeze Rhubarb Bread?
If you need or want to store your bread longer. Wrap it tightly and freeze. When ready to eat it, thaw and then serve.
What if I only have frozen rhubarb, can I use frozen rhubarb in this recipe?
Yes, you can. Be sure to thaw it first and remove any excess moisture from the rhubarb.
I freeze part of my rhubarb harvest each year. I dice the rhubarb and then freeze it in 2 cup portions.
Frozen rhubarb works great in this recipe and in my grandma's rhubarb custard crisp or this rhubarb crumble coffee cake or caramel rhubarb upside down cake.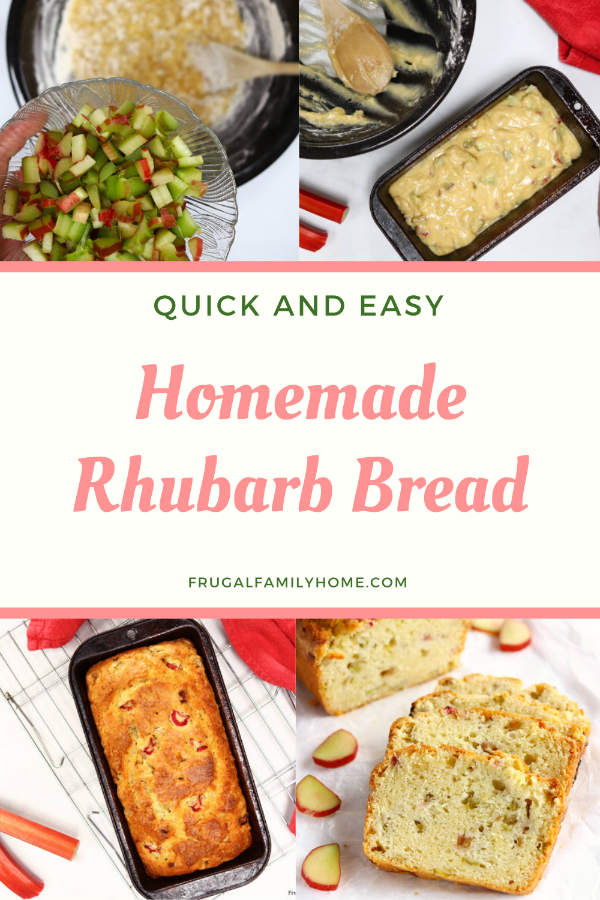 If you like this recipe be sure to sign up to get recipes delivered straight to your inbox. Sign up below.
You can grab the printable recipe before you go to make your own loaf of rhubarb bread…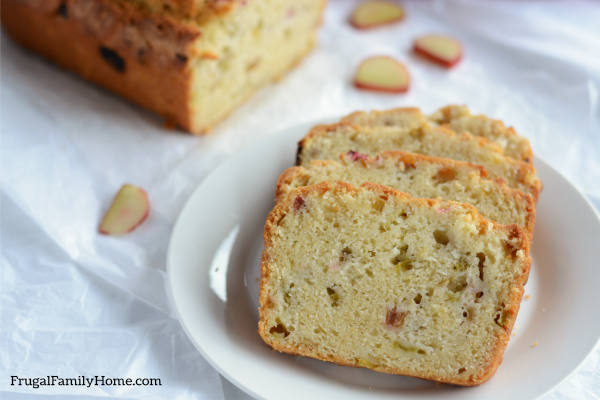 Quick and Easy Rhubarb Bread
This quick bread is a perfect balance of sweet tender bread with a little tartness from the rhubarb. And it's so easy to make too.
Ingredients
2

cups

Flour

2

teaspoons

of Baking Powder

1/2

teaspoon

Salt

1

cup

Sugar

1/2

cup

Oil

Canola, Olive Oil

1

Egg

1/2

cup

Milk

2

tablespoons

Vanilla

2

cups

Rhubarb

diced
Instructions
In a medium bowl, combine the flour, baking powder, and salt. Whisk to mix and set aside.

In a large bowl, combine the sugar, oil, egg, milk, and vanilla. Stir to mix well.

Add the dry ingredients to the wet. Stir to just combine, don't over mix, it will cause tough bread.

Fold in the diced rhubarb.

Spoon into a greased loaf pan.

Bake 350 degrees for about 60 minutes or until a toothpick comes out clean when inserted in the center.

Cool in the pan for 5 minutes and then remove from pan and cool completely on a wire rack.
Video
Notes
If you need to eat dairy free, you can use soy milk or almond milk in this recipe instead of regular milk.
If you need to avoid eggs, you can use 1 tablespoon of soy flour with 1 tablespoon of water instead of an egg. 
Nutrition
Serving:
1
slice
Calories:
180
kcal
Carbohydrates:
26
g
Protein:
2
g
Fat:
7
g
Subscribe and you'll get Recipes
sent right to your inbox!
Click the button below and fill out the form.