Do you love soft breadsticks, those like you find at Olive Garden? This homemade soft breadstick recipe tastes just like the Olive Garden breadsticks, but you can enjoy them at home anytime.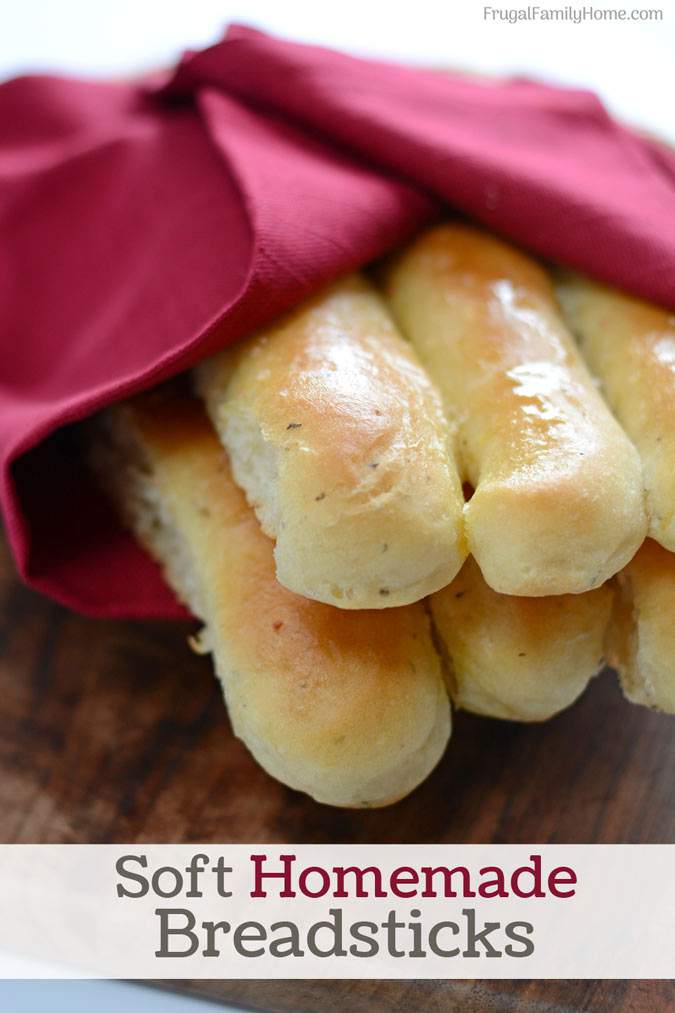 We love to have breadsticks with soups and salads. We also love the breadsticks from Olive Garden but we don't eat there that often. When you have a craving for those yummy soft garlic breadsticks, like the ones at Olive Garden you can make them at home with this recipe.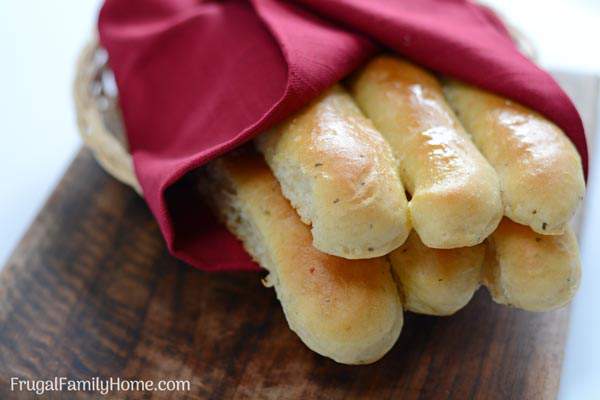 If you haven't ever made bread dough from scratch this recipe might at first seem difficult. But each of the steps is really quite easy to do.
If you follow the step by step video and the tips below, you'll end up with wonderful garlic breadsticks. The printable recipe is below too.
If your family loves breadsticks, you might consider making a double batch. If you have extras they will freeze very well. It's better to have too many than not enough.
Tips for Making Soft Breadsticks from Scratch
✳︎ Warm your water but don't get it too hot. You want the water to be about 100-120 degrees. Just a little above body temperature. If it's too hot it will kill the yeast and your breadstick won't rise.
✳︎ To flavor, the dough uses Italian seasoning or this recipe for pizza seasoning works well too.
✳︎ Humidity or lack of humidity can affect how much flour you need to add to the dough. If it's a rainy day you may need more flour and if it's a dry day you may need less.
✳︎ Gauge how much flour you need by the feel of the dough if it's too sticky add a little more flour, but don't add too much so the dough becomes dry.
✳︎ Knead the dough until the dough is smooth and elastic. It should take about 10-15 minutes to get to the right texture. Be sure to add a sprinkle of flour now and then to keep the dough from sticking to surface you're kneading on.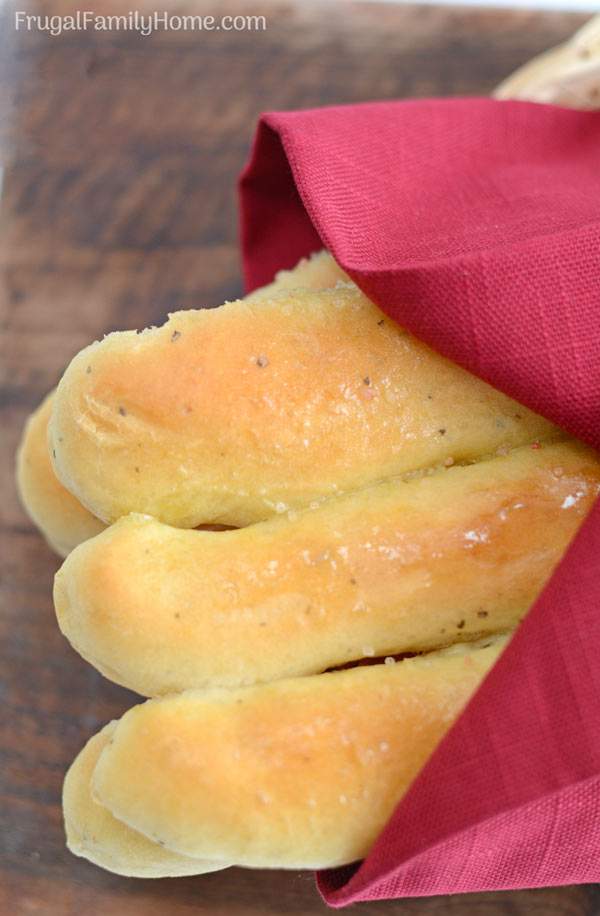 ✳︎ Let the dough rise in a warm place until double. I like to put my oven on warm and let it warm up while I'm kneading the dough. Then I turn off the oven so it doesn't get too warm and place the dough to rise in the warm oven.
✳︎ Shape the breadsticks fairly thin, they will double in size as they rise.
✳︎ After baking and while still hot, brush with melted butter and sprinkle with coarse salt.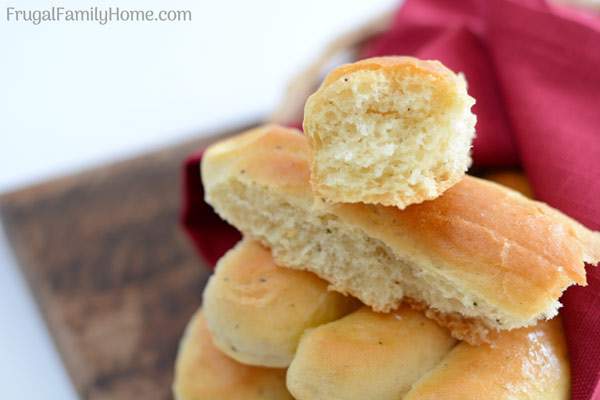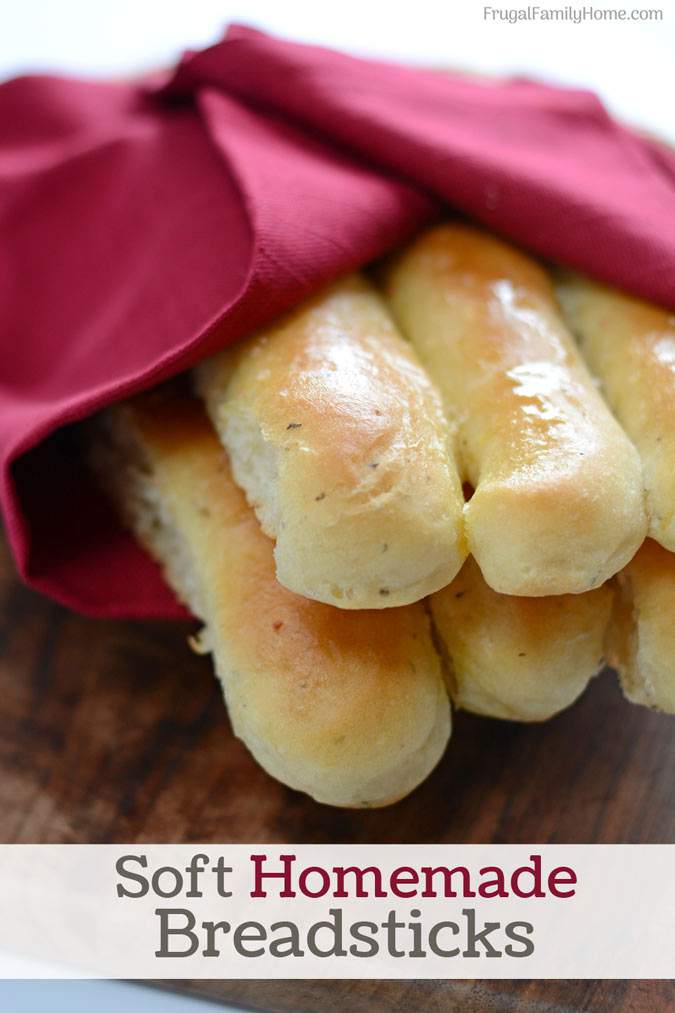 How to Make Homemade Soft Breadsticks with Video Tutorial
Ingredients
1

cup

Water

warm

3

tablespoons

Oil

1 1/2

teaspoons

Salt

2

tablespoons

Sugar

3

cups

Flour

1

teaspoon

Garlic

1

teaspoon

Italian Seasoning

1

tablespoon

Yeast

For Topping

2

tablespoons

Melted Butter to brush on top

Coarse Salt for Sprinkling.
Instructions
Mix the warm water with the yeast and a pinch of sugar. Set the yeast aside to proof about 10 minutes.

While the yeast is proofing, measure half the flour with the rest of the ingredients, except the oil, and mix in a large mixing bowl.

Add the proofed yeast and oil to the flour mixture. Stir until to combine and whip until the dough falls in sheets. This step can be done with a mixer or by hand.

Add more flour a half cup at a time and mix into the dough by hand until the dough isn't sticky.

Knead the dough for 10-15 minutes or until smooth.

Place the dough in a greased bowl and let it rise for an hour or until doubled in size.

Punch down the dough and divide into 16-18 pieces.

Roll the pieces of dough into thin sticks, and place on a greased or lined baking sheet.

Let rise in a warm place until doubled in size.

Preheat oven to 350 degrees and bake the breadsticks that have risen for 15 minutes or until golden brown.

Remove from oven and while still hot, brush the breadsticks with melted butter and sprinkle with coarse salt.
While making yeast bread dough does take quite a few steps, none of them are very hard or too time-consuming. Most of the time for this recipe is spent waiting for the dough to rise.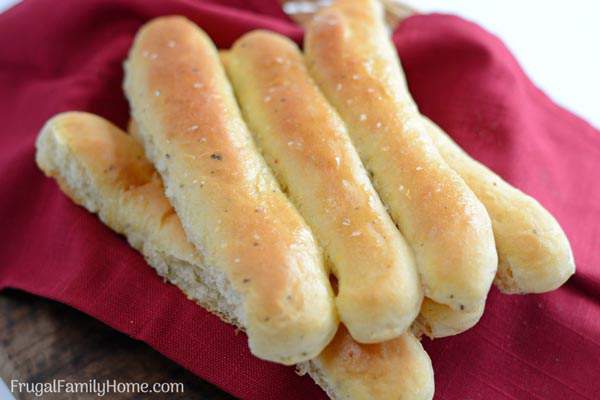 I hope you and your family enjoy this soft garlic breadstick recipe as much as our family does.
More Delicious Bread Recipes
No Yeast Butter Dips Breadsticks
Amazing Homemade French Bread
Dairy Free, Egg Free Bread
Subscribe and you'll get Recipes
sent right to your inbox!
Click the button below and fill out the form.