I realized the other day when I was on Pinterest, that I don't see many recipes for meatloaf. Maybe it's just who I follow but I haven't seen any meatloaf recipes for a while.
Which got me to thinking, I wonder how many families eat meatloaf? I know growing up, we have meatloaf often. My grandma used to make meatloaf on a regular basis too.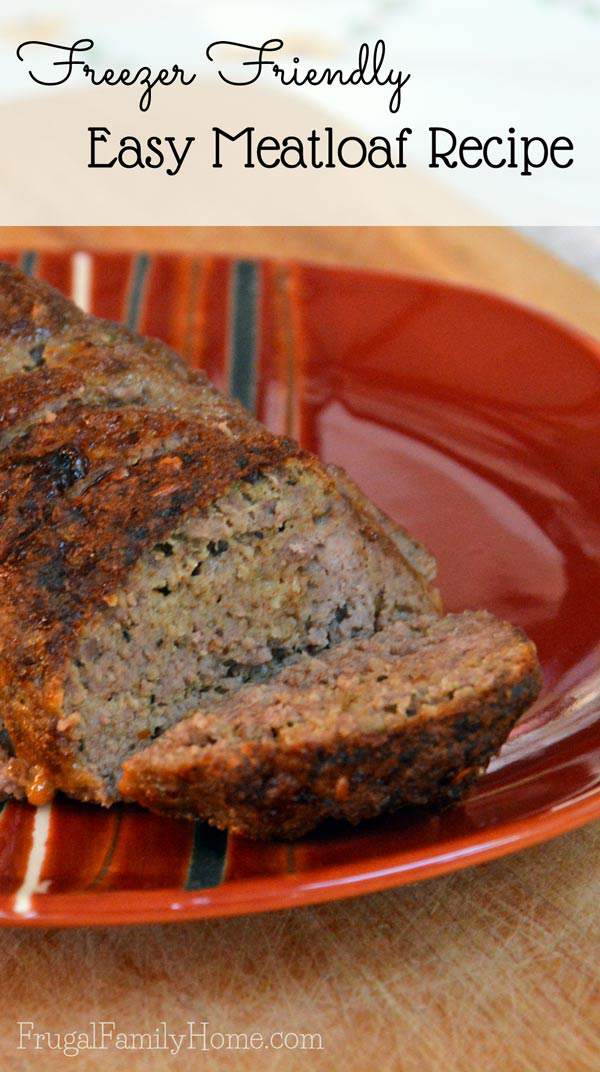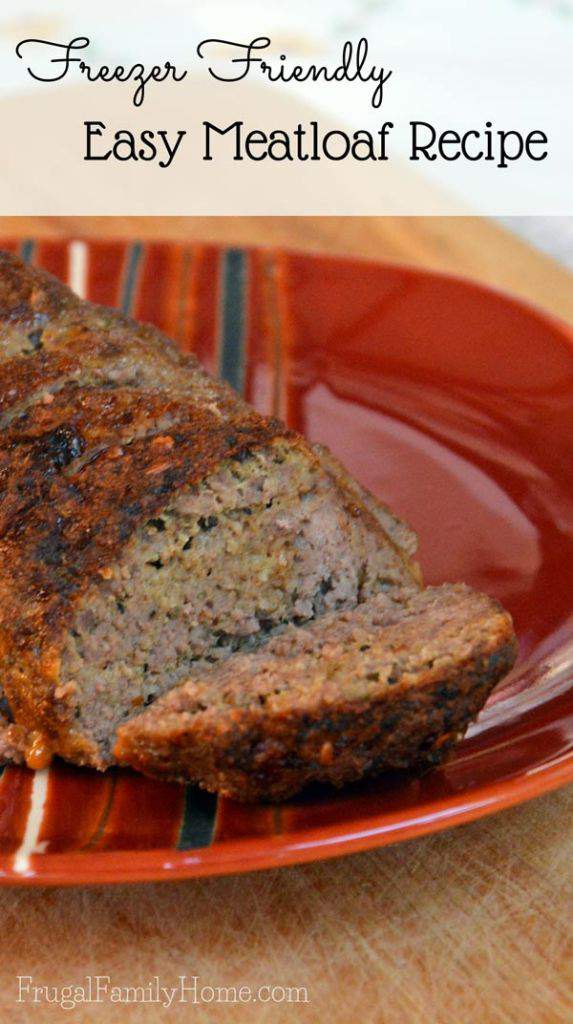 I loved coming into the kitchen and smelling the meatloaf cooking. We always had it with mashed potatoes and home canned green beans. I can almost taste it right now.
I have a mini meatloaves recipe on my blog, which is great to make, if you have kids. There is just something about small versions of food that makes the kids eat it up. But sometimes, I'm longing for the look and smell of my childhood. That's when I make my family's recipe for meatloaf.
In the recipe below if you have picky eaters who can spot a tiny piece of onion a mile away, you might opt for onion powder instead. Or process the onions, in the food processor, until they are almost liquid. That will stop the complaints from the kids about onions. 🙂
Freezer Friendly Meatloaf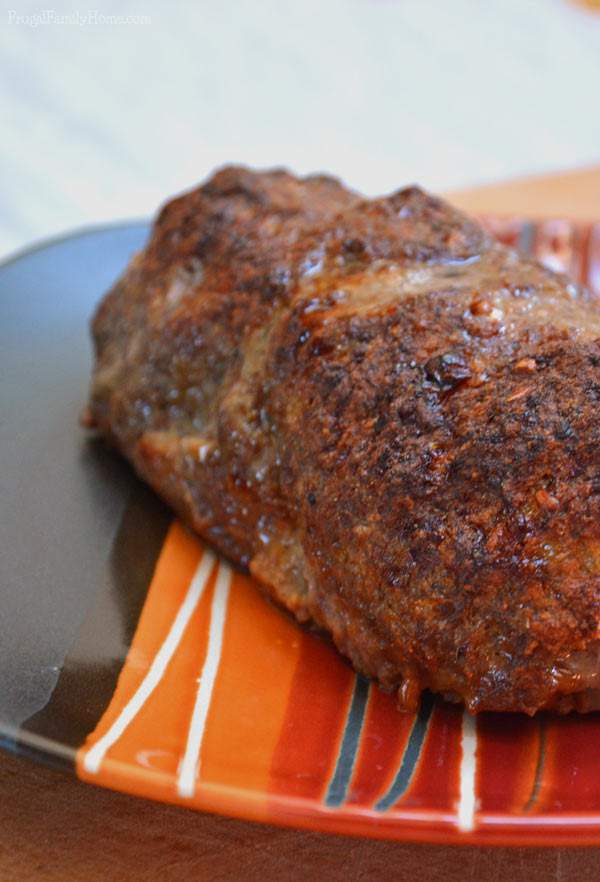 This recipe is also freezer friendly. You can make an extra meatloaf, bake it, cool it and then freeze it. Or you can freeze it before cooking in the pan and then package it for the freezer. I prefer to have the meatloaf precooked waiting for me in the freezer for a busy day.
My grandma and mom always drizzled ketchup or placed bacon on top of the meatloaf before baking. I don't usually use ketchup or bacon on mine, but it is an option if you prefer meatloaf with a topping. If you will be freezing the meatloaf after baking, it would be better to leave off the ketchup until you reheat it. Less mess that way.
Also as far as the breading in the recipe, use what you have on hand. I've used saltine crackers instead of bread crumbs in the past. Dry oatmeal also works good too. But I usually use bread crumbs now, because I make my own and always have them on hand to use.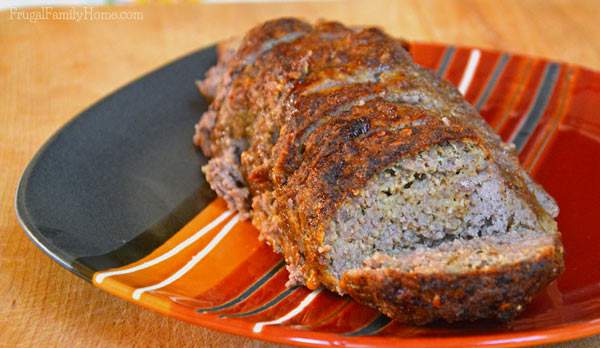 Meatloaf is a great recipe to sneak in extra vegetables like carrots, peppers, and celery. I usually will run them through the food processor to make sure they are super small in size, so I don't get any complaints. I didn't include the vegetable options in the recipe below but if you have some vegetables, you might try to sneak them in.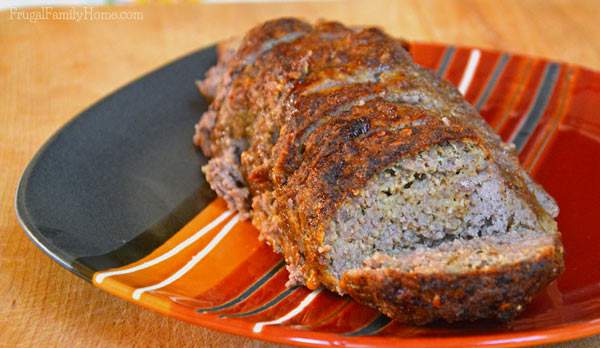 Freezer Friendly, Easy Meatloaf
A great meatloaf recipe that is perfect to serve on a weeknight. Make a double batch since this recipe is freezer friendly.
Ingredients
1

pound

Ground Beef

1/2

cup

Fine Bread Crumbs

1

Eggs

1/4

cup

Milk or Soy Milk

if you need to eat dairy free like us

1

Onion

finely chopped

1

teaspoon

Garlic Powder

1

teaspoon

Salt

1/4

teaspoon

Pepper

1

teaspoon

Dried Parsley

1/2

teaspoon

Dried Basil

Optional ketchup for top
Instructions
Mix all the ingredients in a large bowl except the ground beef.

Let the mixture sit a few minutes so the breadcrumbs absorb some of the liquid.

Add the ground beef to the breadcrumb mixture and mix well.

Form into a loaf and place in a loaf pan. Drizzle with ketchup if desired.

Bake at 375 degrees for 60 minutes. Or until cooked through.

Let stand about 5 minutes, remove from pan, slice and serve.
This is a really basic recipe for meatloaf. To change it up you could add chunks of cheese or even salsa to the meat mixture before baking. Change the seasons for a more spicy meatloaf, by adding in a little cayenne pepper or chili powder.
Don't forget if you have leftovers, it makes a great meatloaf sandwich too.
Does your family have any special ingredients they like in meatloaf?
Other Freezer Friendly Recipes You'll Love,
World's Best Chicken
Freezer Friendly Meatballs
Island Chicken
Herb and Spice Rubbed Chicken
Subscribe and you'll get Recipes
sent right to your inbox!
Click the button below and fill out the form.