Inside: A recipe for easy apple pie filling that you don't need to cook before freezing. It's super simple to make. Half your work is done for an apple pie when you have this easy apple pie filling waiting in the freezer.
Do you have plans to make apple pies for the holidays? Or does your family love pie but you hate the work that goes into making just one pie?
I know it's so much easier to pick up a pie at the store but the cost always makes me cringe. I mean $8 for an apple pie that can be made for so much less? No, thank you.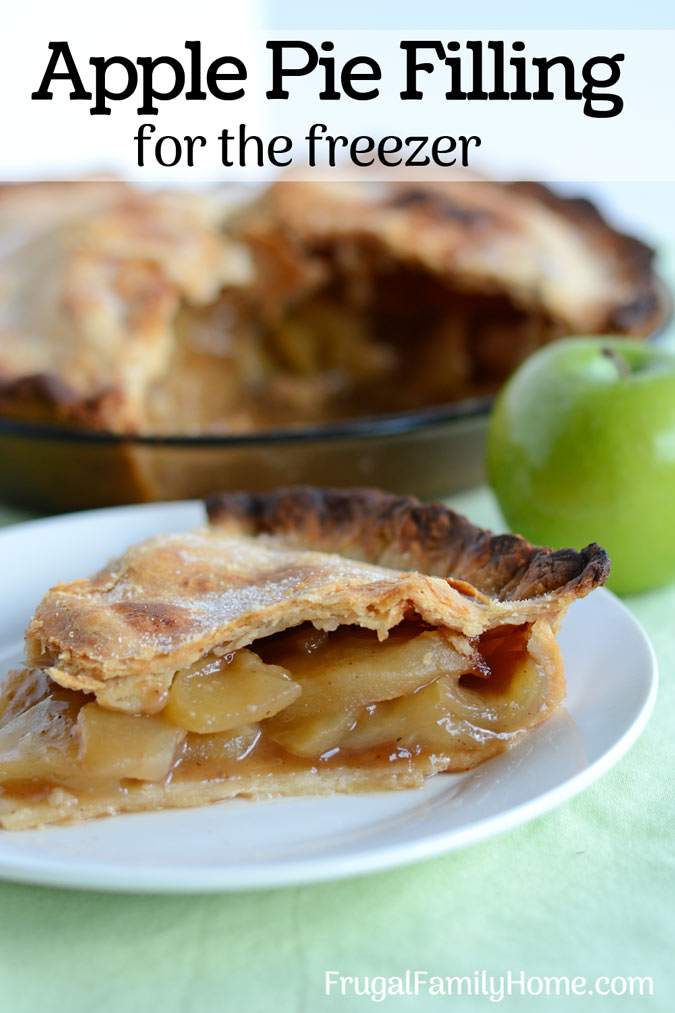 Some of the links in this posts are my affiliate links. When you purchase through them I might make a little money at no extra cost to you. Thanks! You can read more on my disclosure policy.
Make Your Own Easy Apple Pie Filling and Freeze It
Instead of succumbing to those high pie prices at the store, you can tuck away the apple pie filling in the freezer and have half the work done. You can also make your own pie crusts and freeze them too.
Or in a pinch pick up the pie crust in the refrigerator section of the grocery store. You only have to unroll them and place them in the pan. The price is pretty reasonable too.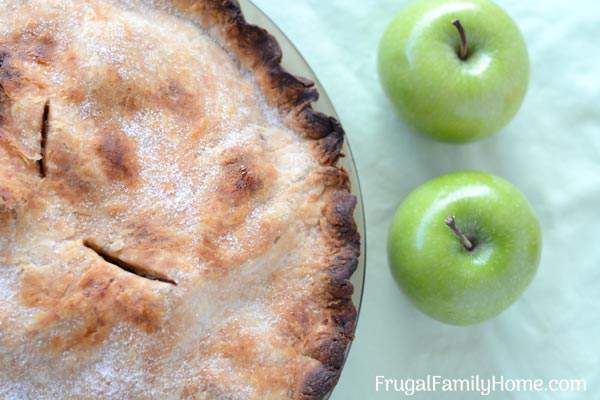 Making apple pie filling for the freezer is really easy. The recipe I'm sharing today is good for one nine inch pie. But if you have a bunch of apples you could always double or triple it.
I used Honeycrisp apples for my pie filling since I found them at a great buy. They worked out great but my go to apple for apple pie is usually granny smith apples. I like the tartness of them.
Best Way to Freeze Apples for Pie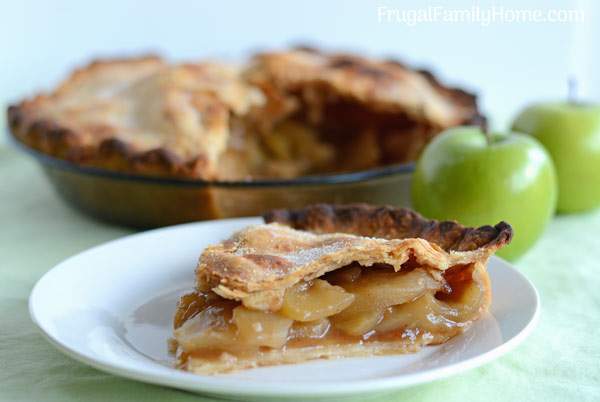 This is the best way to freeze apples for pie. All the work is done except placing the apples into the pie crust. Making it so easy to make a homemade from scratch apple pie when you need one.
I like this way to freeze apples for pie because it's easy to do. There isn't any cooking involved, just slice, stir, and place in a freezer bag. It's also easy to make enough for a bunch of pies at one time when you have lots of apples on hand.
What You'll Need for this Freezer Apple Pie Filling
Only a few ingredients are needed for this freezer apple pie filling. In fact, just four, plus bags to freeze the apple pie filling in.
Flour
Brown Sugar
Nutmeg
Apples
Gallon Freezer Bags
The only prep that needs to be done for the freezer apple pie filling is the apples. Core, peel and slice the apples.
If you have an apple corer, peeler, and slicer the job can be much quicker. I have one but I didn't use it since I only had a few apples. But if I was making a few batches of this easy apple pie filling, it would make the work of preparing the apples a lot quicker.
I made a quick video to show the whole process be sure to scroll down for the printable recipe too.
When you are ready to prepare the apple pie, just thaw the apple pie filling. Place it into the pie crust add the top pie crust or crumble topping and bake.
I know around the holidays having this easy apple pie filling in the freezer will make for quick pie assembly.
Related Post: How to Make Pie Crust with Video Tutorial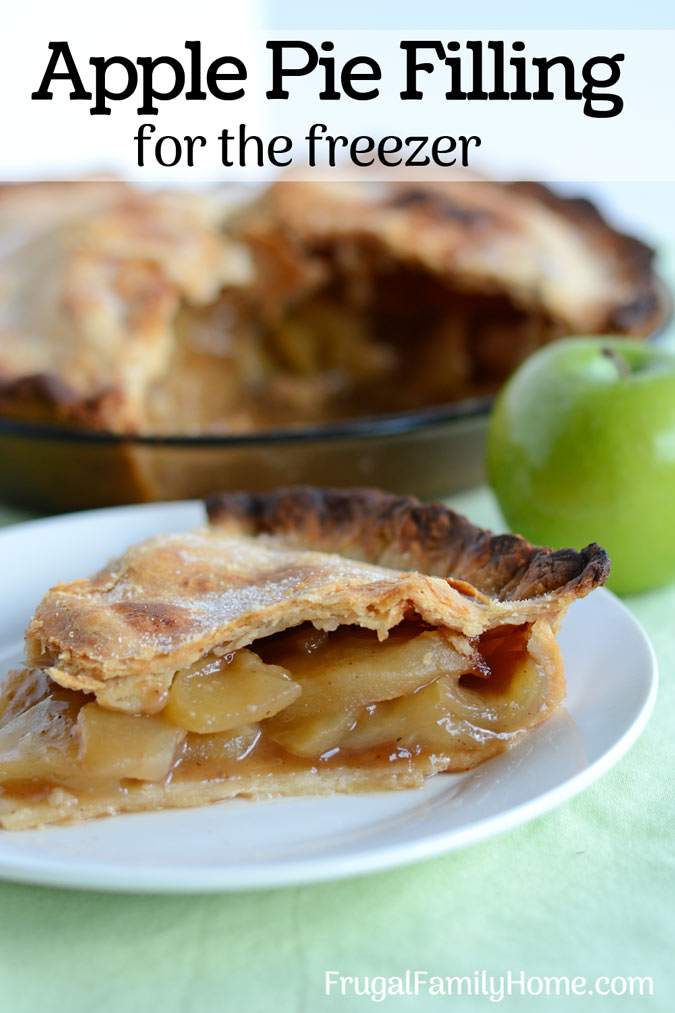 Easy Apple Pie Filling for the Freezer
Ingredients
3/4

cup

Brown Sugar

1

teaspoon

Nutmeg

2

tablespoons

Flour

6 to 7

cups

Apples

sliced
Instructions
Peel, core, and slice apples. Slice apples about one-fourth of an inch thick.

Place the apples into a bowl add the flour, nutmeg, and brown sugar to the bowl.

Stir or toss to mix well.

Place the apple mixture into a gallon freezer bag, label and freeze.

To Prepare Pie

Thaw the apple pie filling mixture overnight in the refrigerator.

Place filling into pie crust, add top crust or crumble topping, and bake.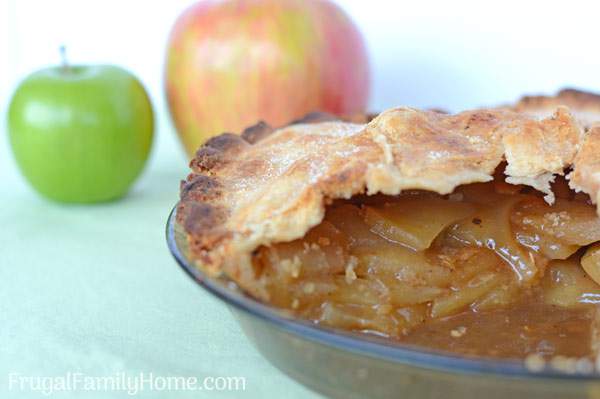 Do you think this easy apple pie filling would make it easier for you to make apple pies for your family? I know it helps me take most of the work out of baking apple pies.
More Yummy Apple Recipes to Try
Easy Apple Fritters
Mini Apple Muffins with Nut Crumble Topping
Apple Crumble Pie
Subscribe and you'll get Recipes
sent right to your inbox!
Click the button below and fill out the form.