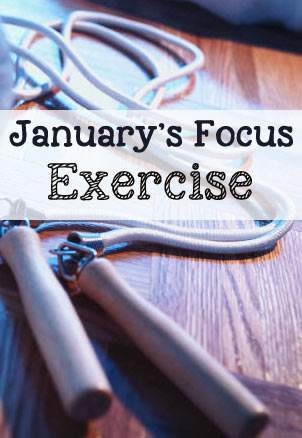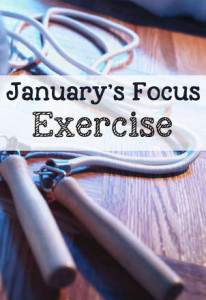 Week 5 Update, 12 Months to a Healthier You
Have you joined in the 12 Months to a Healthier You challenge? If you haven't, it's not too late for you to join in. This is the last week for focusing on exercising. Next month will start a new focus area.
About the Challenge
How the challenge works, just in case you hadn't heard it about before now. Each month there will be an area to focus on. As you might have guessed by the photo above this month's focus is on exercising.
My Exercising Goal for This Month
I committed to exercising 5 times each week. I didn't commit to a certain amount of time just to get up and get moving 5 times each week. I find I do better if I commit to how often instead of how long.
My Progress
This week I continued to get up early and get my exercising done early before anyone else was up and before I could talk myself out of it. 🙂 Well at least most days.
This week I wasn't able reach my goal. I was able to get 4 days of exercising in this week. Here's how my week went.
Monday,  I decided to do Pilates today. It was a good workout. If you haven't tried Pilates you should really give it a try.
Tuesday, I got up early and got my exercising out-of-the-way. I used my Sworkit app to do some cardio.
Wednesday, I had good intentions to get my exercising in but it just didn't happen. We had family visiting from out-of-town so I was busy during my normal exercising time. I was hopeful to get it in later in the day but I was too busy. Like I mentioned above I have to get it done before I can talk myself out of it. 🙂
Thursday, I was a little sore from not sleeping well. So I did a stretching routine from the Sworkit app.
Today, I did another Pilates routine to finish out the week.
That finishes out this month of focusing on exercising. Next month focus will be focusing on eating more fresh vegetables and fruit.
How did your week go? Are you exercising on a regular basis? Leave me comment and let me know.
[signoff]
Other Posts in this Series