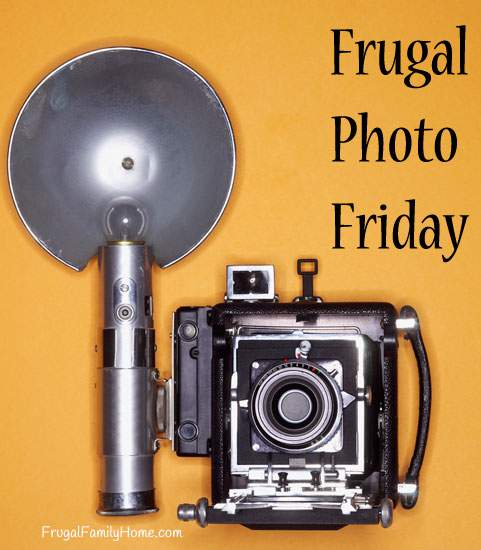 This is the last of the Frugal Photo Friday posts for this month. I've enjoyed sharing some of the ways we save money each week and I hope you have enjoyed them too. Today I wanted to bring up a way to save without even leaving the house. A way that I am not always very good at, is preventing food waste.
I try my hardest each week to plan our meals to use up the perishable items before they go bad, but it seem some of them just slip right by me and go bad. So here's a few ways I try to keep up with using up our perishables and leftovers, so I can feed them to my family  instead of our compost bin.
Eat Leftovers for Lunch
We usually have some sort of leftover food at each dinner. Since we homeschool I try to remember to serve those leftovers for lunch the next day. Sometimes my son will eat them, sometimes he just wants a sandwich. But my daughter and myself almost always eat the leftovers.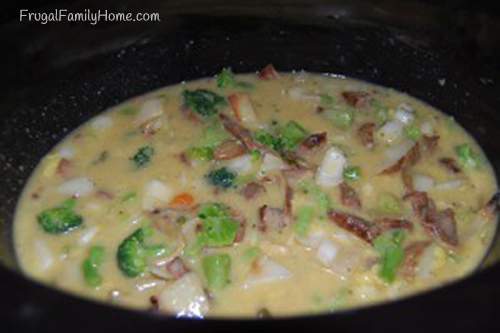 Make "New Overs" Soup
Sometimes eating the same thing for a day or two just doesn't sound very appetizing. When this is the case at our house I will make "new overs". New overs are just using the leftovers in a new dish so it's more appetizing to my family. My favorite way to use leftovers this time of year is to make the leftovers into soup. The picture above is my cheddar, beef and broccoli soup I made from leftovers once. It was a big hit, now if I could just replicate it again. 🙂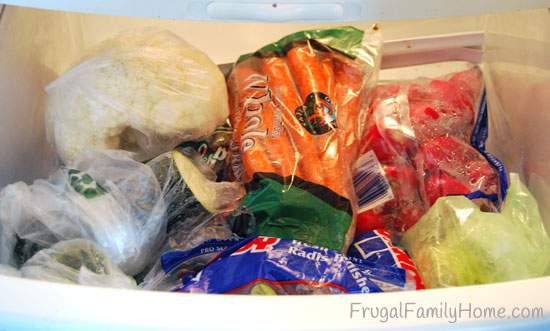 Clear Out the Crisper Once a Week
Once a week I try to go through our crisper and use up any vegetables that are looking a little past their prime. I may find some celery that looks a little droopy, or a slightly shriveled carrot and sometimes a half soft bell pepper. But all of them are still very usable in a dish. I just clean up the veggies and take out any bad spots and chop up the rest. I like to use them in a few different dishes,
Soups
I will sometimes make soup with the veggies that are a little past their prime. I just saute the veggies in a little oil after cutting them up. I add in any other vegetables I think will work well, either fresh or frozen. Then I add in any meat I have cooked on hand. Stir in some broth or water and let simmer for an hour or two and dinner is ready. I usually serve the soup with some bread on the side.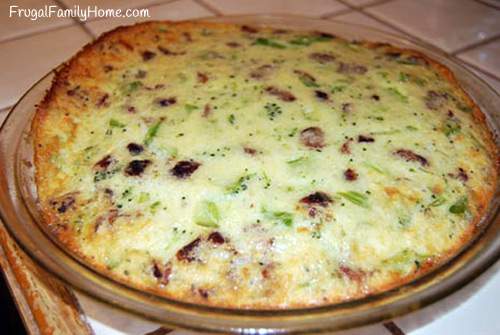 Quiche
I also like to use little bits of veggies and cooked meat in a crustless quiche. All you need is some cooked vegetables, a little leftover chopped meat, milk,eggs and flour. This is my go to dish to make when I just have small amounts of cooked vegetables and meat to use up.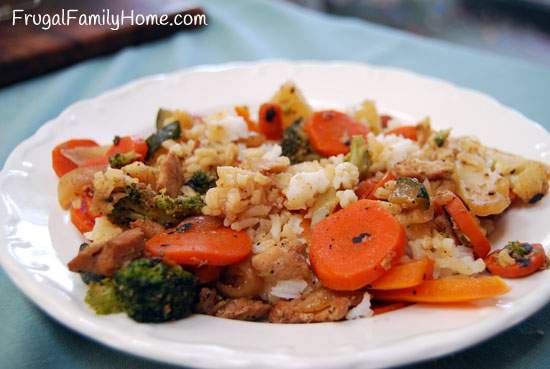 Stir Fry
I try to make a stir fry type dinner or lunch once every two weeks. It's great for using up little bits of veggies just waiting to go bad in the refrigerator. I usually have some stir fry chicken meat packages in the freezer so it make for a quick and easy meal. I make a batch of rice to go with it and we have dinner.
What's your best tip for preventing food waste?
[signoff]
Read more posts in this series,

Frugal Photo Friday, Outlet Store, Stocking Up and My Price Book 
Frugal Photo Friday, Coupons and T-Shirt Yarn
Frugal Photo Friday, Baking Bread and Shoe Mending
This post is linked up at Simply Rebekah and Money Saving Mom