Meat can be one of the most expensive ingredients in a recipe or meal. So today I'm sharing different ways to save money on meat.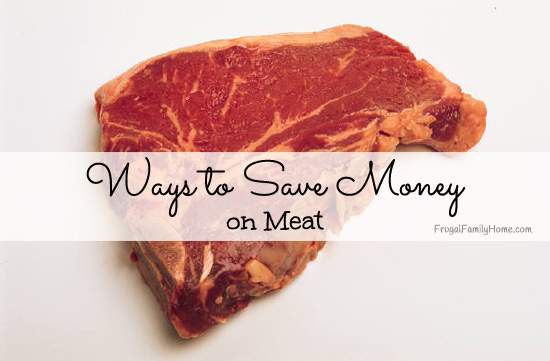 Eat Less Meat
The first way to save money on meat is to cut back on it. Most adults and kids need about 5 ounces of meat per serving. So a family of four only need  a 1 1/4 pounds for a whole meal. Or better yet go meatless occasionally. If your family agrees you might try a meatless meal once a week. 
Know Your Buy Price
Another way to really save on meat is to purchase the meat when it hits a low price. Meat prices can vary from place to place so watch the sales and see how low the prices go. Then stock up when it hits that low price.
My Buy Prices
I have a buy price of $2.49 per pound for ground beef and ground turkey. For beef roast my price is $2.99 per pound.
Chicken varies depending on the cut. I usually purchase boneless skinless chicken breast for $1.99 or less and bone in chicken breasts at $.99/lb but that price is becoming harder to find. I will buy whole chickens at $.79 per pound.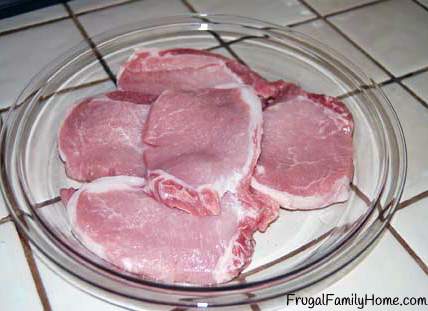 Cut Your Own Meat
When I purchase pork I purchase a whole tenderloin. Then I cut it up myself into pork chops and roasts. This is the only pork products I usually purchase except for bacon on occasion.
I will purchase beef roasts on sale and cut them up for dishes I make before I freeze it. I like to cut roasts into chunks for stew and slices for stir fry and other dishes. Sometimes I can save over $2 a pound by doing the cutting myself.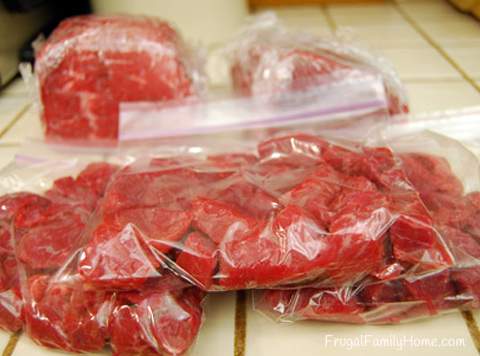 Buy Less Expensive Cuts
I have found that I can purchase the less expensive meats if I cook them in a slow cooker. The meat turns out tender and I can save more. I also look for less expensive steaks for our family. If I tenderize them a little and then marinate them they turn out really good.
Look for Clearance Meat
I also cruise by the meat section when I am shopping to see if there are any good deals on meat in the clearance. You never know what you will find. I sometimes see meat past it's prime and I always skip those packages.
But I have found grass feed organic beef for only $1.99 per pound. So do be sure to take a peek at the clearance meat you might find a great deal.
Use Your Freezer
When I take advantage of a good sale either at the store or through Zaycon Foods, I freeze it. By stocking up at a low price and not having to purchase meat at a full price you can really save a bunch. So be sure to clear out some room in your freezer for the next sale you find.
Buy Half a Cow or Pig
My mom very rarely shopped for meat when I was growing up. Our family would purchase half a pig and quarter to a half a cow each year at our local meat market. Then our huge chest freezer was stocked with meat for a long time. If you can't handle that much meat at once, check with your meat market to see if they have smaller meat packages. Most of them do.
What your best way to save money when purchasing meat?
[signoff]
See More Posts in this Series
Ways to Save Money on Clothing
Ways to Save Money on Heating Costs
Ways to Save Money, Make a List and Stick to It
Ways to Save Money, Repair Instead of Replacing
Ways to Save Money, Entertain at Home