Struggling with
What to Cook for Dinner?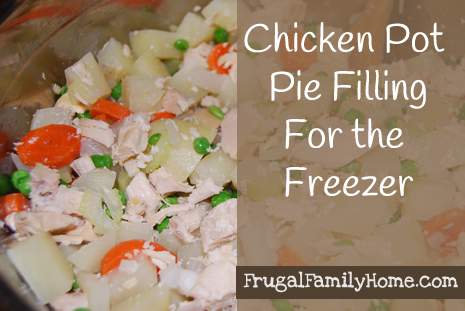 I had purchased some chicken on sale and I wanted to do a few freezer cooking recipes. So I made a batch of the Chicken, Rice and Broccoli Casserole and a new recipe I created for Chicken Pot Pie Filling.
I usually will just make a batch of my cream of something soup mix and add veggies and chicken. Cook it up a bit then add the crust and bake the chicken pot pie. But I wanted to be able to have the pot pie filling ready to go and only have to make the pie crust or biscuits to go on top. So that is how this recipe was born.
I first chopped up the vegetables I would normally use in the pot pie. Then I cooked them in a little olive oil for a few minutes. I added the cooked chicken to the vegetables. Then I decided I wanted a cheesy flavor to the pie so I made up two batches of dairy free cheese sauce (at the bottom of this post) and one batch of my cream of something soup. I mixed everything up.
To freeze, I measured out 4 cups into each freezer bag and froze. Now I all I have to do to make a pot pie is just thaw and add to the pie plate then add the pie crust on top or top with biscuits. Then bake, this really cuts down on the amount of time it takes to get this meal together.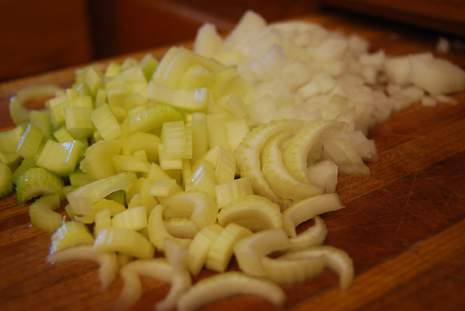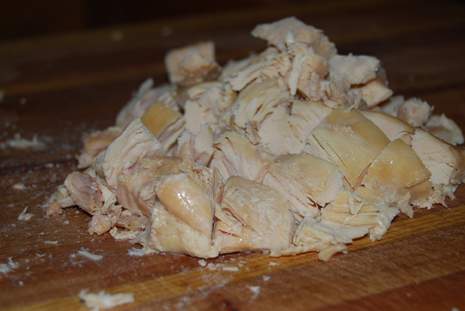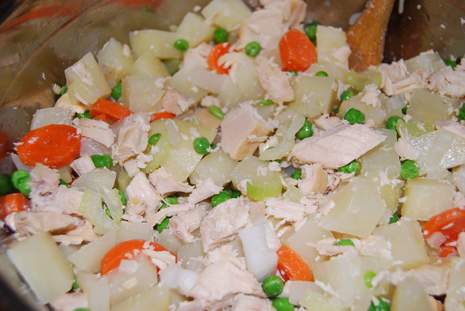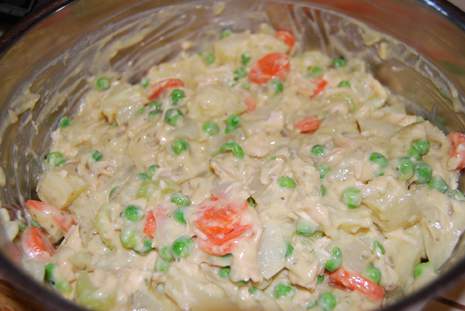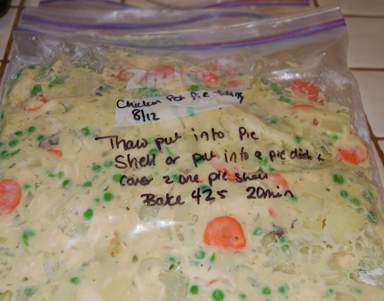 Chicken Pot Pie Filling for the Freezer
makes about 12 cups or 3 pot pies
4 potatoes, diced small
4 carrots, sliced
1 medium onion chopped
4-6 stalks of celery, sliced
3-4 cups cooked chicken, diced
2 batches Dairy Free Cheese Sauce (below)
1 batch Cream Soup Mix, prepared
6 oz Frozen Peas
1 tsp garlic powder
1 tsp dried thyme
1 t dried parsley
2 t salt
1 t pepper 
1 T Olive Oil
Cook the vegetables in the olive oil over medium heat until the vegetables are just a little tender. About 5-8 minutes. Stir in the frozen peas and diced cooked chicken. Add the cream soup mix that has been prepared along with the dairy free cheese sauce to the vegetable and chicken mixture. Stir to blend well. Add 4 cups of mix to a gallon freezer bag remove air, seal and flatten to make it easy to store in the freezer and thaw.
Variation: if you don't need to cook dairy free you can use two cans of cheddar cheese soup and one can of cream of mushroom soup. If you use the store-bought soups I would leave out the salt in the recipe as the store-bought soups have more added salt then the homemade versions.
Instruction for preparing
Fully thaw the pot pie mix then add to a pie plate or casserole dish. (I don't use a double crust just a top crust if you want to have a double crust line the pie plate with one pie crust first.) Then top with a pie crust or biscuit dough. Bake 425 degrees for 20 to 30 minutes or until golden brown.
Dairy Free Cheese Sauce
Ingredients
1/4 cup nutritional yeast
1/4 cup flour
1 teaspoon salt
1/2 teaspoon garlic powder
pinch of dried mustard
1 cup water
Mix all dry ingredients together. Then stir in water. Cook over medium heat until thickens, stirring constantly.