Earlier this week I shared my recipe for Bacon and Chive Potato Salad. It's a delicious side dish I know you're gonna love. Go ahead and check it out, I'll wait for you come back.
Because you're going to want to know this simple way to cook bacon for the freezer so you'll have it ready whenever you need some for a recipe.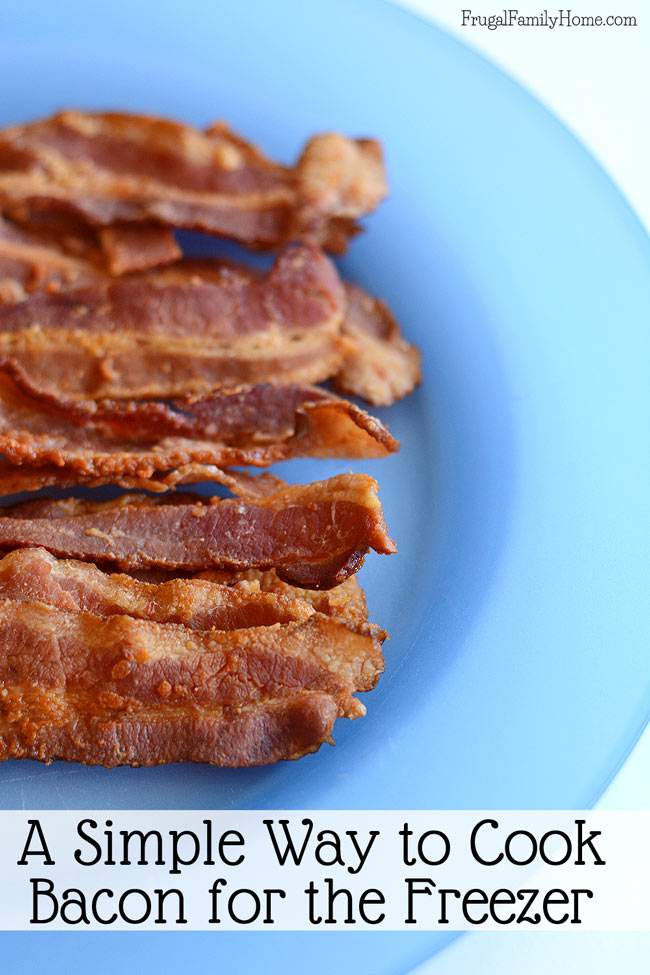 You might know you can cook bacon in the oven. It's easy to do and I'll be sharing a video to show you how to cook bacon in the oven sometime soon. Since summer is coming, heating up the house with the oven to cook bacon may not sound appealing.
Having bacon on hand in the freezer is so convenient. You can easily add it to a green salad or to potato salad or even add it to fresh green beans cooked with garlic. Oh, that sounds so good doesn't it?
But if you don't have bacon precooked in the freezer, and if you're like me, you just skip the bacon instead and make the dish without it. Missing out on all the yumminess that bacon has to offer.
I know cooking bacon in a skillet can be messy, it pops and splatters all over the stove top, making a huge mess. But did you know you can cut down on that mess with one little change?
I know it might sound weird cooking bacon with a lid on it. You might be thinking won't it get watery? Will it brown? What about all that moisture?
But this is how I learned to cook bacon from my uncle and he made the best bacon ever. It was always nice and crisp without those rubbery undercooked parts. Perfect, crisp, golden, bacon that is perfect to have waiting in the freezer.
Some of the links below are my referral links. Which means when you use them I can make a little money at no extra cost to you, thanks for your support in this way. You can see my disclosure policy for more information.
To cook the bacon for the freezer I use my electric skillet with a lid and it works great. This is why I love my big electric skillet, I can cook a full pound of bacon in one batch and it's also great for pancakes, hamburgers, skillet dishes, scones, and batch cooking hamburger meat for the freezer.
It's really a versatile appliance that I wouldn't want to do without.
If you are using a smaller skillet on the stove, be sure to divide the bacon into two batches. A smaller skillet will work fine too, you might need to do two batches.
Be sure the skillet you'll be using has a nice fitting lid to keep the mess down and help the bacon cook more evenly.
Here's a video to show how I use my electric skillet and how well it works to make perfect bacon for the freezer. If you don't care to watch videos the written instructions are below the video for you.
Simple Way to Cook Bacon for the Freezer
I place the bacon in a single layer or as close to a single layer in the electric skillet. Don't worry if there are some overlapping pieces. As the bacon cooks and shrinks, it will all fit.
Once the bacon is in the skillet I set the temperature to 325 degrees and let it cook for about 3-4 minutes.
Once the bacon starts to shrink, I use a pair of tongs and make sure the bacon is all in one layer. Then replace the lid and let the bacon cook until it begins to brown.
Once the bacon starts to brown it's time to turn the bacon over. Replace the lid and let it cook until the desired crispness. I keep a close eye on the bacon at this point.
There is a fine line between deliciously crisp bacon and burnt to a crisp bacon. Be sure to stay close and watch over the bacon checking it every minute or two.
As the strips of bacon are cooked to the perfect crispness remove them to a paper towel to drain. I always have slices of bacon that cook faster than others so I remove each slice as it is done.
Once the bacon is drained and cooled I place it in a zipper freezer bag, label the bag and place it in the freezer.
I like to cook bacon this way in the summer and then freeze it for recipes. I can cook a whole pound of bacon and have it ready to go for salads, like the bacon and chive potato salad. Or ready to add a bacon crunch to a green salad.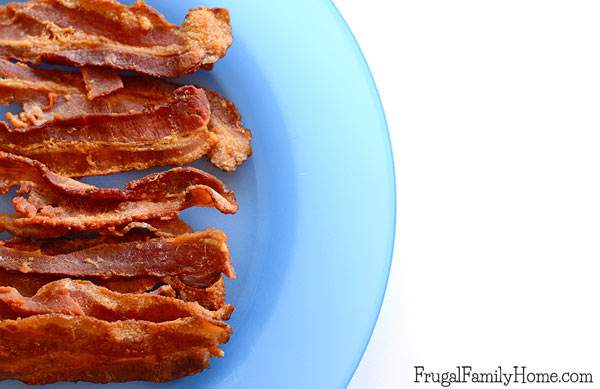 It only takes a few minutes and can be less expensive than purchasing those small jars of bacon bits at the store. I also save the grease from the bacon and store it in a coffee cup in the refrigerator.
The bacon grease can be used to add flavor to dishes. Instead of using olive oil or butter try using a little of the bacon grease instead. The bacon grease is also great to use in other recipes too when you want to add a little bacon flavor. Don't throw it out.
That's my simple way to cook bacon without an oven. It's an easy way for those hot summer months when you don't want a mess in the kitchen but you also don't want to use the oven either. Be sure to cook up a pound or two for the freezer so you'll have it ready to go when you need it.
What's your favorite way to cook bacon?
[signoff]
More Kitchen Tips You'll Love,