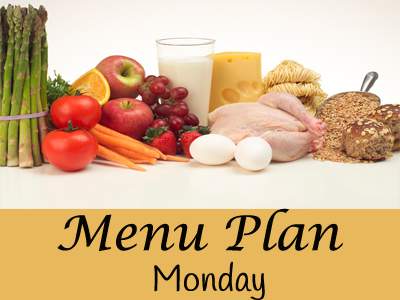 This week for our menu I will be making a couple of dishes we haven't had for a while, along with my sons favorite hamburgers and baked french fries. I will be restocking my freezer with bean and beef burritos when I make them for our dinner this week. It is always easier for me just to make a bunch of burritos at one time eat a few for dinner and then have more in the freezer for the next time we want to have burritos. I try to use this technique for my freezer cooking as much as I can so I don't have to set aside much extra time to keep my freezer stocked.
Our Dinners
Steak, Baked Potatoes and Salad
Cheeseburger Pie, Salad or Vegetables and Fruit
Grandma's Pork Chops, Roasted Vegetables and Fruit
Chicken Cashew Stir Fry (freezer meal) and Rice
Bean and Beef Burritos, Chips, Salas and Salad
Parmesan Chicken over Noodles, Salad and Fruit or Garlic Bread
Hamburgers with Baked French Fries 
Lunches This Week
Leftovers
Mac and Dairy Free cheese
Corn Dogs Muffins
Sandwiches, chips and fruit
Breakfast
Cherry Nut Crumble Mini Muffins, Sausage and Eggs
Pancakes, Sausage and Eggs
Toast, Eggs and Oatmeal
What will you be making at your house this week?
[signoff]