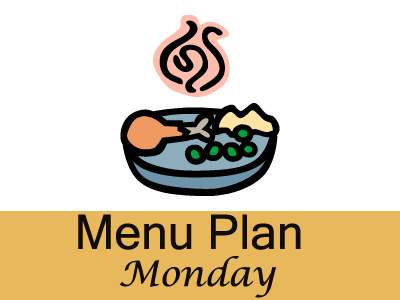 Our Menu
Our menu plan this week includes a couple of my family's favorites along with a new recipe I am trying out. I am grilling one night and stretching that into two meals. I love it when I can cook one day and eat for two, don't you ? Here's our menu plan,
Dinners
London Broil, Baked Potatoes and Salad
Leftover London Broil on Salad with Garlic Bread
Pizza with Salad
Mini Shepherds Pie with Salad
Crab Cakes (or Salmon Patties) with Tartar Sauce, Mashed Potatoes and Salad
Twice Baked Taco Potatoes, Salad and Fruit
Chicken Marsala over Egg Noodles with Salad and Fruit
Lunches
Leftovers most days
Sandwiches with fruit and sugar snap peas (from our garden)
Hot Dogs with Chips
Breakfasts
Toast and Eggs with Oatmeal
Pancakes, Sausage and Eggs
Muffins, Eggs and Bacon
That's what's cooking at our house this week. What's on your menu plan?
[signoff]