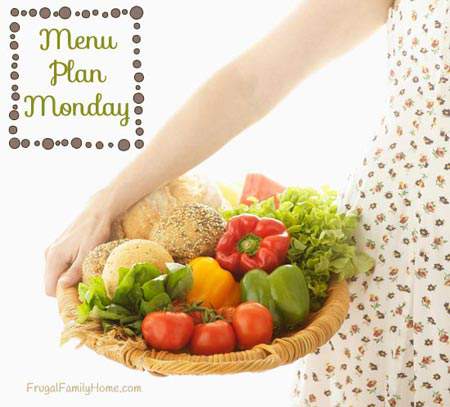 Happy Monday to you, are you ready for a great week? I know I am hoping to get lots done this week. Our meals this week consist of a few freezer meals, a couple of family favorites because I need to keep the family happy and breakfast for dinner too. Here's our menu plan,
Dinners
Italian Chicken (freezer meal) with Rice and Vegetables
Omelets (just like last week), Hashbrowns and Toast
Beef Cups with Salad and Fruit
Pan Fried Pork Chops, Mashed Potatoes and Green Beans
Crock Pot London Broil over Egg Noodles with Salad
Pizza and Salad (always a big hit at our house)
Beef and Celery over Egg Noodles with a Salad
Lunches
Corn Dogs and Chips
Leftovers most days
Sandwich and Tomato Soup
Breakfasts
Cinnamon Twists with Eggs and Sausage
Toast and Hard Boiled Eggs
Waffles with Bacon and Eggs
What's on your meal plan this week?
[signoff]