Enjoy this delicious BLT salad on a hot summer day. It a filling meal that won't heat up your house.
Summer is here and with all the yummy fresh lettuce around, I'm sure you want to eat more salads. I know I do. But making a salad for dinner can be a little less filling unless you pump it up with some protein and extras vegetables and goodies.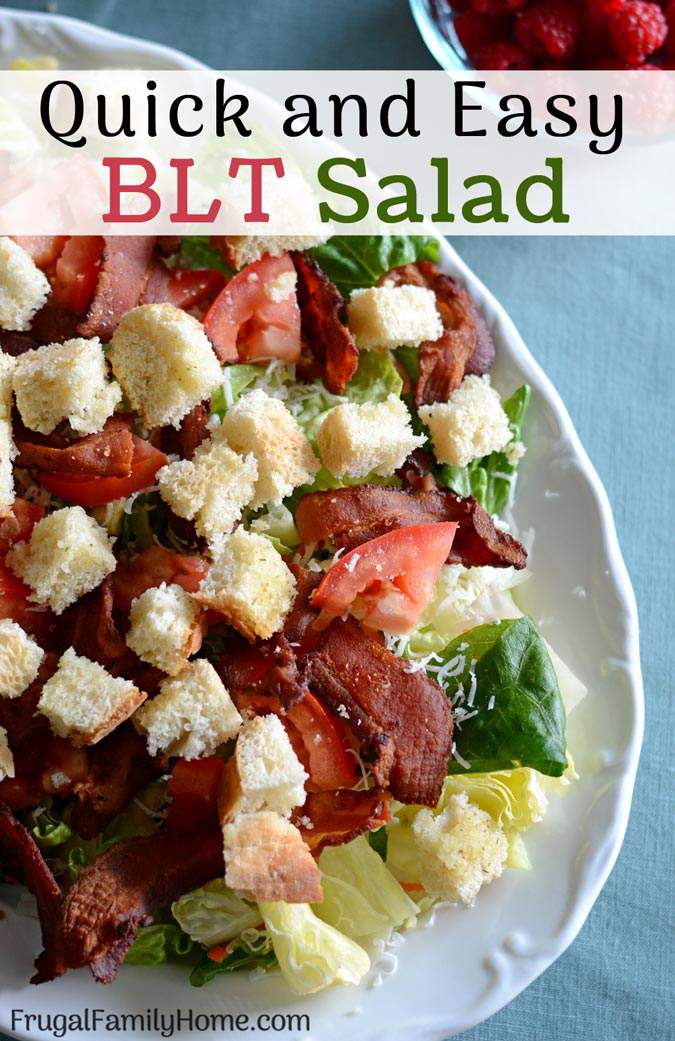 If you're looking for a hearty dinner salad to serve your family and avoid complaints, try this hearty BLT dinner salad.
It simple to make and so good, and who's going to complain when there lots of bacon on that salad. Even my meat loving hubby loves it when I make this BLT salad.
What You'll Need to Prepare the BLT Salad
Bread, we prefer French bread for the homemade croutons
Bacon, if your family loves bacon, be sure to cook a whole pound
Tomatoes, a big juicy tomato or a couple of Roma tomatoes
Lettuce, Iceberg, Leaf, or Romaine are our favorites, but you could even throw in some spinach
Carrots, shred them so they are easy to get on the fork
Cucumber, seeded and diced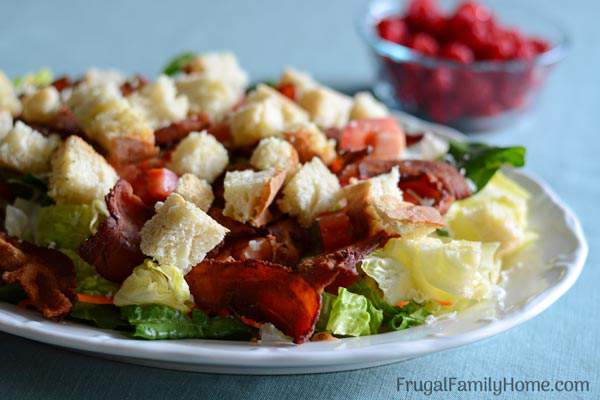 Making the BLT Salad
Putting this salad together is pretty quick. I find I can get the veggies prepared in the time it takes to bake or fry the bacon.
Start the bacon in the oven or the skillet and while it's cooking prepare the other ingredients.
Wash and tear or chop the lettuce and place it on a large platter.
Shred the carrots right over top of the lettuce on the platter.
Cut the cucumber in half lengthwise, then into quarters lengthwise. Scoop out the seeds and then chop. Add to the salad.
Quarter or dice the tomatoes and set aside for now. We'll put them on top after the bacon is added.
Make the Croutons,  cut up 1-2 slices of french bread into cubes and make the homemade crouton. See full recipe here.
Once bacon is done cooking, drain the fat and break up into large pieces. Place on top of the salad.
Add the tomatoes and sprinkle with croutons.
Serve with your favorite dressing. We really like this BLT salad with french dressing or thousand island dressing.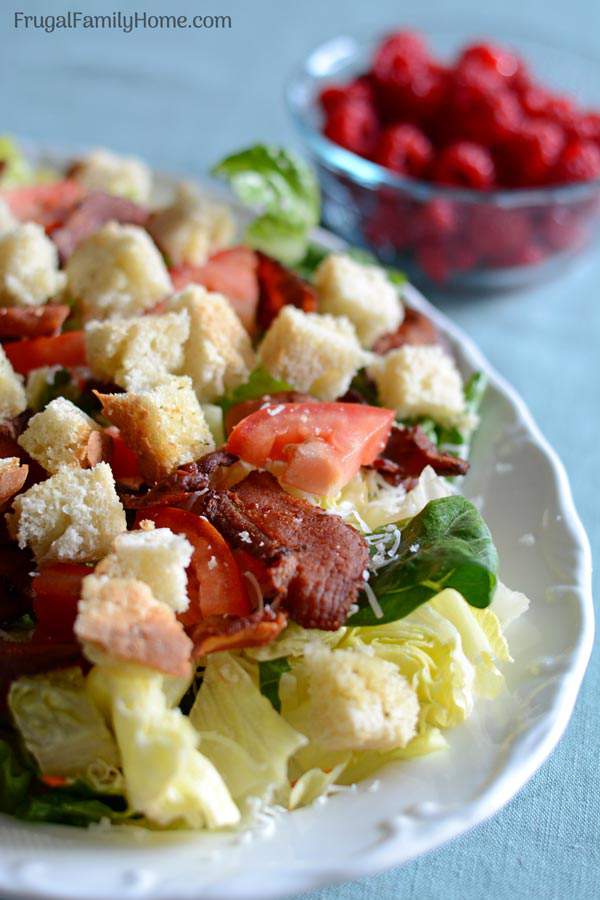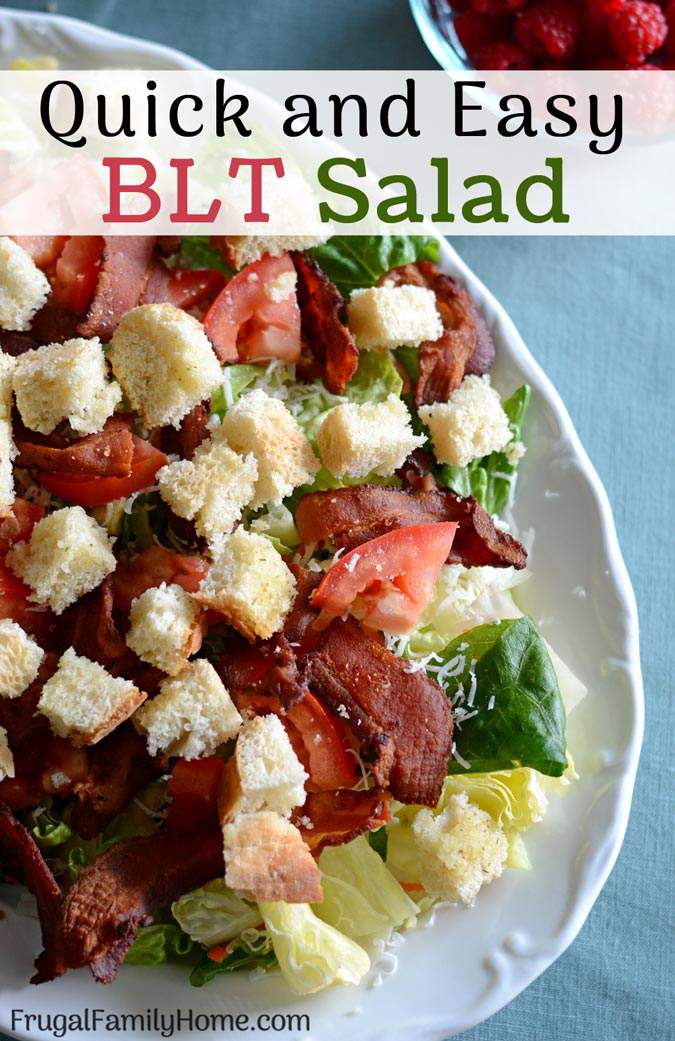 Hearty BLT Salad with Homemade Croutons
Ingredients
1

batch of Homemade Croutons

1

pound

Bacon

cooked crisp and broken up into big pieces

1-2

Tomatoes

diced or quartered

1-2

heads of Lettuce

washed and torn into bite-sized pieces

1

Carrot

shredded

1

Cucumber

seeded and diced
Instructions
After cooking the bacon break it up into large pieces and set aside.

Wash and tear or cut into bite sized pieces the heads of lettuce. Place on a large platter.

Wash the carrot and shred the carrot over the lettuce on the platter.

Peel cucumber if desired. Then cut into quarters lengthwise. Remove the seeds if desired and chop. Place the prepared cucumbers on the salad.

Sprinkle the bacon pieces onto the salad.

Cut the tomatoes into quarters or bite-sized pieces and place on top of salad.

Place the prepared croutons on top of the salad and serve.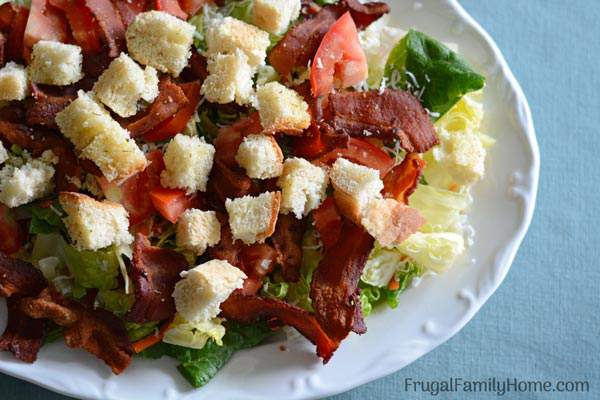 Other Toppings that Would Be Good on This BLT Salad
Cheese, if you love cheese add your favorite kind on top of the salad.
Olives, these can be a more expensive topping but if you love them add a few to the salad, to stretch the olives, quarter, slice or chop before adding them to the salad.
Sweet Pepper, sweet peppers would add a great crunch and if you use green or yellow sweet peppers it would add little more color contrast to the salad too.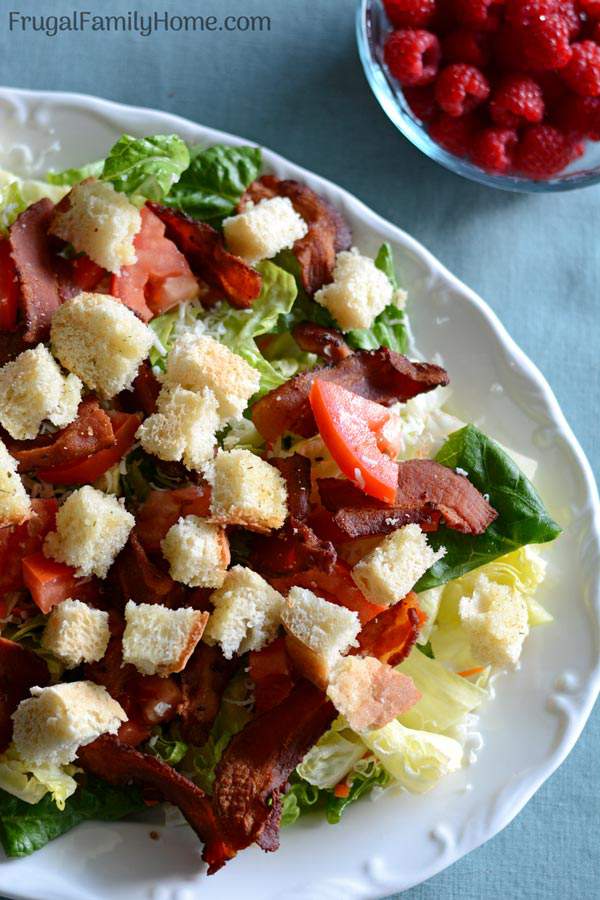 The Cost of this BLT Salad
Bacon $3.99
Lettuce $2.99 for 3 Romaine Hearts or $2 for 2 heads of Iceberg Lettuce
Tomatoes $.70 for a large tomato or two Roma tomatoes
Carrots $.10
Cucumber $.50
1/3 loaf of French Bread for Croutons $.50
Total cost for this Hearty BLT Dinner Salad is $8.78 or $2.20 a serving at 4 big salad servings per recipe. We usually get 6 servings when I make this salad for our family.
It's not a super cheap meal but if you grow you own lettuce and find bacon on sale at the store you can really cut the cost of this yummy BLT salad down.
What's your favorite dinner salad to make for your family? Let me a comment below and let me know.
More Salad Recipes to Try…
Prep Ahead Salad
Bacon and Chive Potato Salad
Creamy Dill Cucumber Salad
Subscribe and you'll get Recipes
sent right to your inbox!
Click the button below and fill out the form.