Are you looking for a slightly sweet and savory side dish? These roasted carrots with honey glaze is delicious but more importantly it's easy to make too. With the added honey this side dish will be one the whole family loves.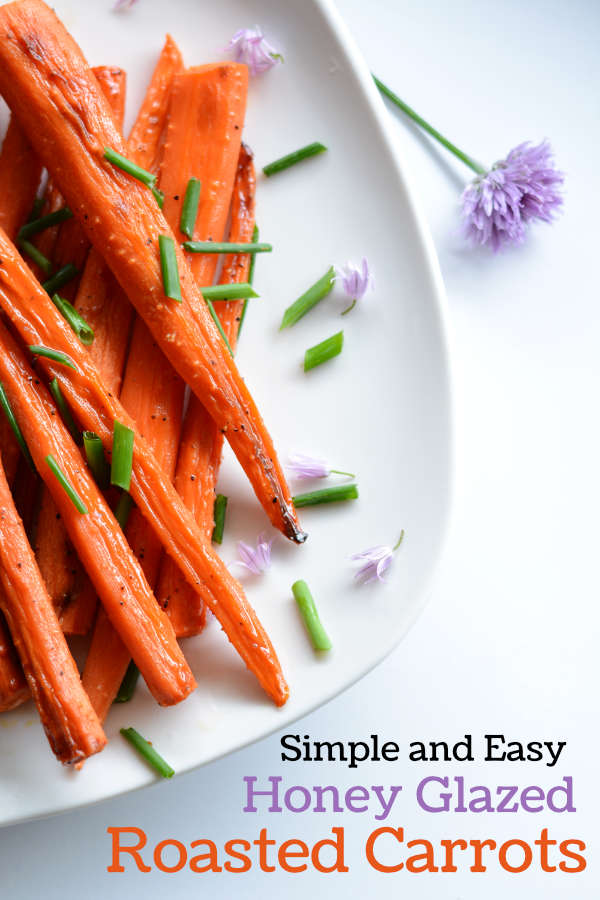 Making Roasted Carrots with Honey
If you have kids or family members who don't like to eat their vegetables, then you need to try roasting them.
There is something about the high heat and that bit of caramelization that forms on the vegetables that magically transforms them into something oh so desirable.
Carrots are pretty good, most people will eat them. But when you roast them it brings out the natural sweetness. Which only makes them better.
Add a honey glaze and you have a wonderful side dish no one can resist.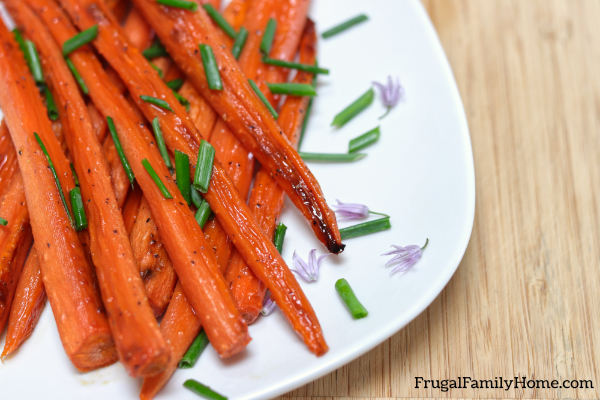 And when you leave them whole, they look so fancy. This side dish recipe is fancy enough to serve at a holiday dinner. You know those holiday dinners you want to impress your family or your in-laws at.
And when you add a few chopped chives or parsley on top, it looks like it's a side dish from a fancy restaurant.
Yes, these yummy roasted carrots are perfect for any occasion like that. 
A Cheap and Easy Side Dish Recipe
Plus, since carrots are inexpensive you can make a bunch and not break the bank too. This side dish for 4 people is just a little over $1 for all four servings.
With such little prep time needed to make this side dish of roasted carrots, you'll have time to chat with your guests too. 
How to Make Roasted Carrots with Honey Glaze
Here's a quick video to show you all the steps for making these, which isn't very many. And I've got a few tips below. To make sure the first time you make this recipe it turns out great.
Roasted Carrot Cooking Tips
Follow these cooking tips below to make your roasted carrots turn out great, even the first time you make them.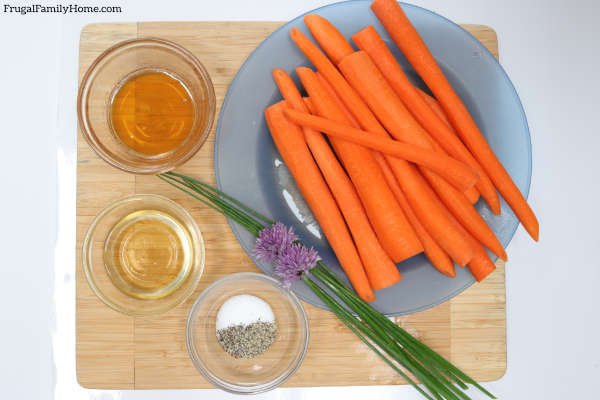 Prep the Carrots
If you purchase a bag of carrots, like I do, you'll want to sort through and get carrots all about the same thickness. If you mix thin and thick carrots, some will overcook and others will undercook.
Using carrots all the same thickness will ensure they will cook and be done at the same time.
You can leave the skin on the carrot or peel them. Either way will work, it's up to you and your preference.
Adjust the Cooking Time
If you have really thick carrots, cut them into chunks instead of leaving them whole. If you have thick carrots, they will take longer to cook but cutting them into chunks can help cut down the cooking time.
If you have thick carrots and you want to cook them whole, you'll need to adjust the cooking time up.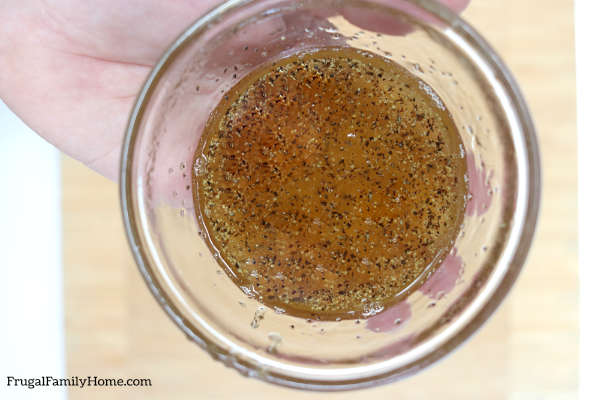 Make the Honey Glaze
To make the honey glaze it's easiest to heat the honey first. By heating the honey, it will be easier to mix in the oil, with the honey and salt and pepper.
If you have a small whisk that also helps to mix the honey glaze.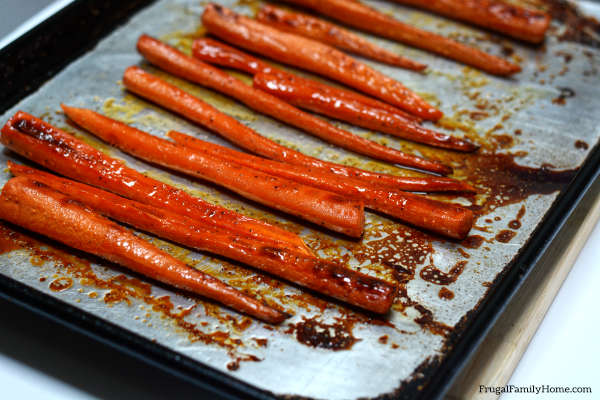 Roasting Tips
When roasting the carrots use a large cookie sheet or baking sheet. That will ensure you have plenty of room around each carrot so they can roast well.
If you overcrowd the pan, the carrots can steam more than roast and they won't caramelize as well. So be sure to use a big enough pan so each carrot has room around it.
Don't use a silicone sheet or parchment paper on the sheet pan. Put the carrots directly on the sheet pan. The direct contact with the metal will help them brown or caramelize well.
When roasting you want to have high heat. So use a high temperature like 400 to 450 degrees to roast your carrots.
Coat the Carrots to Roast Well
After mixing the honey glaze drizzle it on the carrots first. But don't stop there. Be sure to roll the carrots around to make sure all sides of the carrots are coated.
This will help to add flavor to each bit of the carrot and help with the roasting process too.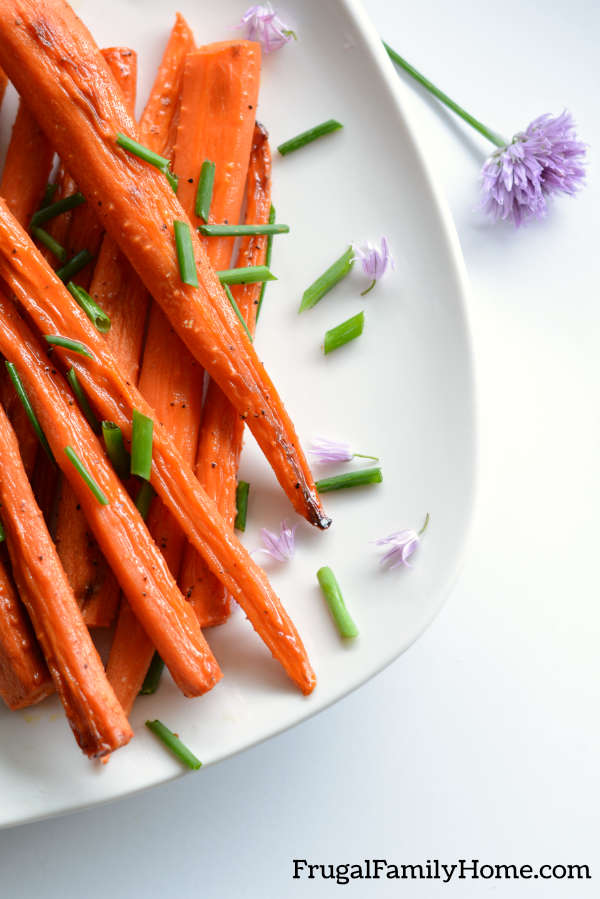 Make This Dish Pretty
After roasting your carrots, transfer the carrots to the serving plate, be sure to add any pan sauce that is left and drizzle it on top.
Then to make this simple side dish even fancier, sprinkle with a little chopped parsley or chives. The chives add a nice garlic flavor. And if you have chive flowers, you can use them too.
How to Make Roasted Carrots with HoneyNow that you have the tips, grab the printable recipe below…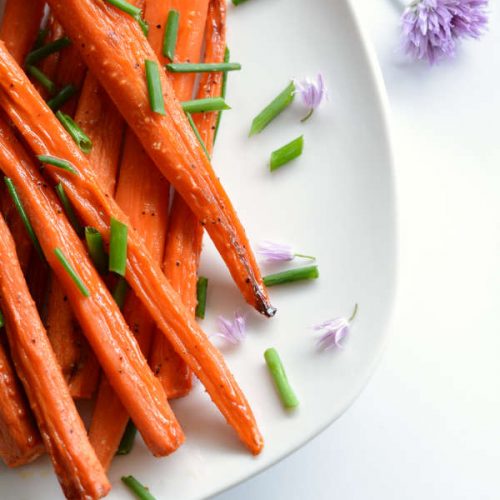 Roasted Carrots with Honey Glaze
A simple but oh so delicious side dish easy enough for a weeknight dinner but fancy enough for your holiday table too.
Ingredients
1

pound

Carrots

2

tablespoons

Oil

2

tablespoons

Honey

1

teaspoon

Salt

1/2

teaspoon

Pepper

chopped

Chives or Parsley

for garnish if desired
Instructions
Prepare your carrots, sort by size and peel if desired. Add to your baking sheet. If you have thick carrots, you can cut them into chunks.

Place the honey into a small bowl and heat for 15-30 seconds to make it easier to mix into the glaze.

Add the oil, salt, and pepper to the honey and stir well.

Drizzle over the carrots on the baking sheet.

Then roll the carrots to coat on all sides.

Place baking sheet into a preheated 425-degree oven and bake for 25 minutes or until carrots are tender crisp.

Roll or turn the carrots halfway through the cooking time.

After cooking move carrots to the serving plate drizzle with pan juices and sprinkle with chopped chives or parsley.
Video
Nutrition
Calories:
139
kcal
Carbohydrates:
20
g
Protein:
1
g
Fat:
6.8
g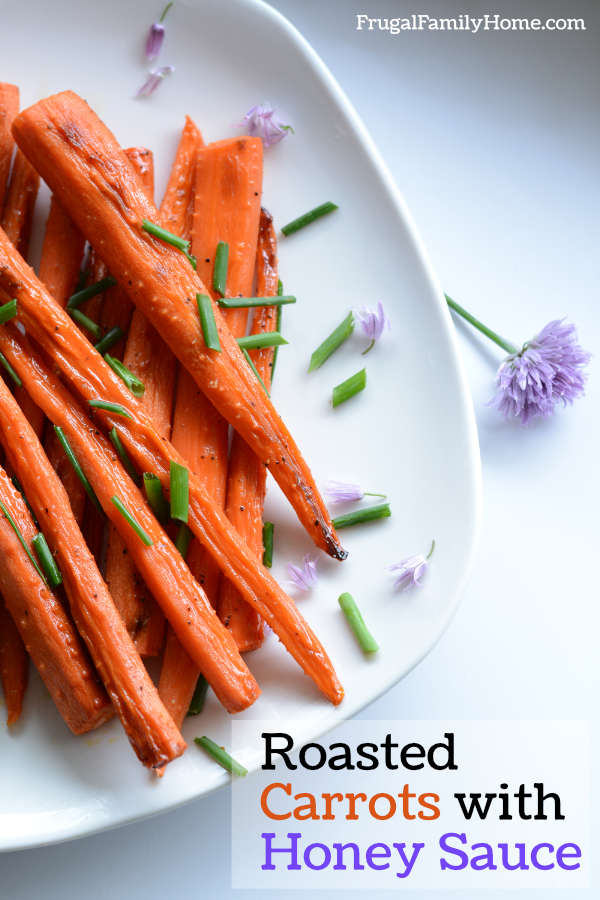 That's all it takes to make this simple side dish of roasted carrots with honey glaze. It's an easy side dish but fancy enough for even your holiday dinner.
See More Easy Side Dish Recipes…
Garlic and Chive Mashed Potatoes
Roasted Brussels Sprouts with Bacon
How to Make Broccoli Taste Good, 5 Ways to Cook It
Subscribe and you'll get Recipes
sent right to your inbox!
Click the button below and fill out the form.