Try this quick and easy, shredded carrot salad without mayonnaise. It's light and healthy. Perfect for a spring side dish, for a barbecue or picnic.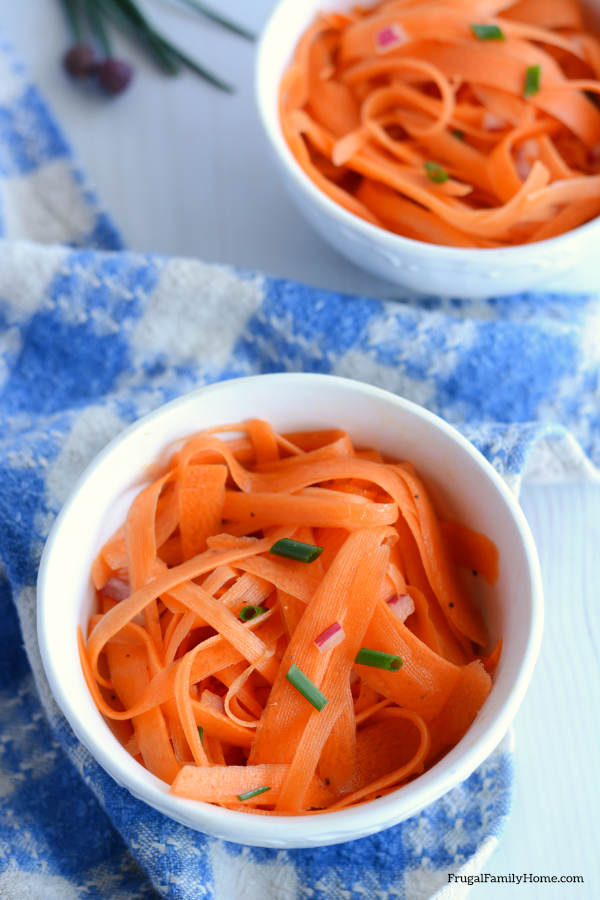 More Salad Recipes: Creamy Cucumber Salad | BLT Salad | Macaroni Salad
My grandma would make carrot salad, the classic carrot salad with raisins, mayonnaise, and carrots.
It's great, but if you are looking for a healthier carrot salad, then this one made without mayonnaise will be perfect for you.
Only a few ingredients are needed.
What You Need to Make Healthy Carrot Salad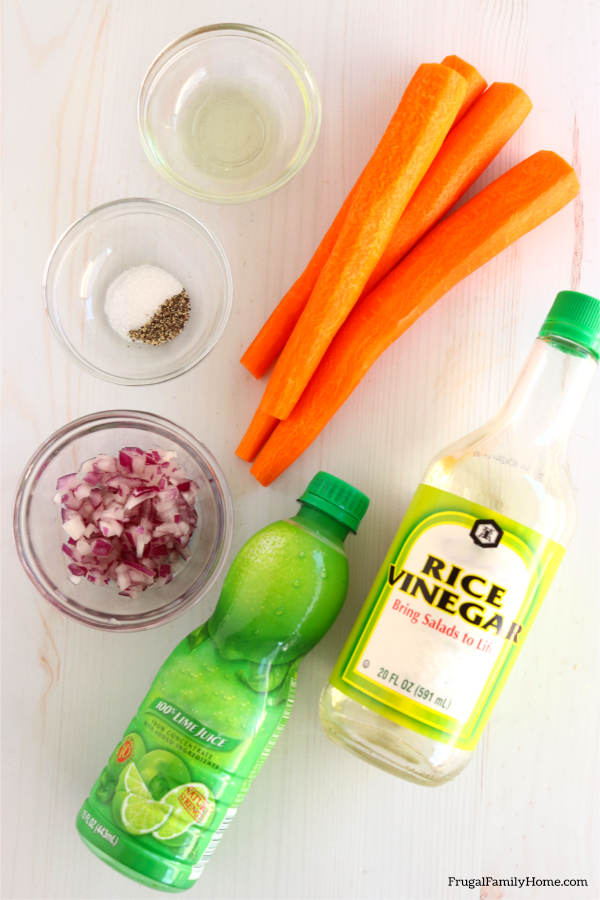 Carrots, I like to use a vegetable peeler to make ribbons of carrots.
Onion, a sweet onion or purple onion is great.
Vinegar, we prefer rice vinegar
Oil, any oil you like to dress your salad
Lime Juice, from the bottle or fresh squeezed
Salt & Pepper to taste
Chives, if you'd like a little extra flavor and color in your salad
How to Make Carrot Salad without Mayonnaise Step by Step
1. Peel the Carrots into Ribbons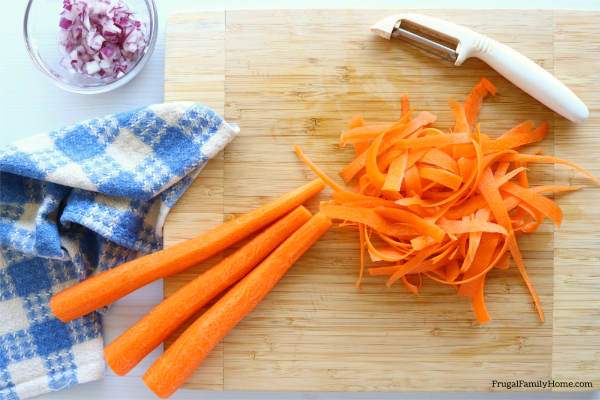 I like to peel the skin off, then peel the carrots into thin ribbons.
Recipe Tip: if you rotate the carrot as you are peeling you'll get thinner and thicker ribbons adding to the texture of the salad
2. Make the Dressing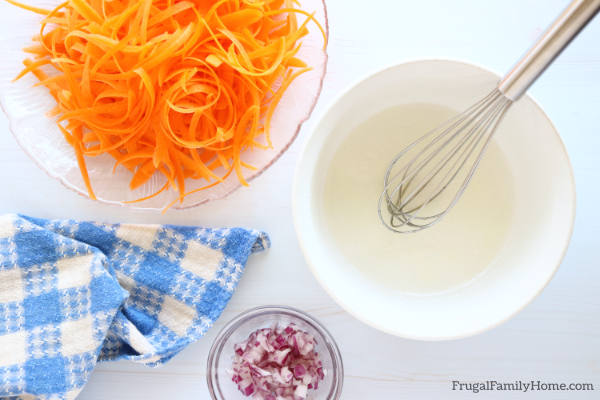 Add the vinegar, oil, and lime juice in the bottom of a large bowl and whisk to mix. You can also add the salt and pepper now or wait until after the carrots are added.
3. Add the Onions and Carrots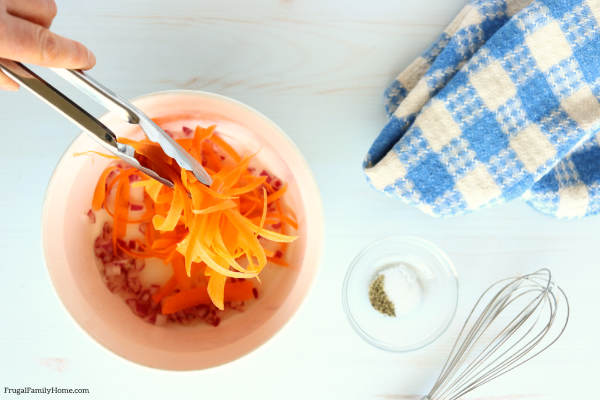 Drop the finely diced onions into the dressing. If you have picky eaters, look for the tips below to add flavor to this salad and skip the onions.
Pile the carrots into the bowl, too.
4. Toss to Coat with Dressing and Season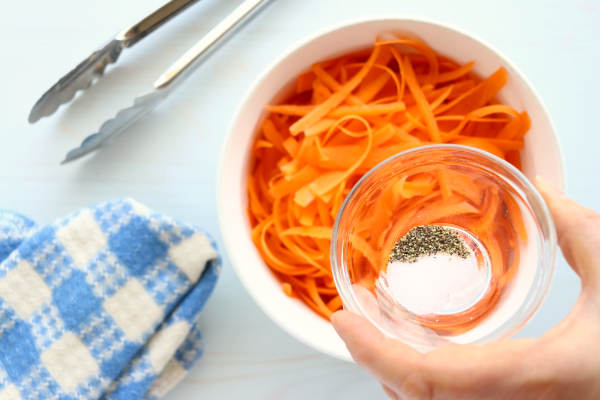 Using tongs or a spoon, toss the vegetable in the dressing to coat them all well. If you haven't added the salt and pepper, add it now and then toss.
That's it. You now have a delicious, healthy and fresh carrot salad made without mayonnaise.
It's much lighter than traditional carrot salad. But nice and crunchy, too.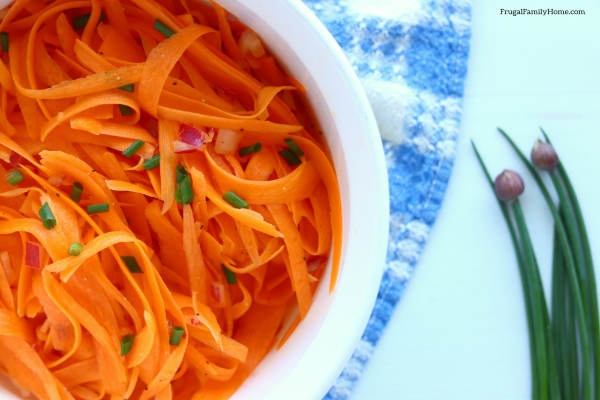 It's a Make Ahead Salad
Like coleslaw, you can make this carrot salad recipe ahead of time. Make it the night before a party or picnic. Let it sit in the refrigerator ready to go. It keeps very well because it's made without mayonnaise.
How Long Does Carrot Salad Last?
This salad recipe can be kept in the refrigerator for 2-3 days. The carrots and onions hold up well in the dressing.
Even More Salad Recipes: Bacon and Chive Potato Salad | Very Berry Fruit Salad | Healthy Cucumber Salad
Picky Eater Options
If you have a picky eater who will not eat onions. You can add a teaspoon of onion powder instead of the onions.
You can also add 10-20 sliced grapes or raisins. It adds a little sweetness to the salad so the kids will eat it better if you have picky eaters.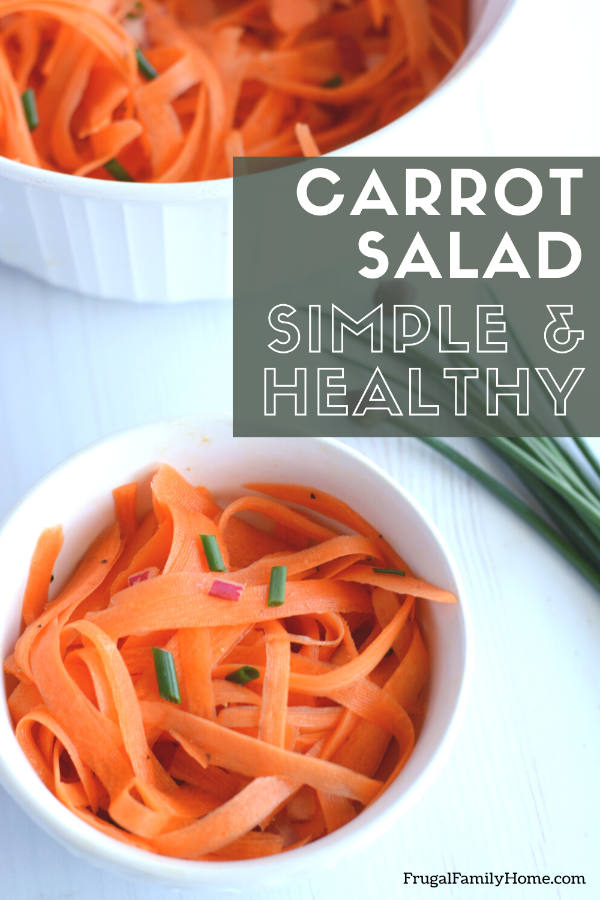 Print the recipe…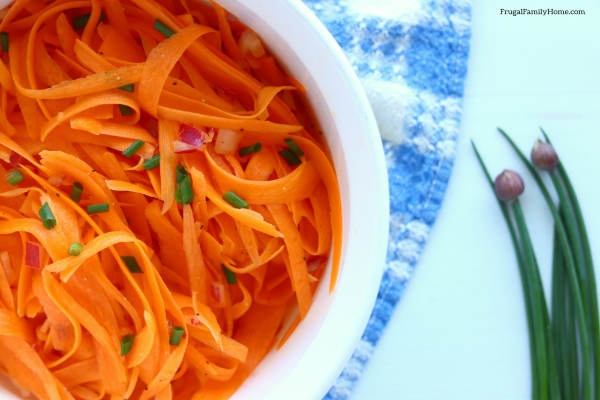 Easy and Healthy Carrot Salad
This carrot salad is so easy to make and is healthy too. No mayonnaise needed. It's vegan and keto friendly. The perfect salad to take on a picnic or for a barbecue.
Ingredients
1

pound

Carrots

peeled with a vegetable peeler into ribbons

1/4

cup

Purple Onion finely diced

1

tablespoon

Oil

2

tablespoons

Rice Vinegar

1/2

tablespoon

Lime Juice

Salt and Pepper

Chives

chopped to sprinkle on top, if desired
Instructions
Place oil, vinegar, lime juice in a bowl mix.

Add the carrots and onions. Toss in the dressing until well coated.

Add salt and pepper to taste. Stir to mix well.

Sprinkle with chives if desired.
Nutrition
Serving:
4
servings
Calories:
85
kcal
Carbohydrates:
13
g
Protein:
1
g
Fat:
3
g
Subscribe and you'll get Recipes
sent right to your inbox!
Click the button below and fill out the form.