Did you know you can make pizza pockets in a waffle iron? You can with this easy and quick waffle pizza pockets recipe.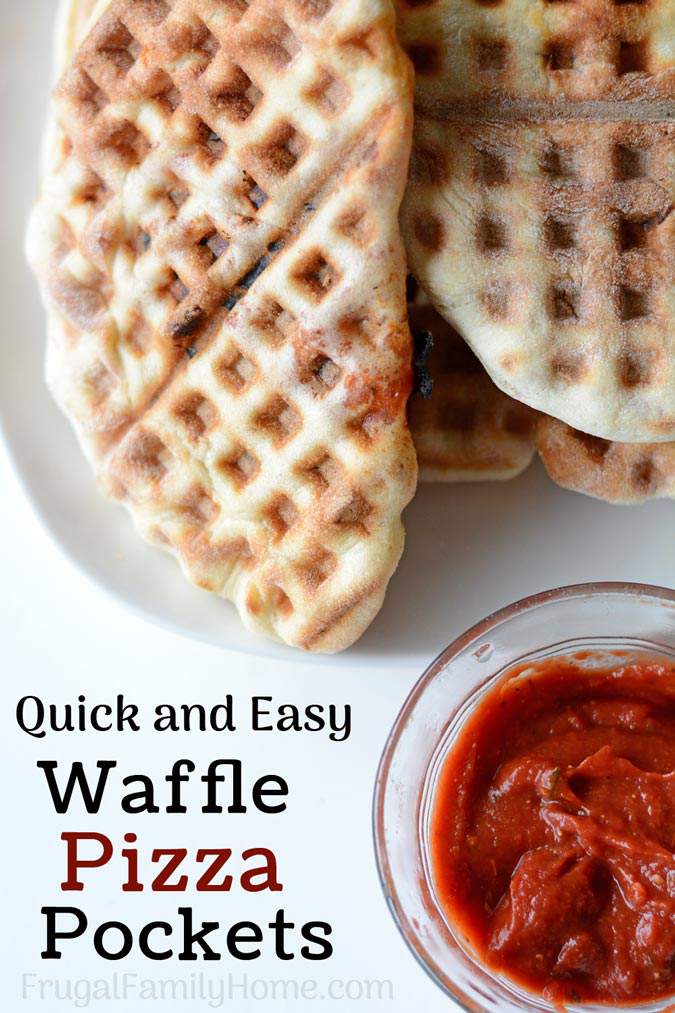 We love pizza. We eat it at least two times a month but in the summer I don't want to heat up the house by cooking pizza in the oven.
That's why I came up with a couple of ways to cook pizza without an oven. We will grill pizza on our wood fired barbecue. It works great but can take a while to get up to the grill to the right temperature.
I can also make pizza pockets and bake them in a skillet instead of the oven. Again this works great but it can take a while for the cast iron skillet to get warm and it takes a bit for each batch to get browned.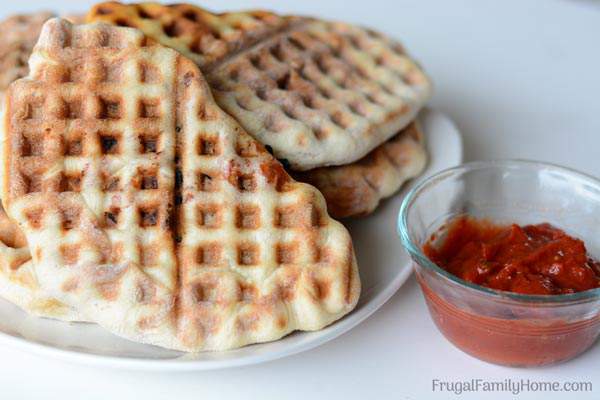 Why Make Waffle Pizza Pockets?
When it's hot outside and I'm in a hurry to get pizza pockets for our dinner or lunch cooked, I'll cook them in the waffle iron.
The waffle iron is quick since both sides are baked at the same time. Making for short cooking time, about 3-5 minutes depending on your waffle iron.
I have a pretty good sized waffle iron and I can cook two at a time. In less than 10 minutes I can have a pizza pocket for each of our family members and have more starting to bake. Making it quick to get dinner or lunch on the table.
Plus if you like a crisp crust like we do, the waffle iron makes the pizza crust crisp. It's a yummy crust coating on a layer or yummy cheese and pizza toppings. So very good!
If you are ready to make your own waffle pizza pockets, I've made a quick video to show how we make ours. In the video, we make pepperoni and olive pizza pockets, but any toppings you love should work well.
Ingredients Needed to Make Waffle Pizza Pockets
In the video, I mentioned the no rise pizza dough we like to use. If you need a quick and easy pizza dough this recipe is our go-to recipe we use every time we make pizza. It's dairy free and egg free too.
If you don't want to make your own dough, you can use purchased pizza dough from Trader Joe's or WinCo Foods. Both of these stores sell pizza dough. You can also check with your local pizza shop and see if you can purchase dough from them, some of the stores will sell just the dough.
Want to make your own pizza sauce too? This is the pizza sauce recipe we use for our pizzas. With only a few ingredients and starting with tomato paste, it makes enough for 6 pizzas. It's inexpensive to make too.
We also make our own pizza seasoning. I add the pizza seasoning mix to our pizza sauce but it's also great to sprinkle into the dough as you are mixing to give the dough more flavor.
Even when making all of the items above from scratch we can get our pizza done and on the table in less than 20 minutes and for a fraction of what pizza delivered will cost.
If you like to have salad with your pizza like we do, if you prep ahead salad for the week you can have salad in just a minute or two. Find out how to prep ahead salad for the week without it getting soggy.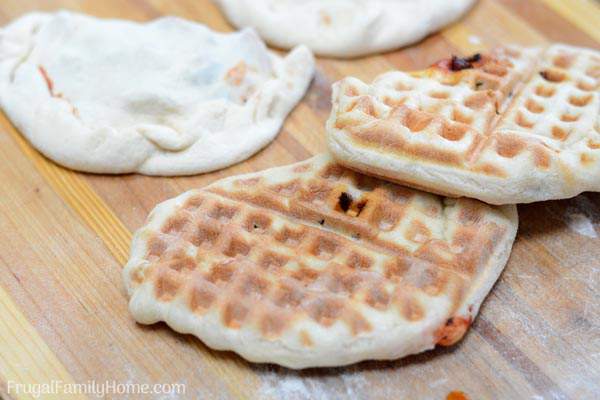 Tips for Making Waffle Pizza Pockets
You won't need to spray the waffle iron. I've never had a problem with the pizza dough sticking to my waffle iron at all.
Make sure to heat your waffle iron while you are getting the rest of the ingredients ready and making the pizza pockets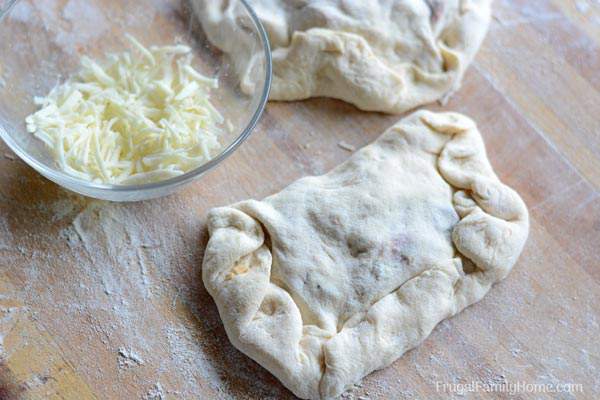 Fold and pinch the pizza dough around the edges to seal in all the yummy pizza toppings. If it's not sealed well, the ingredients might try to ooze out and burn.
Don't' be alarmed if your waffle iron rises and then falls as it's cooking the pizza pockets. This can happen as the pizza pocket starts to cook it will rise quite a bit and then the pizza pocket will deflate as it cooks.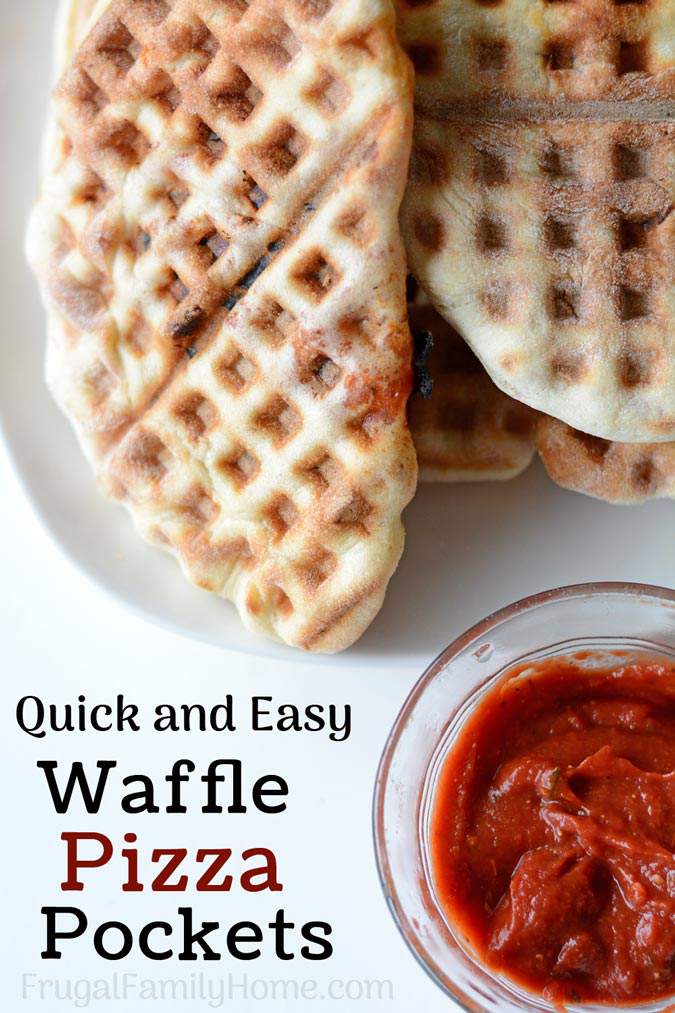 Quick and Easy Homemade Waffle Pizza Pockets
Ingredients
Shredded Cheese

Pizza Toppings
Instructions
Start heating the waffle iron while making the pizza pockets.

Divide the pizza dough into 8 pieces.

Roll a piece of pizza dough into an oblong shape. I make my pizza dough pretty thin as I roll it out.

Spread the pizza sauce over the pizza dough.

Add toppings to one side of the pizza pocket.

Fold the top over the toppings, roll the edge up, and pinch to seal. Then press the pizza pocket down to remove any trapped air.

Place on preheated waffle iron and close.

Let cook for about 3-5 minutes and then check for doneness. If the pizza pocket is golden brown, it's done.

Remove from waffle iron and continue cooking the rest.

Serve warm with extra pizza sauce, if desired.
The next time you have a desire for pizza on a hot day, skip the delivered pizza and make your own waffle pizza pockets. It only takes a few minutes and they are so very crisp and delicious.
More Pizza Related Recipes
Pizza Cups
Pizza Pinwheels
How to Grill Pizza
Pin it for Later….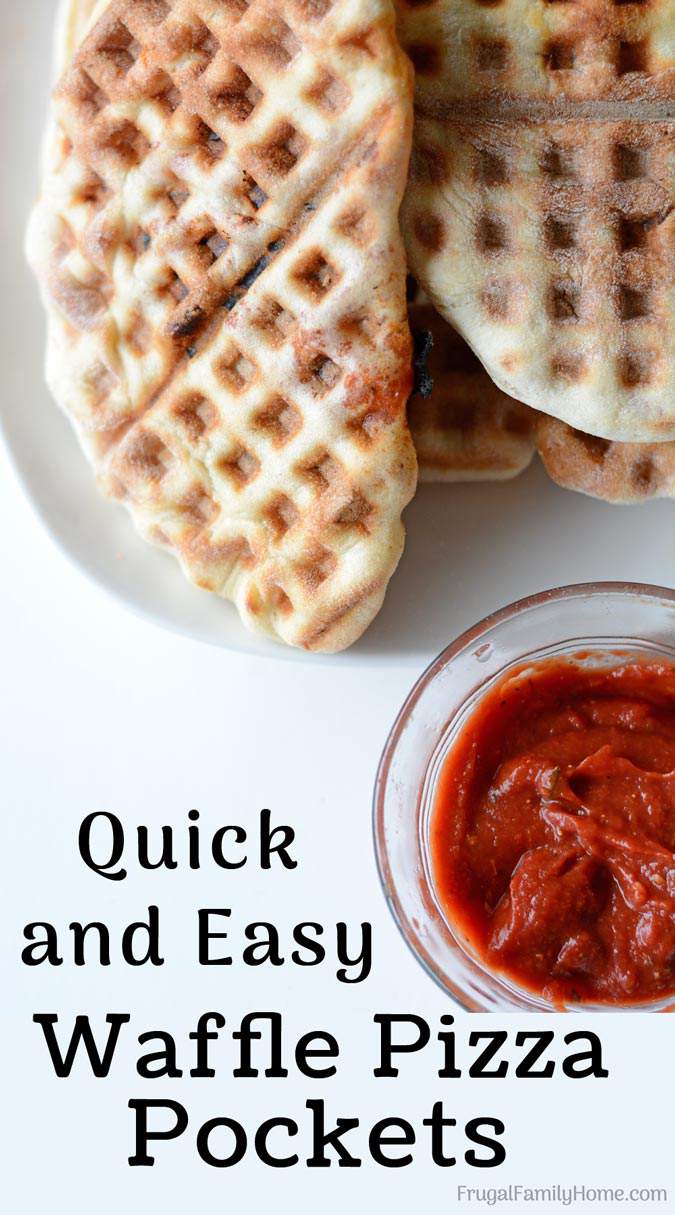 Subscribe and you'll get Recipes
sent right to your inbox!
Click the button below and fill out the form.