There is something about a hearty bowl of soup. It's so satisfying and delicious. Sure you can buy it by the can at the store but did you know it's super easy to make at home from scratch? Let me show you how to make vegetable soup from scratch.
It's easy to do and I've got a video tutorial for you below. And it can save you money too.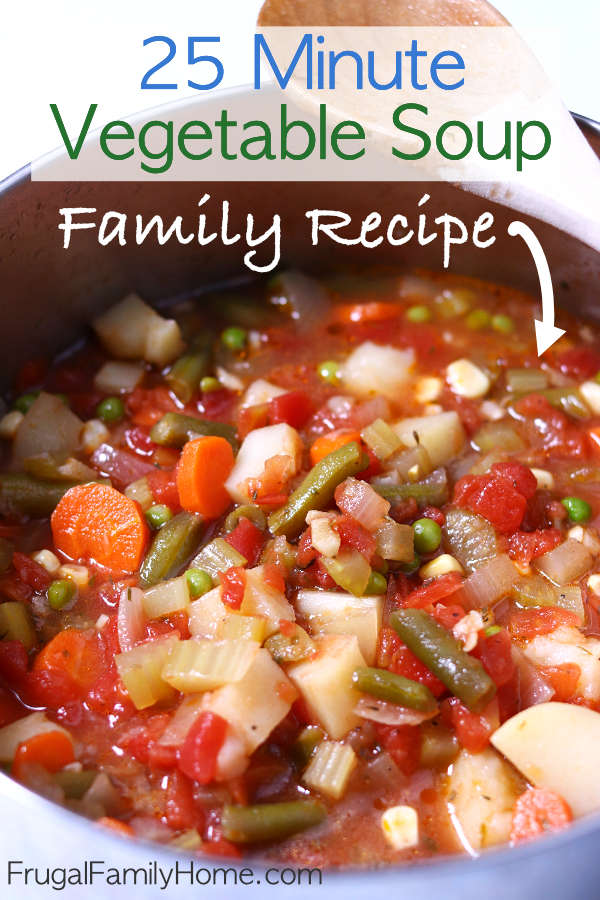 More Soup Recipes: Beef Stew | Potato and Corn Chowder | Hamburger Soup
I think soup is the perfect comfort food and frugal food all rolled up into one.
It's the perfect comfort food because it warms you from the inside out, kinda like getting a hug in a bowl.
You can make it frugal by using leftovers and vegetables that you have. So they don't go bad. Cutting down on food waste and ultimately saving money.
But maybe you've never made vegetable soup before. I get it. It's easy to buy a can off the shelf and heat it up.
But I think once you give this homemade vegetable soup a try, you'll wonder why it took you so long to make it yourself.
So first let's talk about the vegetables to use in your soup recipe.
What Vegetables Should I Use in Vegetable Soup?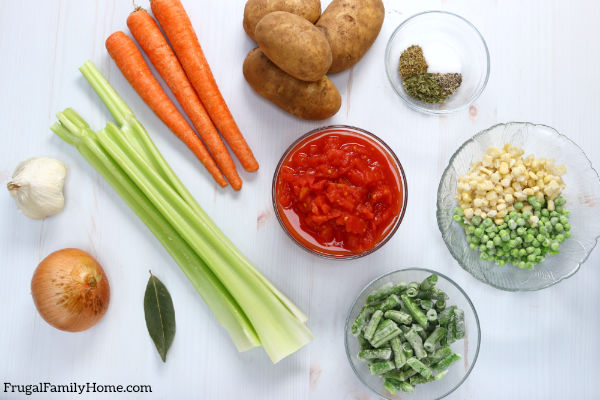 I like to use the basics for most soup recipes. These are always good in soup…
Carrots
Celery
Onions
Potatoes
Green Beans
Peas
Corn
Tomatoes
What Else Can You Add to Vegetable Soup?
If you want to add a little more variety to your soup, here are a few more ideas. Just add any vegetables you have on hand you need to use up. Vegetables like…
Sweet Potatoes
Butternut Squash
Bell Pepper
Asparagus
Cauliflower
Broccoli
Even Leafy Greens, like Kale or Spinach
Now that you know what vegetables to use in your soup, let's get started making some.
How to Make Vegetable Soup ~ Video
I've made a quick video to take you through all the steps to making homemade vegetable soup. But if watching a video isn't for you can read the steps below. And the tips and the printable recipe.
Step-by-Step Instructions for Making Vegetable Soup
1. Wash and chop your vegetables. You can use any vegetables you like. Our favorites are carrots, onions, celery, potatoes, green beans, and corn.
Recipe Tip: you can use fresh or frozen vegetables in your vegetable soup recipe. To skip the chopping altogether, pick up a couple of bags for frozen vegetables and use them instead of fresh.
2. Add the oil to the pot and then add the prepared carrots, onions, and celery. Cook them over medium-high heat until they soften a bit.
3. Add your seasonings next. I like to use garlic, salt, pepper, parsley, and thyme. Stir them in for about 30 seconds to get them started cooking but not so long that the garlic burns.
Recipe Tip: you can use fresh or dried herbs in this recipe. Either will work great.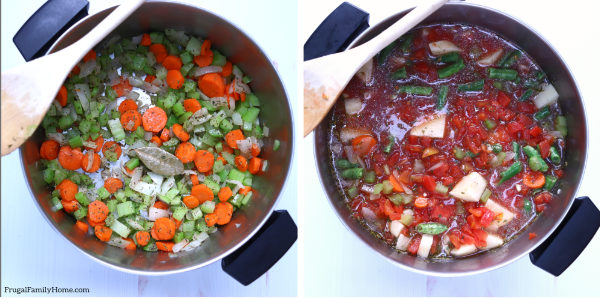 4. Add the other vegetables, like tomatoes, potatoes, green beans and any other vegetables you'll like.
Recipe Tip: If you'll be using a mixture of fresh and frozen, hold the frozen vegetables back at this point and add them closer to the end of the cooking time.
5. Add Broth or Water and Stir to Mix. When making soup you'll need to add broth or water. I sometimes use broth and other times I just use water. It's really up to you and what you have on hand.
Recipe Tip: Keep a jar of Better than Bullion on hand and you'll always have broth available in just minutes. I use it when I don't have homemade broth.
6. Cook. You'll want to bring your soup up to a boil and then turn down the heat so it can simmer about 20-25 minutes. Or until the vegetables are nice and tender.
7. Add the frozen vegetables. If you are using frozen vegetables like corn or peas, add them in the last 5 minutes of cooking time.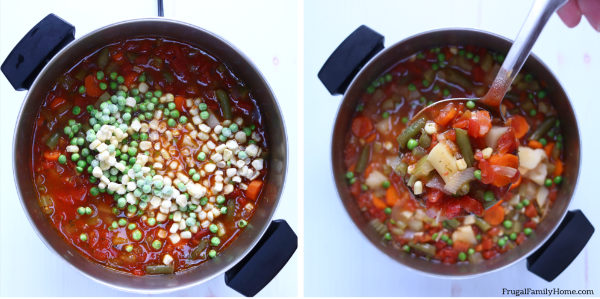 8. Taste and season with salt or pepper as needed. When cooking is done you really need to taste your soup and see if you need to adjust the seasonings before serving.
Those are the 8 quick and easy steps for how to make vegetable soup from scratch. Keep on reading for more tips and the printable recipe too.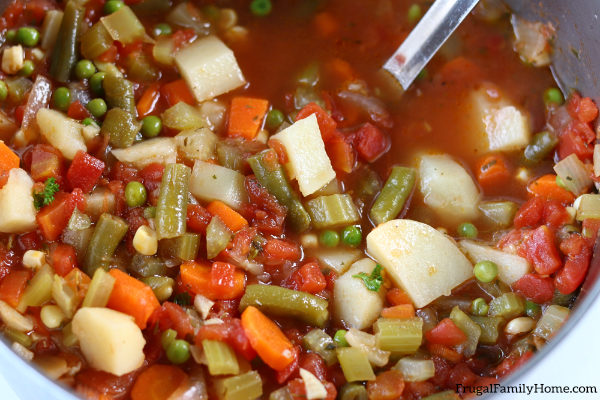 Soup Making Tips
To increase protein in vegetable soup, you can add in a can of beans or even tofu to your soup. I like to pan-fry the tofu with a little seasoning before adding it to the soup.
If you don't need to eat vegetarian, you can add leftover meat to the soup. This can help you use what you have on hand so you don't end up with wasted food.
You don't have to use fresh vegetables, you can use frozen or even canned vegetables in homemade soup. Canned and frozen vegetables cook faster so add them at the end of the cooking time.
Canned tomatoes work great in vegetable soup. Or if you have an abundance of fresh tomatoes out of your garden, you can use those. You can also freeze tomatoes out of your garden this way for soup later. No peeling or chopping needed.
Leafy greens are a great addition to any soup. But they should be added during the last 5 minutes of cooking time so they don't overcook.
You can add noodles to the soup. It's best to cook them to al dente separately then add them into the soup during the last minute or two of cooking.
Make your soup creamy by adding 1/2 cup to 3/4 cup of milk, cream, or half and half. If you need to eat dairy-free use a dairy-free milk substitute like coconut milk.
For a thicker soup, remove some vegetables and broth, puree it and add it back to the soup. Or use 3-4 tablespoons of tomato paste.
Can I Make Vegetable Soup in the Crock Pot?
Yes, you can. Just add all the ingredients to the crock pot and then stir. Cook on low about 8 hours or high for 4 hours.
I love how the flavor builds over time when using the crock pot too. I think crock pots make the best soup ever.
How Long Can I keep Homemade Vegetable Soup?
Vegetable soup will keep in the refrigerator for about 3 days. If you won't be eating it all by then, you can freeze it.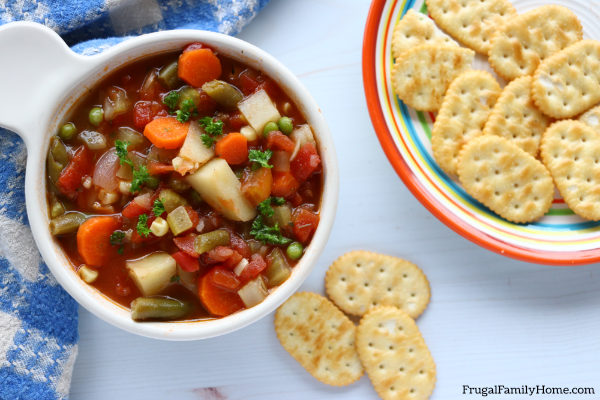 Can I Freeze Vegetable Soup?
Yes, this vegetable soup recipe freezes well. Add meal-size portions to a freezer container or zipper topped bags and freeze.
To use from the freezer, let the soup thaw overnight in the refrigerator. Then heat in a pot on the stovetop or in the microwave.
How Do You Make Soup More Flavorful?
No one likes bland, flavorless soup but some of us like more flavor than others. Here's how to pump up the flavor of this soup or any other soup you might be making.
Use a variety of vegetables. You can make vegetable soup with a few vegetables but when you add a bigger variety, it gives the soup better flavor and texture.
Season the soup well, after cooking be sure to taste the soup. If it seems a bit bland, add more salt and pepper. And even more, dried herbs. A splash of lemon juice can make a big difference in making your soup taste fresher too.
Roast Your Vegetables First, there is something wonderful that happens to vegetables that are roasted. The flavor gets sweeter and intensifies. Adding even a few roasted vegetables can really add extra flavor to your soup.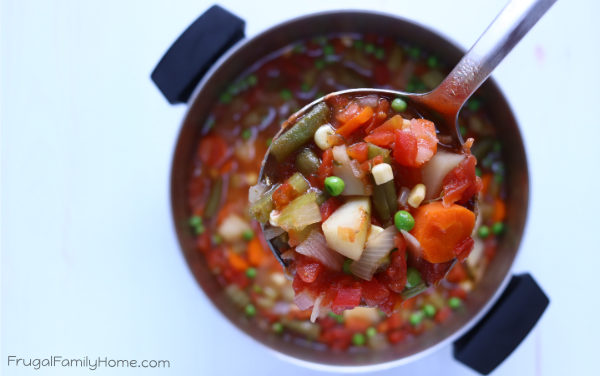 What Should I Serve with Vegetable Soup?
I think vegetable soup screams out for yummy bread. Like homemade French Bread or easy homemade biscuits. Or even these delicious breadsticks.
Add a few slices of cheese and apple slices and you have a full meal.
How Much Does it Cost to Make Vegetable Soup?
Vegetable soup is really a frugal meal.
It's a great way to use up the vegetables you bought at the store with high hopes of using. You can use them in your homemade vegetable soup.
For the prices below, I determined the prices for each ingredient by using the average price I pay locally at WinCo Foods. Your prices may be higher or lower depending on where you live and where you shop.
I calculated the vegetable broth cost when using Better than Bullion.
Onion $.20
Carrots $.30
Celery $.15
Potatoes $.40
Green Beans $.40 (1/2 a bag)
Frozen Peas $.20 (1/4 of a bag)
Frozen Corn $.20 (1/4 of a bag)
Tomatoes $.59 a can
Vegetable Broth or Water $.20 or $0 if using water
Seasonings $.25 (I buy seasoning in bulk foods)
That brings the cost for this homemade soup recipe to $3.63. Or just $.45 a serving. That is a great deal for a healthy and delicious dinner.
More Vegetable Recipes You'll Love: Roasted Vegetables | Easy Crispy Potatoes | Roasted Brussels Sprouts
Get the Printable Recipe…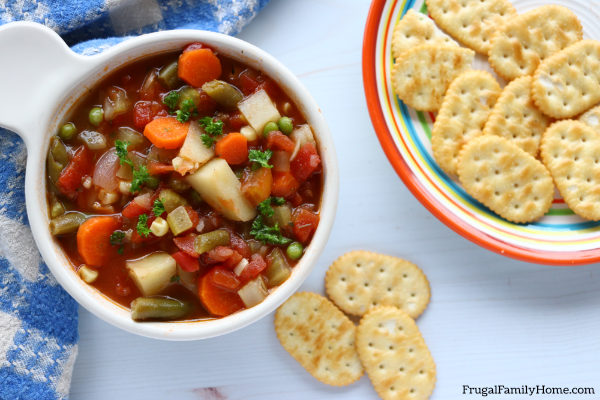 Easy Homemade Vegetable Soup
A quick and easy recipe for homemade vegetable soup. Just like grandma used to make. This recipe is vegan, dairy-free and gluten-free too.
Ingredients
1

medium

Onion

chopped

3

Carrots

peeled and sliced

3

stalks

Celery

diced

4

medium

Potatoes

diced

1

cup

Green Beans

frozen or fresh

1/2

cup

frozen Peas

1/2

cup

frozen Corn

2

14 oz cans

diced Tomatoes

2

cups

Vegetable Broth or Water

2

Garlic Clove

minced

1

teaspoon

Thyme

dried

1

teaspoon

Parsley

dried

1

Bay Leaf

1

teaspoon

Salt

1/2

teaspoon

Pepper

2

tablespoon

Oil
Instructions
To a large stockpot, add the oil, onions, celery, and carrots. Stir and cook over medium-high heat until slightly softened.

Add the seasonings and cook and stir for about 30 seconds to 1 minute.

Add the tomatoes, green beans, potatoes, and broth or water to the pot. Stir to combine.

Bring to a boil then reduce to a simmer and simmer covered for 25 minutes or until the vegetable are tender.

Add the frozen peas and corn, then stir. Cover and cook for 5 minutes more.

Remove from heat and serve.
Video
Notes
If you are using fresh herbs instead of dried. Use 1 tablespoon of fresh herbs in place of each teaspoon of dried herb.
To Make in a Crock Pot: place all the ingredients into the crock pot and cook on low for 8-10 hours or on high 4-5 hours.
Nutrition
Calories:
215
kcal
Carbohydrates:
37
g
Protein:
6
g
Fat:
5
g
Subscribe and you'll get Recipes
sent right to your inbox!
Click the button below and fill out the form.