Rhubarb custard pie is a delicious classic dessert recipe that you will love. It's the perfect blend of sweet egg custard and tart rhubarb pieces in a unique pie recipe that I got from my grandma.
Let me show you just how easy it is to make.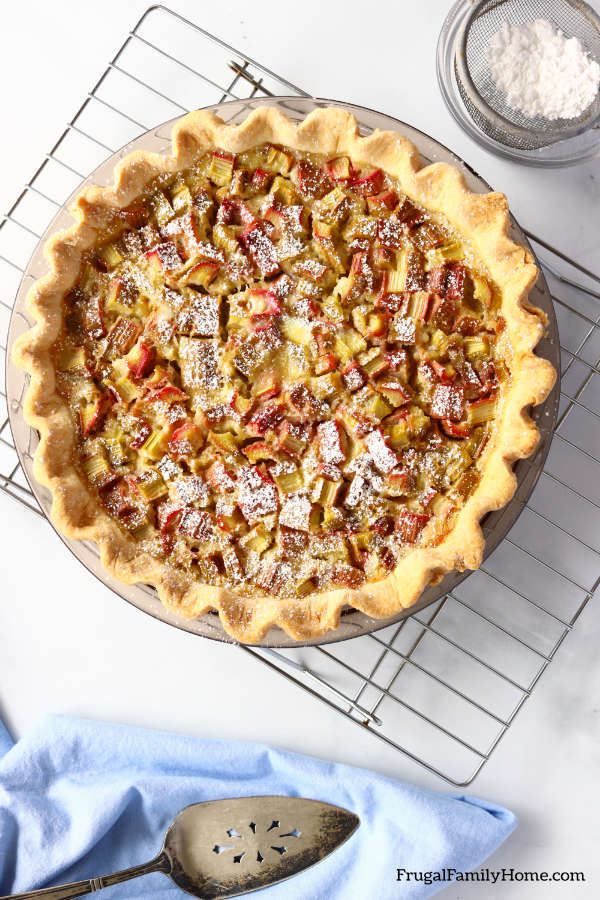 More Rhubarb Recipes: Rhubarb Fruit Roll Ups | Rhubarb Quick Bread | Roasted Rhubarb Jam
Rhubarb, is it a Vegetable or Fruit?
Yes, rhubarb, it is an interesting vegetable. Yes, it is a vegetable but it's used as a fruit. Just like a fruit is used in desserts, pies, and in jams.
And this fruit or should I say vegetable custard pie made with rhubarb is so delicious.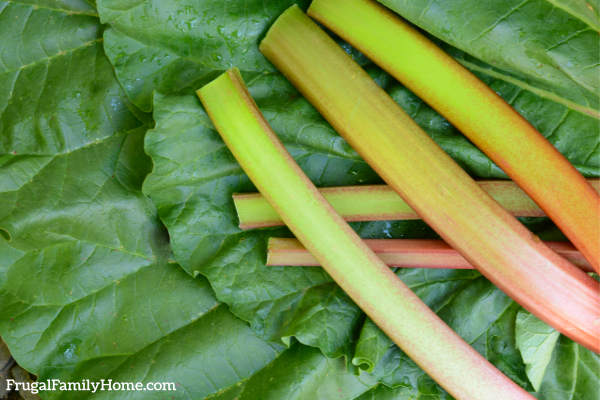 I found this recipe in my grandma's recipe box after she died. I was looking for a unique way to use up my bumper crop of rhubarb from the garden. When I discovered the it.
I looked at the recipe and thought…
Oh my goodness, there're no instructions to make it. So I had to wing it and make it more than once before I got it to turn out, just right. But once I did.
Oh, it is so delicious.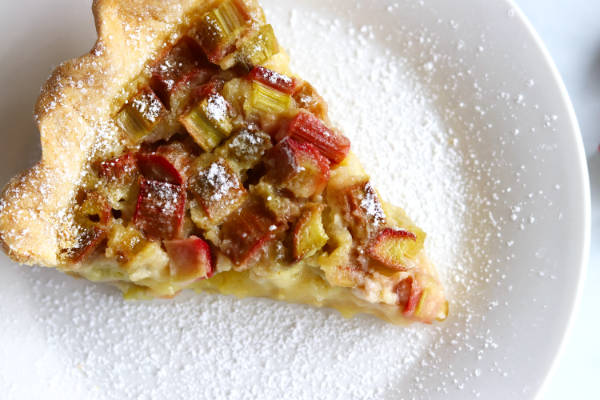 And so easy to make. So if you grow rhubarb in your garden, or if you love pie. You'll love this easy to make pie recipe.
Now don't let making the pie crust scare you away from making this pie. I mean, you don't even have to make the crust. You can use a store-bought crust if you'd like.
But if you want to make your own pie crust, I have a perfect pie crust tutorial for you. It is really quite easy to make and one of my most popular food tutorials too.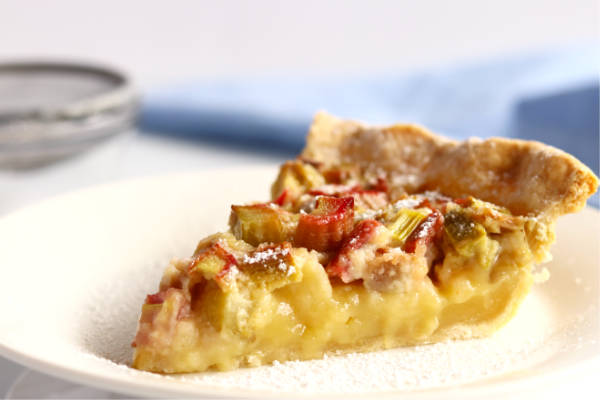 Can I use Frozen Rhubarb in Pie?
Rhubarb season is pretty short lived. But you can enjoy this pie year round.
Yes, you can.
When you're harvesting your rhubarb you want to harvest it before, mid summer because it gets woody and pithy and yucky beyond that time.
You'll want to harvest it before then, and you can freeze rhubarb. And yes, you can use that frozen rhubarb in this recipe, oh yes you can.
How to Use Frozen Rhubarb in this Classic Rhubarb Pie Recipe
When you're ready to make your homemade rhubarb pie. You'll want to thaw the rhubarb completely.
It gets watery when frozen and then thawed. So you need to thaw it first.
Then drain off the extra liquid. Then dry it, pat it dry with a towel or napkin.
When you go to add the thawed rhubarb to the recipe instead of putting it into the pie crust first, you will want to mix it with the flour and then put it in with the custard mixture.
And then put the custard mixture and rhubarb together in the pie. That's the only thing you have to do to make this recipe turned out perfectly, even with frozen rhubarb.
Let me show you to make this recipe from scratch.
Rhubarb Custard Pie Recipe (Step-by-Step Tutorial)
Now here's the step-by-step instructions for making your own homemade rhubarb custard pie.
I've made a quick video with each step in the video. Now if watching a video isn't your thing. No problem, keep scrolling for the written directions and the pie making tips too.
Step-by-Step Direction for Making Rhubarb Pie
1. Make the Pie Crust
Now if you don't want to make your own homemade crust, you can use a store-bought crust.
But it's easier than you might think to make yourself. Watch the perfect pie crust tutorial and learn how.
Recipe Tip: if making crust from scratch is too intimidating or seems time consuming, just use a purchased pie crust. No one will even know.
2. Prepare Your Rhubarb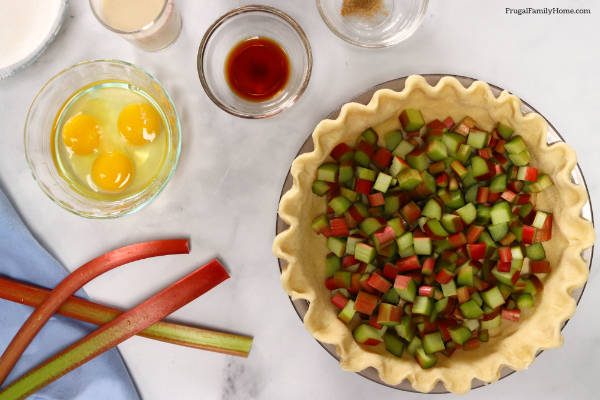 Wash your rhubarb. Remove the ends and dice it. If your rhubarb has leaves discard them, you can't eat the leaves.
You can use any size of rhubarb pieces you'd like, but in this custard pie, I like small and medium diced pieces. They cook up nicely and look pretty, too. And I think the variance in sizes and color give the pie a pretty texture.
So, dice up your rhubarb, and then place it in your prepared unbaked pie crust.
Recipe Tip: Don't blind bake the pie crust first. The pie crust will bake with the filling in it.
3. Make the Custard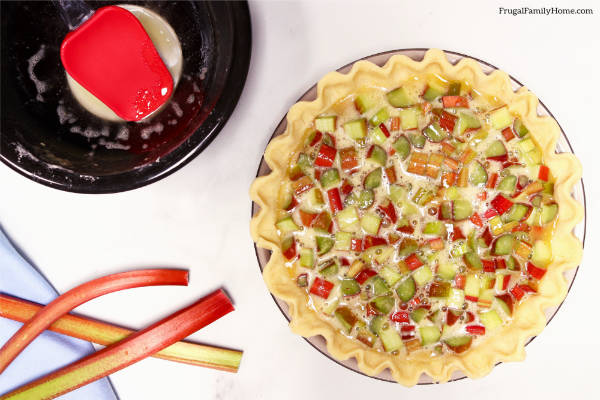 Now we will make the custard. In a medium-sized bowl, place three eggs and whisk them to mix well. Then you'll want to add the milk and the vanilla.
Finally, we will add the sugar, cardamon, and flour. Stir or whisk to combined.
Pour your custard mixture over the rhubarb. Smooth it a bit with a spatula.
Recipe Tip: I've combined the rhubarb with the custard and then placed it in the bowl. And I've put the rhubarb in the pie crust and then added the custard over top. I like the distinct two layers you get when putting the custard over top of the rhubarb. But either way, the pie will turn out yummy!
5. Bake Your Pie
It's time to bake until the custard pie until set. Bake at 375 for about 45 to 60 minutes. You'll know it's done when the custard is set.
Recipe Tip: the chief thing to remember is to give the pie a little shake when you think it is done. If it is set around the edges but there is still a slight wiggle in the middle that is ok. It will finish cooking while it cools down.
6 Cool Completely, Then Dig In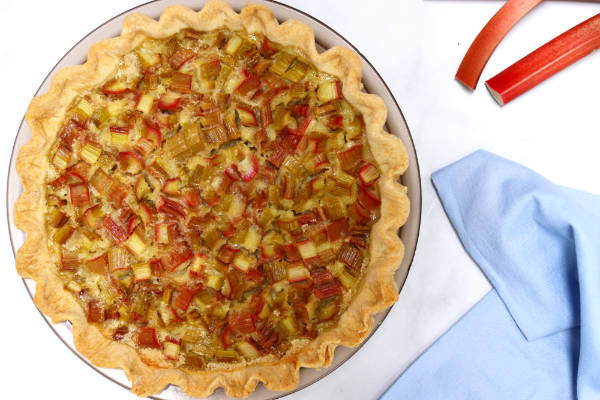 And then comes the hard part, waiting for it to cool. We're going to let it cool completely before serving. To make sure the middle gets enough time to cook and get fully set.
Once fully cooled and set, you can serve it with whipped topping or ice cream. You can even reheat it to enjoy it warm.
See, I told you it would be simple, simple as pie. I couldn't resist.
More Rhubarb Recipes: Caramel Rhubarb Upside Down Cake | Rhubarb Coffee Cake | Roasted Rhubarb Ice Cream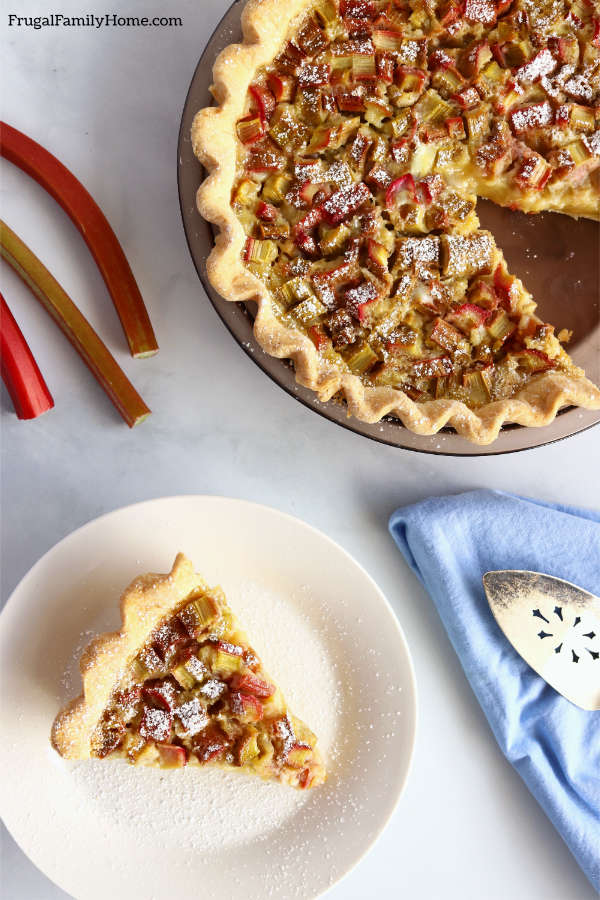 Be sure to get the printable recipe below so you can make your own homemade rhubarb custard pie.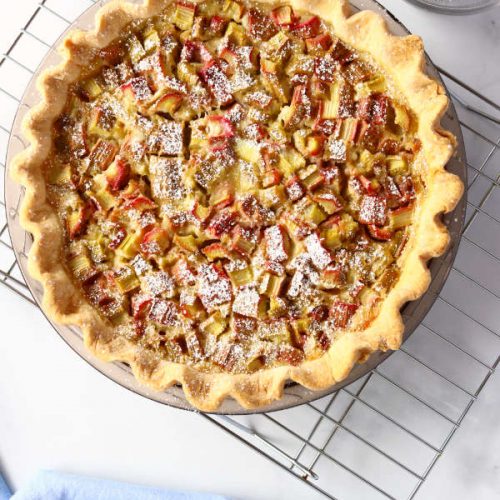 Rhubarb Custard Pie
This sweet custard and tart rhubarb recipe is simple and easy to make. Taste so creamy and delicious.
Ingredients
3

cups

Rhubarb

diced

1 1/2

cup

Sugar

3

Eggs

1/3

cup

Milk

Soy Milk, Almond Milk or Cream

1/4

cup

Flour

1/4

teaspoon

Cardamon

1

teaspoon

Vanilla
Instructions
Place the pie crust into the pie plate and flute the edges.

Take the diced rhubarb and place it in the pie plate.

In a medium bowl, add the eggs and whisk.

Add the milk, vanilla, and whisk again.

Add the flour, cardamon and sugar into the bowl and mix well.

Pour the custard mixture over the rhubarb and spread with a spatula so it's even.

Bake in a preheated 375-degree oven for 45-60 minutes. Until the pie is set. If the middle of the pie is still jiggly that is ok, it will finish cooking while the pie cools.

Fully cool the pie and then serve plain or with whipped topping or ice cream.
Nutrition
Serving:
1
slice
Calories:
308
kcal
Carbohydrates:
53
g
Protein:
4
g
Fat:
9
g
Subscribe and you'll get Recipes
sent right to your inbox!
Click the button below and fill out the form.