I've been on a search for how to make my own body wash for a while now. A few years ago I made my own hand soap using bar soap and we really liked it. It's easy to do and makes a lot but the consistency just wasn't what I wanted for body wash. I finally came up with this easy to make diy body wash recipe and we love it. I hope you do too.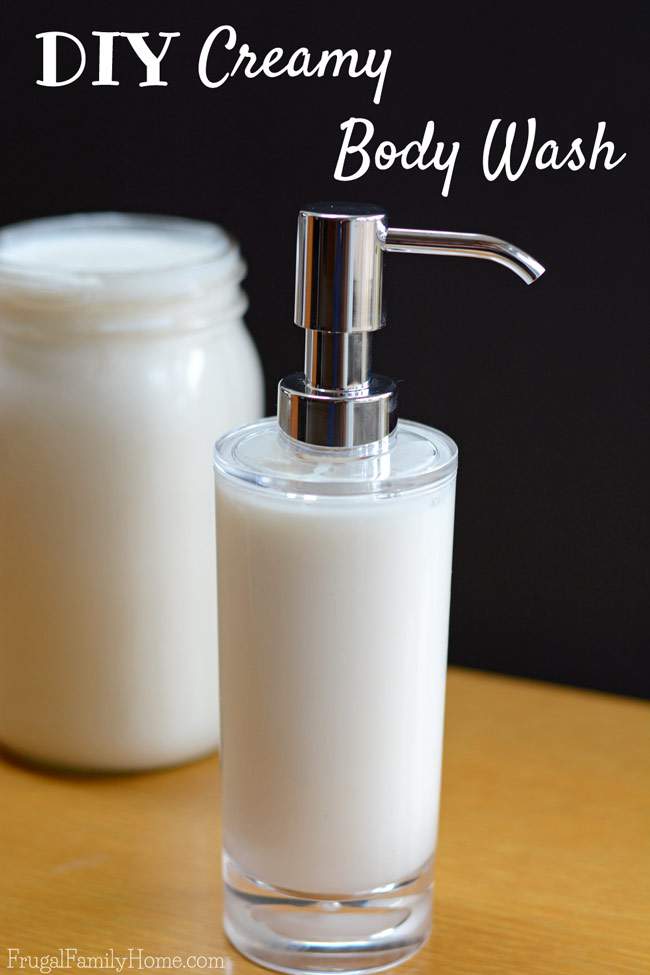 After searching Pinterest for diy body wash ideas, I found with quite a few. But I didn't want to make a body wash you had to remember to shake each time before use. The recipes I found started out with liquid soap all needed to be shaken before use.
I know my kids and they might forget to shake it. I needed a body wash you can just squirt and use, nothing else needs to be done.
After all, that searching I decided why not try my hand soap recipe with a more moisturizing soap. I usually use castile soap or a french milled soap for my hand soap and it's great for hand washing but I thought a more moisturizing soap would be the ticket for a great body wash.
My husband and kids really like Dove soap. It's one that works well for their sensitive skin and when I found a four bar pack of the shea butter Dove bar soap, I knew that would be the perfect soap to try in my diy body wash.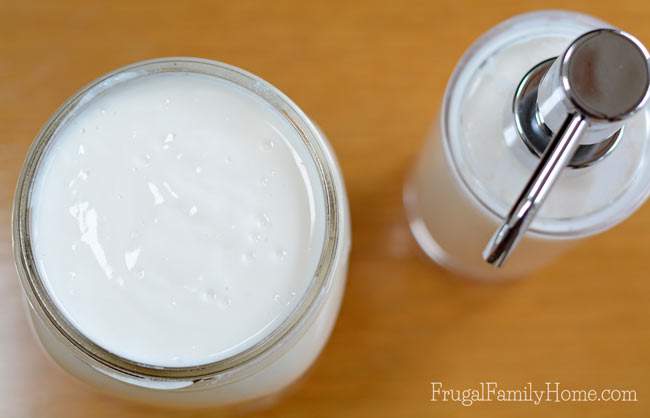 I also wanted the body wash thicker so I cut the water down a bit from the hand soap recipe and increased the amount of soap. This combination made a wonderfully creamy body wash.
Here's the printable recipe so you can give it a try yourself.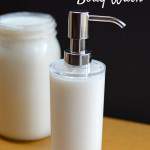 Print
How to Make Creamy Body Wash and Save Money
Ingredients
2 4

ounce

Bars of Dove Soap

6

cups

of Water
Instructions
Heat the water in a container on the stove.

Grate the two bars of soap and add it to the water.

Stir until all the grated pieces of soap are dissolved.

Let sit for 12-24 hours to cool, covered.

Once the body wash is set and thickened transfer to a squeeze or pump bottle.
Here's the step by step video
Tips for Making the DIY Body Wash
You don't have to grate the soap, I've read you can microwave it and then add it to the hot water on the stove. This only works if the water is hot. So be sure to heat the water first before microwaving the soap. I find it only take me a few minutes to grate the soap, but microwaving it until it expands is another option if you hate to grate the soap.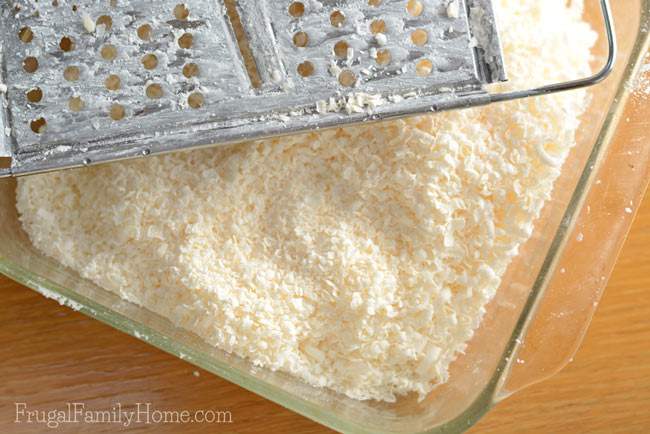 Use a moisturizing soap in this recipe. We are partial to Dove but I think other soap would work too, maybe Tone. You'll just have to experiment and see what kind of soap you like best.
For a more manly body wash, you might try the Dove for men bar soap in this recipe. I know my hubby is alright with just the regular Dove but if your man is a little more picky about scents you might give the Dove for me a try. Or maybe even Irish Spring, although I'm not sure it has enough moisturizer in it to make a nice creamy body wash. You would have to experiment and see.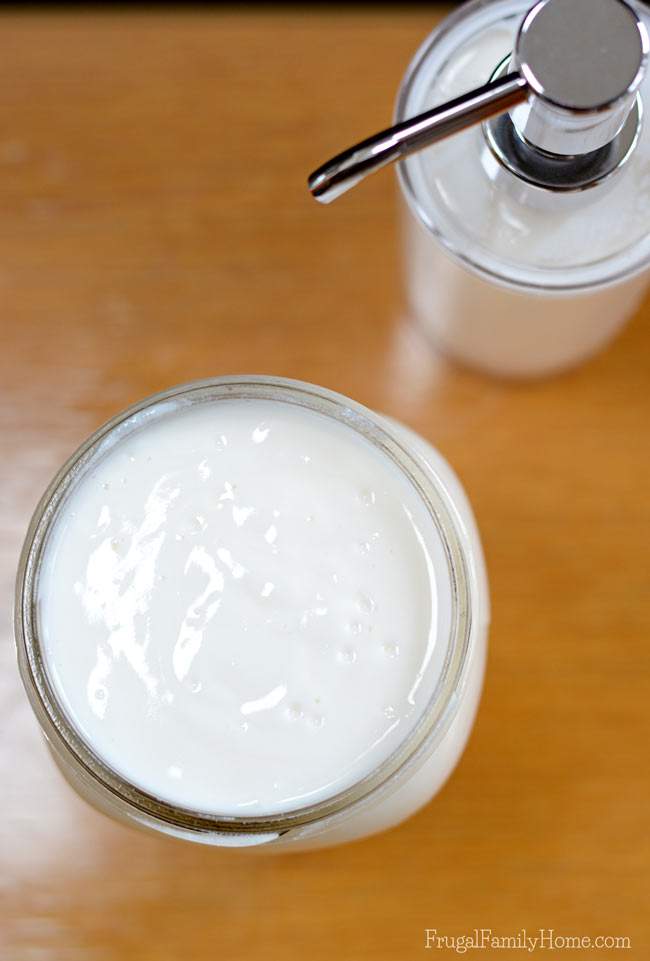 Storing the Body Wash
Just so you know, some of the links below are my affiliate links, which means when you purchase through them I can make a little money at no extra cost to you. Thanks for your support in this way. You can see my disclosure policy for more information.
To store the body wash I usually store it in a quart size canning jars with plastic lids. I also purchased a plastic pump bottle for the soap.
The Cost Breakdown
Dove Soap $1.17
Water $0
Total cost $1.17 for 49 ounces of Body Wash or about $.39 for 16 ounces
Body wash from the store costs around $3-4 for 16 ounces. By making your own body wash at home you can save $2.61 to $3.61 for each 16 ounces you make at home. That is quite a bit of savings!
That's my recipe and price breakdown for diy body wash. What do you think? Is this diy project something you might give a try? Or do you have your own favorite diy body wash recipe? I would love to have you share your thoughts in the comments below. Also, be sure to pin this recipe for later and share it with your friends!
[signoff]
More DIY Beauty Recipe to Try
Honey Lip Balm
Raspberry Lip Balm
Coffee Sugar Scrub
DIY Hand Soap
SaveSave