Freezer Cooking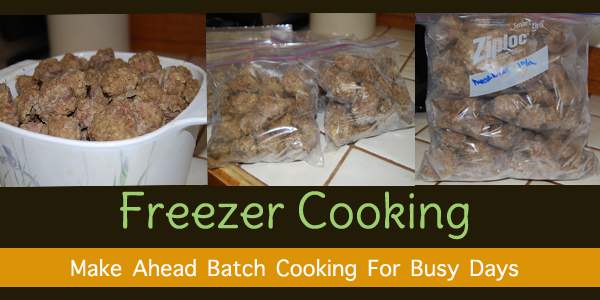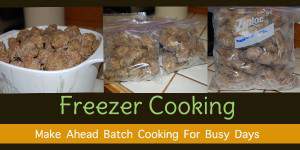 I like to do some meals in the form of freezer meals. So when I am having a busy week we don't end up eating out and eating up our budget. By making some meals ahead for the freezer all the messy work gets out-of-the-way in one shot. By making more than one batch of each recipe, after a few weeks I have a good variety of dishes to use for dinners or lunches.
Just today I took some ground hamburger that I purchased on sale and made a big batch of meatballs. I divided them up into serving sizes and then frozen them. I use them in pasta sauce over noodles. My family also likes them with barbecue sauce on them and then baked. I usually will cook them before placing them into the freezer but you can freeze them before cooking if you prefer.
I recently made a new recipe for pot pie filling. My family really likes pot pies but I hate the time it takes to make the filling and then the crust. I always seem to be busy right when I need to start dinner so having quick to prepare meals really helps me to get dinner on the table at a decent time.
So to make the pot pies quicker to make,  recently I put together the filling for the pot pie and then frozen the filling in 4 cup portions in freezer bags. I wasn't sure how it would work as I added potatoes to the mix. Sometimes potatoes don't freeze very well but to my surprise it worked out great. I will be sharing the recipe soon.
But for now here are a few freezer recipe that I like.
BBQ Beef Biscuit Cups
Bean and Cheese Burritos
Bean and Beef Burritos 
Dairy Free Mini Lasagna
Herb and Spice Rubbed Chicken
Herb Rubbed Steak 
Cheeseburger Rolls
Chili 
Do you freezer cook? If you do what is your favorite recipe to make?
[signoff]