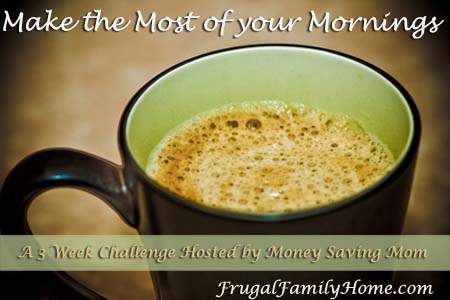 Photo Credit
I am getting this up a little late, I meant to get this post up yesterday but it did not work out. I really worked on getting more exercise in yesterday with 4 hours of deck cleaning and my house cleaning too. It is funny how when I commit to something like exercise I suddenly have lots of tasks that come to mind to get me more exercise.
Yesterday I did get to bed on time, with my five tasks done. I was up on time although a little tired and I definitely got in my exercise yesterday. I also got in a good breakfast of whole wheat toast with peanut butter.
The changes I am making for this challenge
1. Bed by 10:30 each night
2. I have my top 5 things to do each evening
3. I have set a time to wake up at 6:30 and out of bed by 7:00
4. Each morning I will pray and name three things I am thankful for to help my day get off to a good start.
5. Have a plan for your day, I set up 5 goals to work on for the remainder of this year.
6. Make a Realistic To Do List, I am trying to keep mine to 5 tasks a day
7. Get some exercise in, I am committing to 10 minutes of exercise a day
8. Eat Something Nutritious
Today's assignment for Day 9, Stop Saying "I'm not a Morning Person"
Well it is really the assignment for this morning. I am a morning person so this area is not a problem for me. I can say until this challenge I did get up at  a certain time each day but I did not always have a plan for the day. Some days the morning would be wasted with busyness and non-productive activities. I have notice since this challenge started I have a plan for each day which helps to keep me on track.
Crystal mentioned in her post. That by telling yourself "I am not (fill in the blank)" you are really limiting yourself and your potential. If you set to low of goals for yourself, you limit yourself in what you can accomplish. I am reading a book right now that talks about change your mind, change your life. Most changes begins with the mind. It sounds funny but I really believe it is true. If you don't believe you can do something, do you really think you will accomplish it? I know I like to say I just don't like exercise. Well is it that I don't like it or have I just convinced myself that is who I am? Something to take into consideration.
Is there something you tell yourself that is limiting your potential?
[signoff]
Other Posts in this Series
Make the Most of your Mornings Day 1 and 2
Make the Most of your Mornings Day 3
Make the Most of your Mornings Day 4
Make the Most of your Mornings, Day 5
Make the Most of Your Mornings Day 6
Make the Most of your Mornings Day 7
Make the Most of your Mornings Day 8