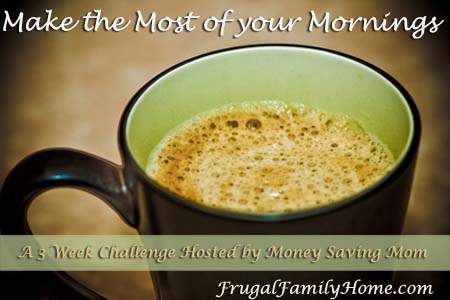 Photo Credit
I was able to get to bed on time last night. I did my 5 items before bed and woke up and got up on time. I had my plan for today and didn't even over do it today. Today while I was getting the sugar snap peas processed for the freezer and the green beans in the food dehydrator, I went ahead and walked in place so I am counting that as my 10 minutes of exercise even though it was longer than just 10 minutes.
The items I am working on for this challenge are
1. Bed by 10:30 each night
2. I have my top 5 things to do each evening
3. I have set a time to wake up at 6:30 and out of bed by 7:00
4. Each morning I will pray and name three things I am thankful for to help my day get off to a good start.
5. Have a plan for your day, I set up 5 goals to work on for the remainder of this year.
6. Make a Realistic To Do List, I am trying to keep mine to 5 tasks a day
7. Get some exercise in, I am committing to 10 minutes of exercise a day
This one is an easy one for me as most days I do eat a good breakfast. We usually have whole wheat toast with scrambled eggs each morning. Sometimes it is oatmeal made from our oatmeal packages we make ourselves or sometimes leftover pancakes, waffles or scones from my weekend baking.
Crystal mentioned a few ways to make preparing breakfast faster. First have a plan of what you will make. The night before make the breakfast you will eat so all you have to do is heat and eat. On the weekends make some extra items to eat throughout the week or make a large batch and freeze it for later. Have some options for a quick breakfast. I rely most of the time on whole wheat toast with peanut butter for us. It is a good breakfast that just takes minutes to make.
So how about you, do you start the day with a good breakfast?
[signoff]
Other Posts in this Series
Make the Most of your Mornings Day 1 and 2
Make the Most of your Mornings Day 3
Make the Most of your Mornings Day 4
Make the Most of your Mornings, Day 5
Make the Most of Your Mornings Day 6
Make the Most of your Mornings Day 7