Figuring out what's for dinner can be hard. You want to feed your family good food, but you're tired and worn out at the end of the day. But with thee 7 easy way to get dinner done, you can make a great meal for your family.
Even if you are frazzled, worn out, tired or …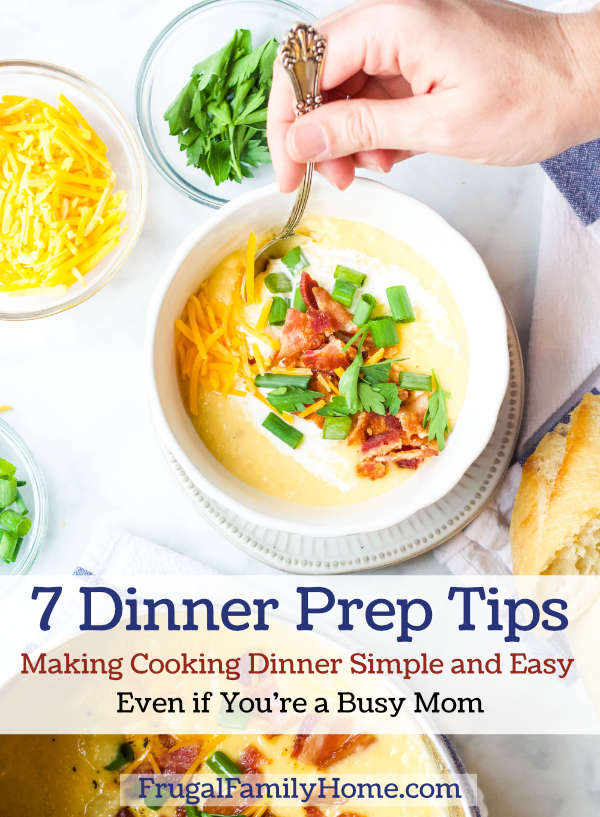 Making dinner each night can be difficult. There the thinking of what to make for dinner every night.
I saw this quote on Facebook this week…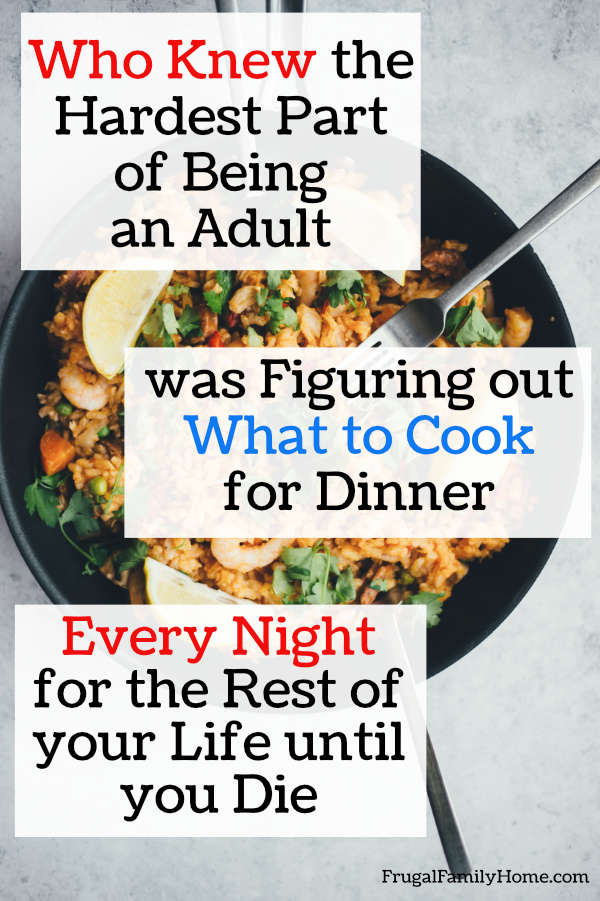 And thought why is getting dinner done so hard?
Is it thinking about what to eat? Or making the food? Or does a long day get the best of us and we just don't feel like cooking?
Or is it a combination of these things and more?
As I pondered this more, I thought this would be a great subject for a podcast. And so here it is.
In this episode of the Frugal Family Home podcast, I'm sharing easy tips to get dinner done. These tips can help you make dinner each night.
Even if…
You've had a long day and are so tired but your family is so hungry too.
Cooking dinner is a struggle for you.
You have a hard time thinking of things to make for dinner.
Listen to the podcast and read the show notes too.
Podcast: Play in new window | Download | Embed
Subscribe: Apple Podcasts | RSS
Are you subscribed to our podcast? If not, find it on your favorite podcast app or use the links above.
7 Tips for Getting Dinner Done Every Night
If getting dinner prepared every night is a struggle for you, these tips below can help. Whether you are a frazzle stay at home mom that never has a free minute, not even in the bathroom.
Or a mom who works outside the home and gets home and needs to make dinner but is so exhausted it's hard to cook.
Or a work at home mom that has a mix of both worlds colliding into one another all day long.
These tips can help you get organized and get dinner done. Even if you are frazzled, busy, tired, or …
1. Let's tackle what's for dinner?
If you don't know what you are cooking, you can't make dinner. And not having a plan is bad for getting dinner done each night.
Now I'm not saying you have to have everything planned out. I'm saying you need to know what you'll be eating each night.
You might find planning for a week or a couple of days works best for your family. But you need to have some kind of plan.
It doesn't have to be elaborate either. Oh, no it can be a few dinner ideas scribbled on the back of an envelope of the junk mail you can't seem to stop coming to your house.
But you might say, coming up with ideas for dinner is the hardest part.
I understand. I have times when I have dinner block too. I try to think of something to add to our meal plan but can't think of anything.
The harder you try to think the worse it gets.
Here are a few tips to help you always have ideas for dinner at your fingertips.
Plan Your Dinner with Themed Days
Monday, meatless meals
Tuesday, taco night
Wednesday, breakfast night
Thursday, soup and salad night
Friday, Pizza night
Saturday, leftovers
Sunday, Crockpot dinner (roast, whole chicken, etc)
Use Pinterest
Or make a Pinterest board with dinner recipe ideas. Here's mine with some of our family favorites.
You know you are on Pinterest often why not make a board with recipes you are dying to try and then make one or two a week.
Subscribe to a Meal Planning Service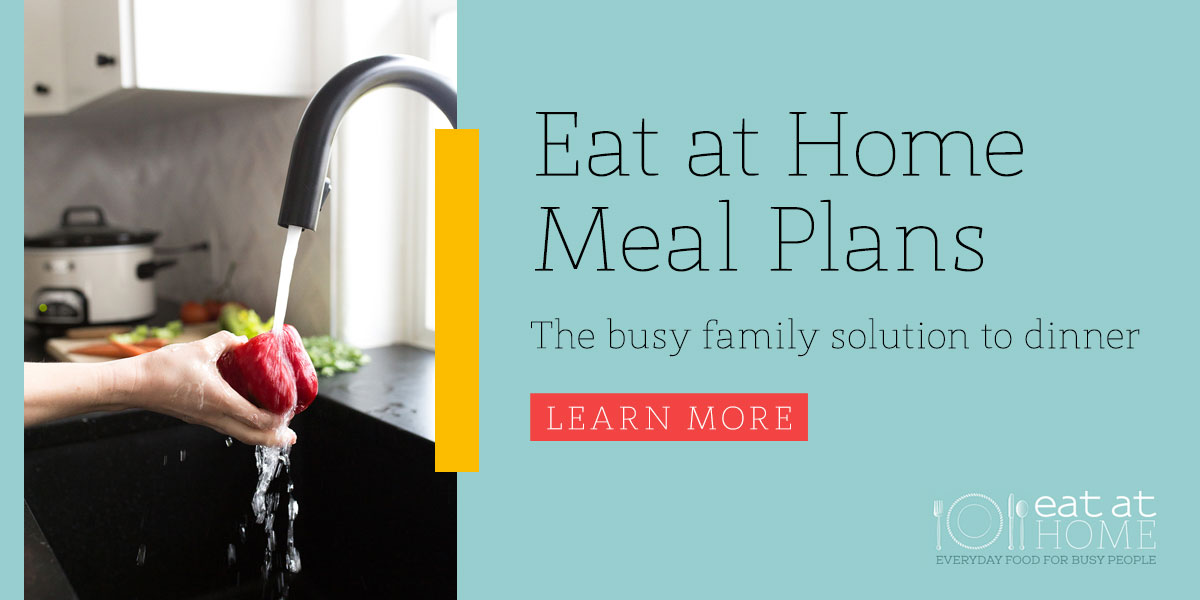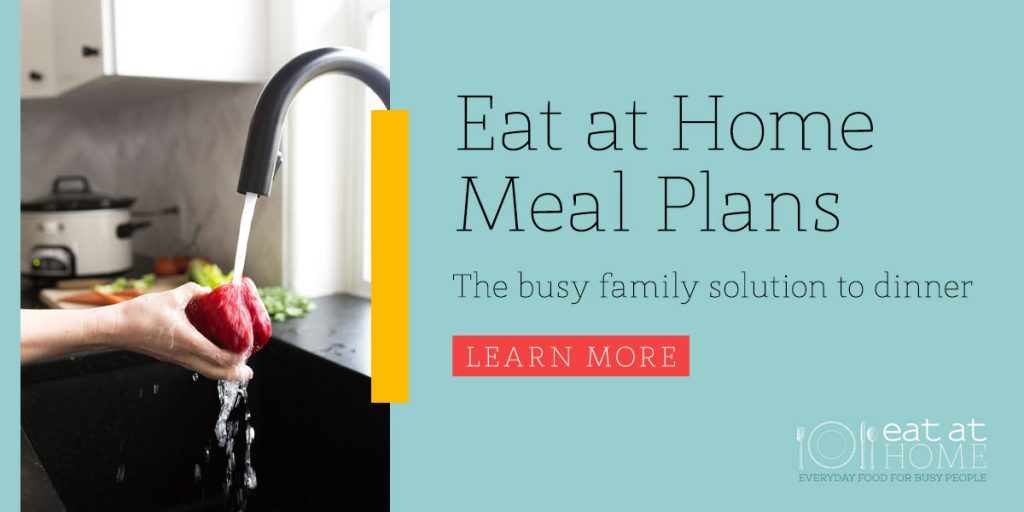 Some of the links below are my referral links. Which means when you purchase through them I can make a little money at no extra cost to you. See my disclosure policy for more information.
Subscribe to a meal planning service.
You can get your weekly meal plan sent right to you with your grocery list, recipe and then you only need to shop. No need to think about it at all.
Make a Favorite Meals List
Make a list of all of your family's favorite meals. And when you are stuck take a peek at your list and pick a few.
If your dinners are family favorites, no one will complain about what's for dinner.
Let Each Family Member Pick a Dinner
If all else fails get your whole family involved with picking what you'll eat this week.
At first, you might get a lot of I don't know. But keep trying, eventually they will share ideas.
Now that you have your dinner ideas it's time to make sure you can get the meal prepared. And these meal prep ideas can help.
2. Prep Your Meals
A little cutting and peeling and chopping done when you have a little extra time can go a long way to getting dinner done.
Picture this you come home you are tired and beat. It's been a long day and the only thing you want to do is plop down on the couch and rest.
But dinner needs to be done. And you open your refrigerator to find most of the work is already done. You only need to put the food into pans and cook. Or maybe just drop them into the oven to bake.
Now doesn't that sound great.
I think it does and this is why I often prep ahead meat packs. I hate handling raw meat so when I purchase meat I buy a lot. Then I portion, marinate, and pack them into meal size package and freeze.
Some meat I cook right away, so it's ready to go for a meal, just thaw and heat.
This bit of work makes it so much easier to prepare the meal. Take, for instance, the World's best chicken freezer recipe.
All I have to do is thaw, pour into a baking dish and bake. The main dish is done. Peel a few potatoes and vegetables and roast them alongside the chicken.
Dinner is baking and you can now sit on the couch resting while dinner cooks itself. And it only took a few minutes to get it started in the oven.
Prepping ahead meat packs and chopping vegetable for dinner when you have a little extra time can make preparing dinner so much easier.
But what if you have little extra time in a week? And the freezer is bare of meat packs. Then you'll want to go with easy to cook meals.
3. When Pressed for Time Make Easy Cook Meals
When you know it's will be a busy week and you're not even going to have time to prep, that's when to make easy cook meals.
What are easy cook meals?
Meals you can cook really quickly to get dinner done.
Meals like shrimp stir-fry which you can make with peeled frozen shrimp, a bag or two of stir-fry vegetables from the freezer section. And minute rice so you can cook it in minutes.
Or buy kielbasa sausage from the store, slice it up. Add some diced potatoes from the freezer section. Add a little seasoning and frozen broccoli and bake. It's an easy sheet pan dinner with very little prep at all.
Make a dump chili recipe. Grab a pound of ground beef, cook and drain. Add a can of pinto beans, a can of kidney beans, tomato sauce, a can of corn, and diced tomatoes.
Stir together and add chili powder, cumin, salt and pepper. Stir and let simmer about 30 minutes. Serve with cheese and crackers with a little fruit and dinner is done.
Another idea for a quick meal is to make sandwiches and soup. Open a can of soup and make sandwiches to go with it. It's a simple and easy dinner idea for a busy night.
4. Plan to Eat Leftovers
It's easy to waste food. You have a little of this and a little of that leftover in the refrigerator.
Don't let it go to waste make a plan to have leftovers once a week. You can use up all the extra food you have and instead of letting it go molding in the back of the fridge.
Plus everyone can pick their favorites to eat. And it's an easy meal for you to make too.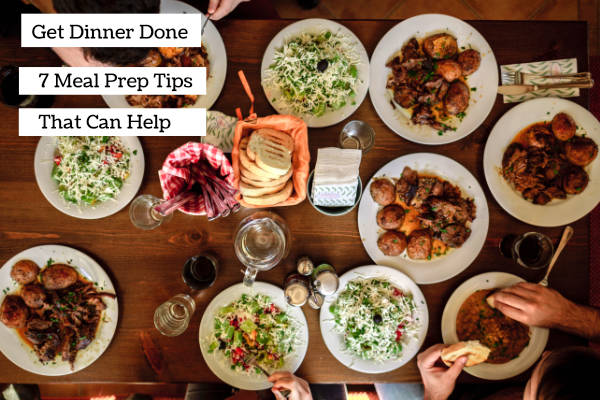 5. Stock Your Freezer with Meals Effortlessly
I know you might think how am I going to stock my freezer effortlessly? But it can be really easy, as easy and doubling your meals.
When you are making dinner, double the amount you are making then tuck that extra meal into the freezer for a couple of weeks down the road.
Your family won't complain about eating the same meal right away and you'll have a future dinner ready to go right out of the freezer.
Do the same when you are cooking chicken for one meal. Cook extra so you'll have it cooked and ready from the freezer.
You don't have to double a full meal, you can double the meat portion which can help dinner come together so much more quickly on a different day.
6. Take Help from the Store
Sometimes you just don't have the time to make everything yourself and that is ok. It's fine to take help from the store.
And when you buy ready-made foods like a rotisserie chicken or prepared sides, you can save money and time. While still feeding your family a good dinner.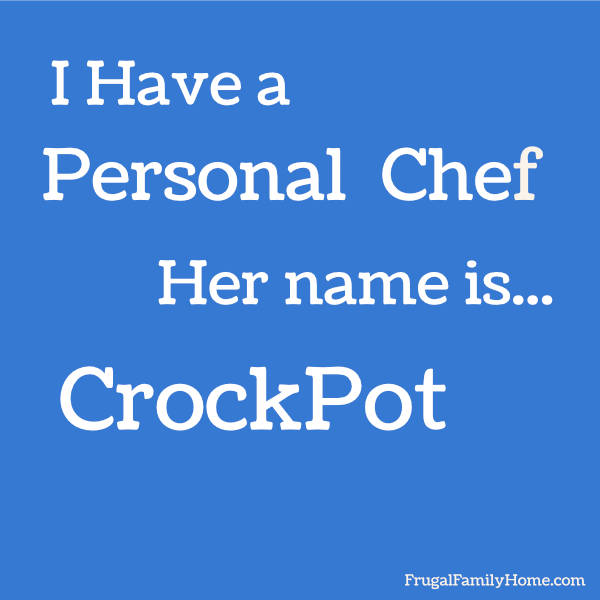 7. Use an Instant Pot or CrockPot for Some Dinners Weekly
Making dinner can be a lot easier if it cooks while you are doing something else. And that's exactly what can happen when you use a crockpot or instant pot.
You can set it up and let it cook away while you are doing something else. And if you make ahead a few dump crockpot meals, like meat packages, getting it started in the morning can be a breeze.
Or the night before while your kids are doing the dishes, you can throw together the ingredients you'll need to start in the crockpot the next day.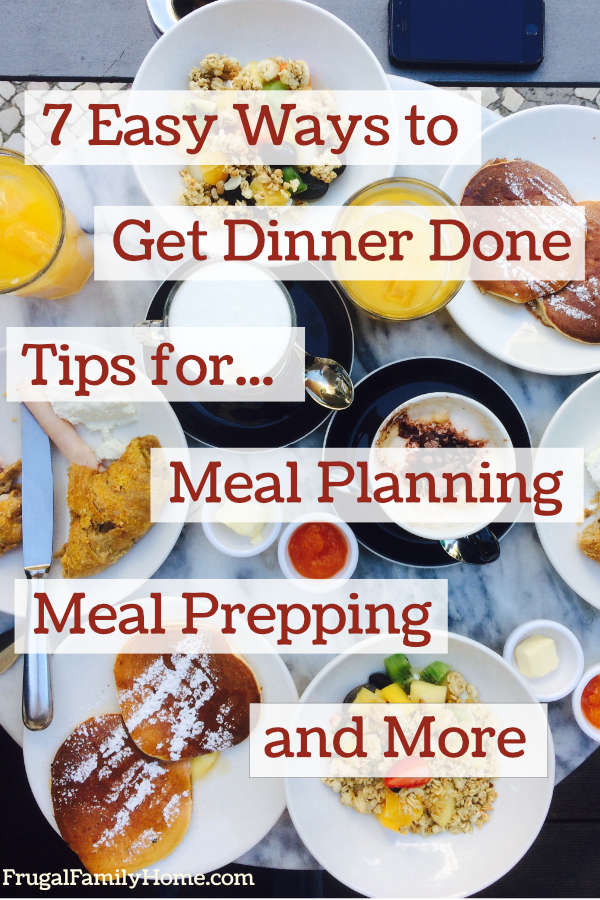 So even if you are busy, tired or just frazzled from your day, you can still avoid eating out and make a great meal for your family by using these 7 tips for getting dinner done.
When you use them consistently, you'll see it really can be easy to get dinner done every night even if… (you fill in the blank)
Want to get dinner done and save a buck too. Take a peek at these 7 frugal dinner ideas. All around $1 a serving.