Have you ever tried making meals for the freezer? I know I love to have freezer meals just waiting for me. It makes getting dinner or any other meal on the table just a little easier. I know mornings can be really hectic. Everyone needs to get up, eat some breakfast and get off to their day. If you have a few breakfast items tucked into the freezer it can make getting everyone off to a good start that much easier.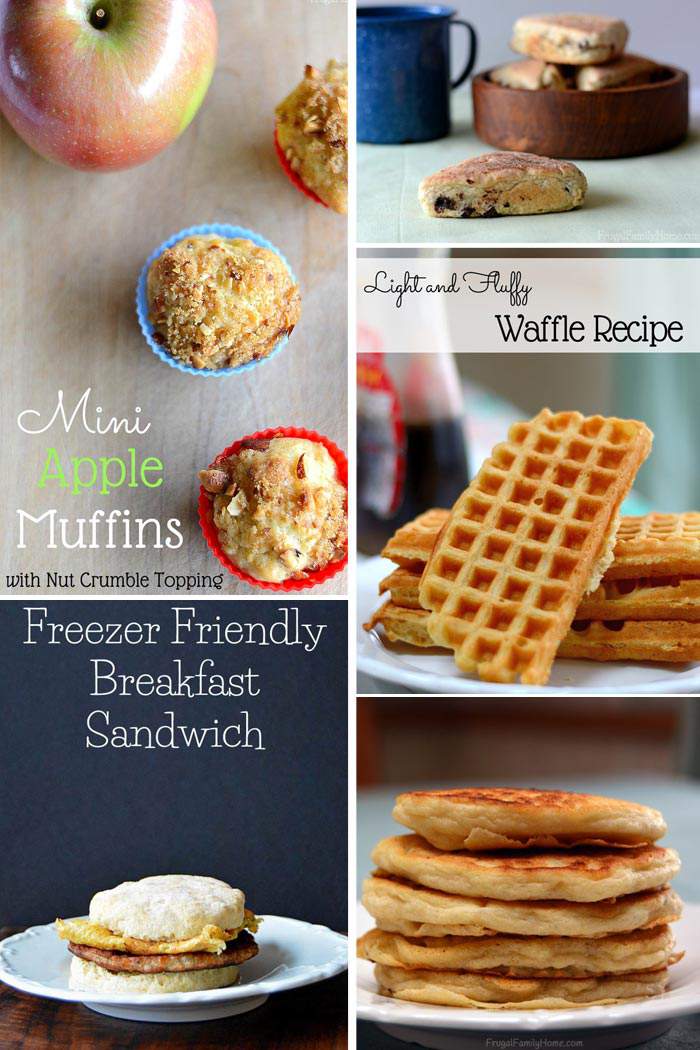 Now I know you might be thinking you don't have much extra time already, how are you going to cook ahead for the family too. Or maybe you've tried once a month cooking and while it was great to have all those meals in the freezer it was just too much and you never wanted to do it again. If either of those two things sounds like you, let me tell you how I get meals into the freezer for breakfast with very little time at all.
I stock my freezer by cooking extra when we will be having a meal I would like to add to the freezer. It easier to double or triple a batch of a recipe than it is to make a bunch of different recipes in one day. If you make one freezer-friendly breakfast recipe a week and double or triple it, in no time you will have quite a few options for breakfast tucked away in your freezer. Making it easy to stock the freezer without dedicating a whole day to cooking.
I also like to stock up on breakfast items when they are on sale. If I see the particular brand of sausage we like on sale, I will buy 5-10 packages at a time so we have it stocked up in the freezer. If I see a good sale on eggs, I will purchase extra. If I don't think we can eat them all in time I will freeze them. Did you know you can freeze eggs? Here's how,
How to Freeze Eggs

Eggs can be frozen with whites and yolks together, or with yolks and whites separated. I like to keep the yolk and whites together.

Crack as many eggs as you would like into a bowl and gently stir to combine the whites and yolks. You don't want to add air to the eggs.

You can add 1/2 teaspoon of salt to every cup of eggs to help stabilize the yolk. But this is optional.

Add the eggs to a freezer container, zipper bag, or an ice cube tray and freeze. If using an ice cube tray once frozen pop them out and place them into a zipper freezer bag.

Label the container or bag with the contents and date. Don't skip this step. I know I always think I'll remember what's in the bag, but I rarely remember right so be sure to label your containers.

To use thaw in the refrigerator. For recipes, 3 tablespoons of the egg mixture are equal to one egg in a recipe.
I like to freeze our eggs with two eggs to a zipper bag. My kids will eat an egg each at breakfast and if my husband and myself also want eggs, I can just take out two packages instead of one.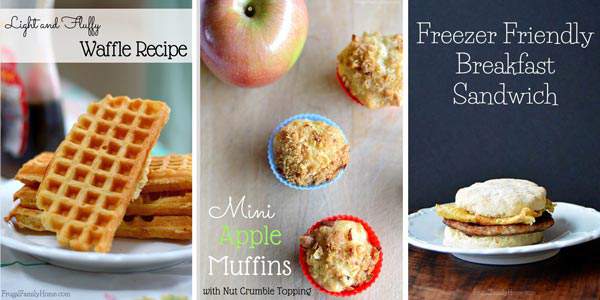 Freezer Friendly Breakfast Ideas
I know eggs and sausage are just two items I keep in our freezer for a quick breakfast. I know when I'm making pancakes or waffles in the morning it's easy to make a double or triple batch. After making the extra pancakes or waffles, I will freeze them on a cookie sheet and then once frozen add them into a freezer bag. Making it easy to remove just one or two and we reheat them in our toaster oven.
Here's a few baked goods recipes that are freezer friendly,
Pancakes
Waffles
Chocolate Chip Scones
Mini Apple Muffins with Nut Crumble Topping
Strawberry Muffins
Banana Nut Mini Muffins
Caramel Sticky Buns
English Muffins
Freezer Friendly Egg Breakfast Ideas
I know when we want a hearty breakfast eggs can be a great idea to make. We really like breakfast burritos. I like to make a batch of hash browns. Then I will make a batch of scrambled eggs and add in some sort of meat or beans or even vegetables that we have on hand to the eggs while they cook.
Once everything is cooked and ready I will use the hash browns and the scrambled eggs in our breakfast burritos. I add a layer of hash browns, then a scoop of the egg mixture and top it off with a little cheese. I will roll them up and wrap each one in foil or plastic wrap. Once they are all wrapped I will add them to a gallon-size freezer bag and freeze them.
I like having them all together in the big freezer bag so they are easy to spot and they don't get lost in the freezer that way. I also reuse the gallon size freezer bag by refilling it with more breakfast burritos when it gets empty until the zipper wears out.
Here's a few other egg freezer friendly recipes to try,
Breakfast Sandwiches
Vegetarian Breakfast Burritos
Breakfast Muffins
Broccoli and Cheese Egg Muffins
Fruit Breakfast Ideas
If you like to have a lighter breakfast or a fruit-filled breakfast you could make freezer smoothie packs. I like to make these smoothie packs when I find a great deal on yogurt and I have odds and ends of fruit hanging around the fruit bowl or in the refrigerator. Canned fruit also works great in these.
I also found an interesting freezer breakfast idea for fruity breakfast burritos. They definitely look interesting and would be nice to have something different in the freezer to eat.
Pantry Breakfast Idea
Around our house, we all love oatmeal. My kids will eat oatmeal for a snack and they love having the little packets of oatmeal to make themselves. But those packets can be expensive, but they are easy to make yourself and make it easy to have just the right flavors on hand. Here's how we make our own instant oatmeal packets.
I hope these recipes and tips give you some good ideas for make ahead breakfast meals you can tuck away in the freezer for those busy mornings. I know I love to have them on hand when we are needing to get up and out the door quickly in the morning.
What is your favorite breakfast? Is it one you could make extra and freeze for a busy day? I would love to have you share it in the comments below. I'm always on the lookout for new freezer-friendly breakfast ideas.
[signoff]
You can find more freezer friendly recipes and tips here.