Looking for a delicious, buttery, cookie recipe that's simple to make? Look no further than this spritz cookie recipe. So tender, buttery, melt in your mouth deliciousness. I think this is the best recipe for spritz cookies.
But don't take my word for it, grab the recipe below and try it for yourself. This is the recipe my great grandma, grandma, and mom used to make every year at Christmas.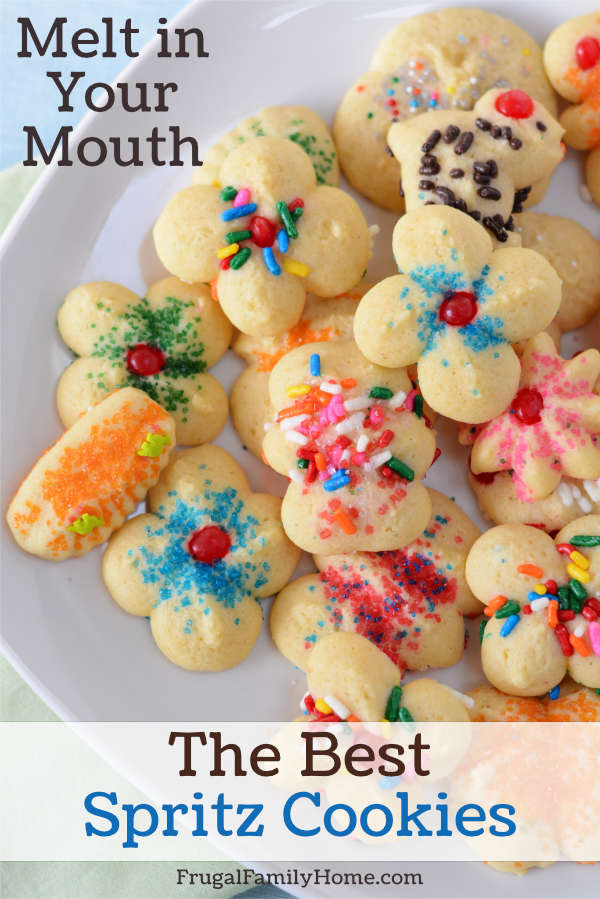 Spritz cookies are a great cookie for Christmas or any time of the year. They melt in your mouth and this recipe is also light and flavorful with two kinds of extracts added. But still simple and easy to make with no chill time needed.
Other Delicious Cookie Recipes: No Chill Sugar Cookies | Cornflake Cookies | Soft Baked Gingersnaps | Chocolate Mint Twinkle Cookies
What are Spritz Cookies?
Spritz cookies get their name from the German word spritzer which means to squirt. And that's what you do with this cookie dough. You squirt it out onto the cookie sheet into shapes. We use a cookie press to make the cookies into shapes.
My history with spritz cookies has been a long one. This is one of the first cookies I helped my mom make. It was fun using the electric cookie press to make so many shapes of cookies. And the flavor, they were melt in your mouth delicious.
You can add food coloring to make them more festive too. We usually avoid food coloring and just stick to the vanilla almond spritz cookies or the chocolate spritz cookies.
You can decorate spritz cookies before baking or after. It has always been my family's tradition to decorate them before baking.
Maybe that's because my mom didn't like to make frosting and it was one less step to do.
But if you enjoy frosting, you can decorate them after baking too. Bake the spritz cookies, let them cool then dip them in a frosting glaze and sprinkle with sprinkles.
What is a Cookie Press?
Some of the links below are my referral links. Which means as an Amazon Associate I earn from qualifying purchases and when you purchase through them I can make a little money at no extra cost to you. Thanks! See my disclosure policy for more information.
If you've never used a cookie press, it's a long tube with a cookie cutter on one end and a press at the other end.
The dough is pressed by a plunger and oozes the dough onto the cookie sheet. There is usually a gap between a ring that rests on the cookie sheet and the cookie die or cutter.
You can find electric cookie presses, this is like the one my mom had that I used for years. Then after she died, we gave it away. Ugh, I kick myself every Christmas when I'm making these cookies for not keeping it.
Or you can use a manual press that you turn to press out the dough or some of them have a squeeze trigger.
How Do You Use a Cookie Press?
It easy to use a cookie press, but getting the cookies just right can take a little practice. Be sure to follow the guidelines that come with your cookie press. But most follow these basic steps.
Place your cookie cutter at one end and secure with a ring or in a slot. Add your cookie dough to the dough chamber. Pull the plunger all the way up. And screw onto the end of the chamber.
Using the plunger squeeze the trigger or turn the end to press the dough out while holding the cookie press on the cookie sheet. Once enough dough has been press out (this is the part that takes practice) gently lift the cookie press.
No Cookie Press? No Problem, Here's How to Make Spritz Cookies Without a Press
If you don't have a cookie press, you can hand shape the dough. To do this, roll the dough into thin strips and shape into shapes. Or roll into balls and make shapes with the balls.
Or if you have a pastry bag with a star tip, you can use that to press the dough out.
If all else doesn't work for you, you can drop by the teaspoon onto the cookie sheet then flatten slightly, then bake.
Ingredients You'll Need for this Spritz Cookie Recipe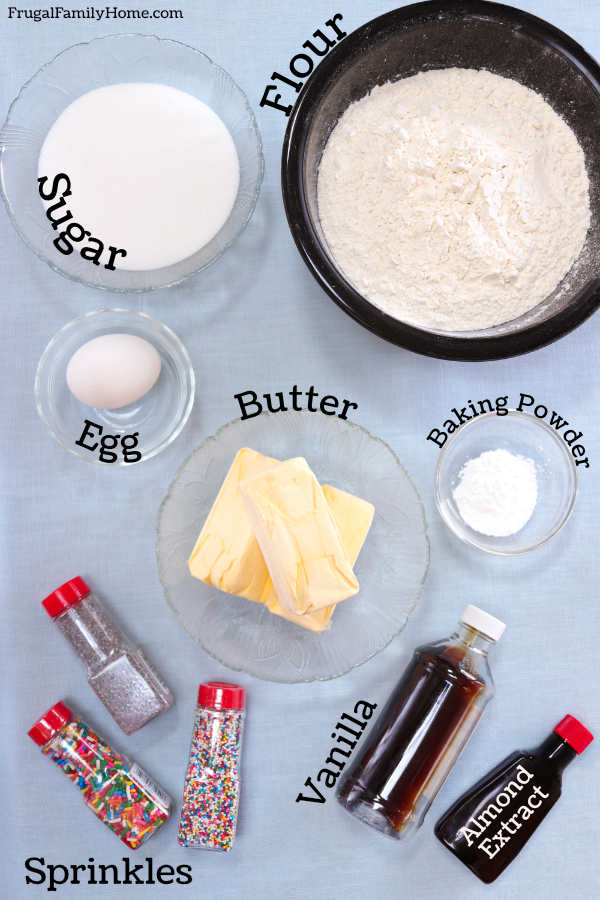 Butter, We use dairy free butter but use the real stuff if you don't have to eat diary free.
Flour, unbleached all purpose flour
Sugar, regular cane sugar
Baking Powder
Vanilla Extract
Almond Extract
Egg
Sprinkles
Baking Tip: This recipe includes baking powder, which makes the cookies spread just a little when baking. If you'd rather not have your cookies spread, leave the baking powder out.
But I find the addition of the baking powder helps to make these spritz cookies, light and airy but they still melt in your mouth. If you like a slightly denser spritz cookie leave the baking powder out.
How to Make Spritz Cookies
If you love to watch cooking videos hit the play button below to see the recipe from start to finish. If videos aren't your thing, I get it. Scroll down to see the recipe steps in photos and words.
Spritz Cookies Recipe, Step-by-Step Photos
Step 1
In a large bowl using a mixer or in your stand mixer blend the butter.
Step 2
Add 1 cup of flour, the baking powder, sugar, egg, vanilla, and almond extract. Mix until the flour is mixed in well.
Step 3
Add the remaining flour and blend until all the flour in mixed in well. You may need to use a spoon to mix the last bit in if the dough is too stiff for your hand mixer. If using a stand mixer, this shouldn't be a problem.
Step 4
Assemble your cookie press if needed. Spoon or use your hands to add the dough into the cookie press chamber.
Step 5
Place the press against the cookies sheet the press the dough out. Once the cookie is formed gently lift the cookie press. Continue with the next cookies in the same manner until the cookie sheet is filled.
Baking Tip: Because this dough doesn't spread much at all you can place the cookie closer together and get more on each cookie sheet.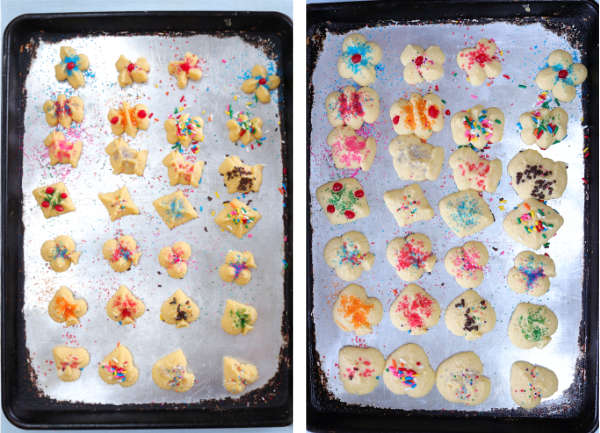 Step 6
Bake the cookies in the oven until set, but not brown. About 7-10 minutes. Let sit on the cookie sheet for 1-2 minutes and then remove to cool on a cooling rack. I love these stackable cooling racks, I've had them for years and they work great.
Spritz Cookies are Great to Ship
If you want to send your delicious baked cookies in the mail for a yummy Christmas treat, spritz cookies are a great choice. They hold up well.
Place them in an airtight container and place a little packing material around them. Then place into a box or tin and ship.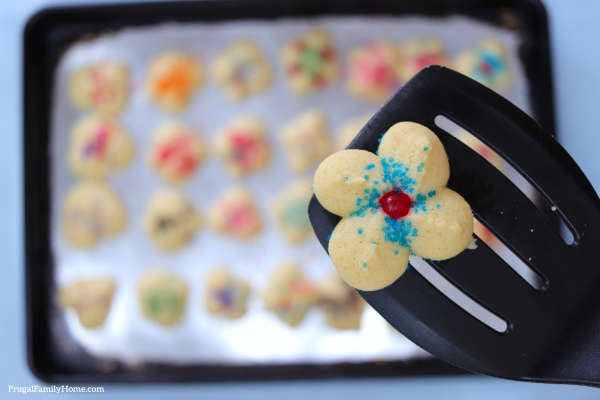 More Delicious Cookie Recipes: Peanut Butter and Jelly Cookies | Peanut Butter No Bake Cookies | Chocolate No Bake Cookies | Almond Joy Cookies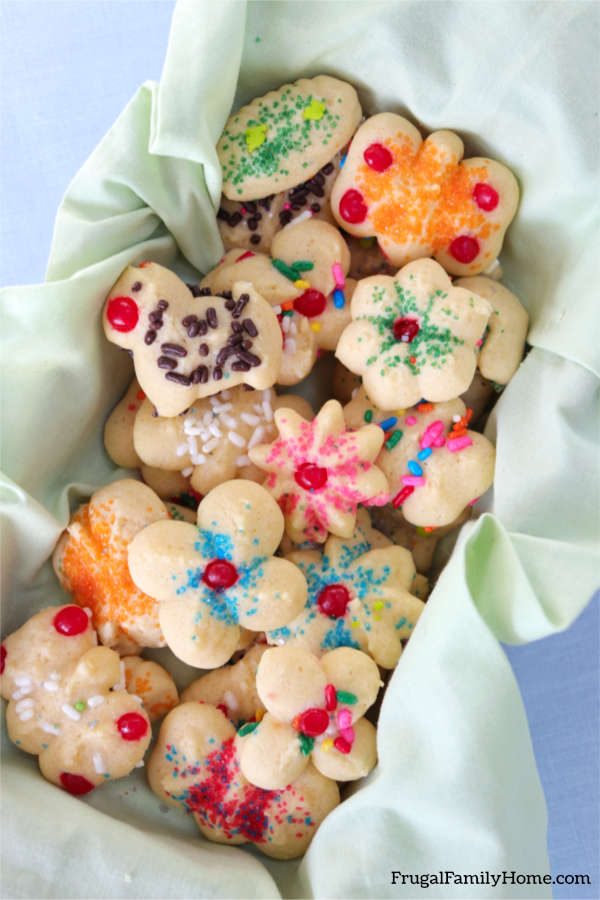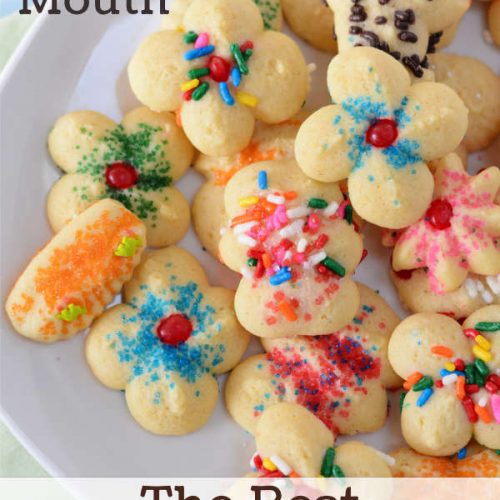 Melt in Your Mouth Spritz Cookies
These are the best spritz cookies. They are so light and flavorful. They melt in your mouth. Plus, they are great for gift giving since they hold up well when shipped.
Ingredients
1 1/2

cups

Butter

3 1/2

cups

Flour

1

teaspoon

Baking Powder

1

cup

Sugar

1

Egg

1

teaspoon

Vanilla

1/4

teaspoon

Almond Extract
Instructions
Preheat oven to 375 degrees.

In a large bowl add the butter and beat the butter with an electric mixer for about 1 minute.

Add the sugar, egg, baking powder, vanilla, almond extract, and 1 cup of flour.

Beat until well combined.

Add the remaining flour and beat in.

Place dough in a cookie press, press onto an ungreased cookie sheet. Sprinkle with sprinkles if desired.

Bake for 8-10 minutes until cookies are set, but not brown.

Let the cookies stand on the baking sheet 1-2 minutes then remove to a rack to cool.

Store in an airtight container.
Video
Notes
If you don't want your spritz cookies to spread omit the baking powder.
The baking powder adds a bit of lightness to these cookies.
Nutrition
Serving:
2
cookies
Calories:
97
kcal
Carbohydrates:
10.8
g
Protein:
1.1
g
Fat:
5.7
g
Subscribe and you'll get Recipes
sent right to your inbox!
Click the button below and fill out the form.