Do you find you have trouble making all the meals for your family each week? I know three meals a day plus snacks can be a lot to do. But when you automate some of your meals each week and simplify your menu it can make the task of cooking all those meals just a little easier.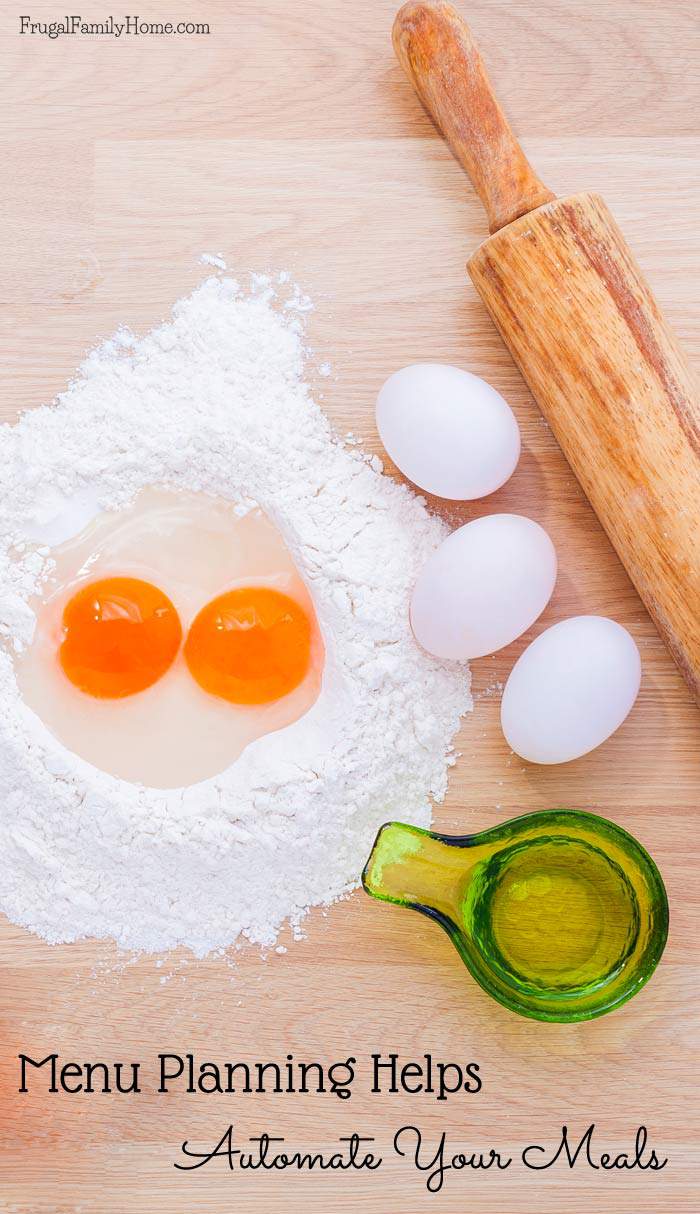 When you have more variety in your menu plan that means more meal preparation and it means more work. While I not one to complain about cooking because I truly do enjoy it. I know that is not the same for others. But I do find during our busy weekdays it's nice to have a few meals automated.
What is an Automated Meal
What I mean by automating your meals is to make the same item over and over again during the week or month. One of the meals we always automate at our house is breakfast. Our most used breakfast is toast and eggs for breakfast. It's something I can make quickly each and every morning and no one complains.
Automated Breakfast Ideas
I will vary the type of eggs we eat from hard boiled, to scrambled, to over easy, for a little variety but in general Monday through Friday, it's toast and eggs for breakfast. Then on the weekends when my husband is home from work we will have a special breakfast of pancakes, waffles, omelets, donuts, or muffins. Just that little change helps to keep us from being bored with breakfast.
Here are some ideas of breakfast items you could make ahead for the freezer or make up quickly in the morning. Freezer cooking a few of these ahead on less busy days can help if your family isn't as content as mine to eating the same breakfast each weekday.
Bagels with Peanut Butter
Banana Bread
Toast and Eggs
Oatmeal from homemade oatmeal packets
Oat Groats
Muffins
Breakfast Sandwiches
Automated Lunch Ideas
Lunch is always the same for my husband. He takes his lunch every day, which is a great way to save money. He usually takes a sandwich, chips, water, cookie, and a granola bar. I'll add in dried fruit or fresh fruit for him too. He doesn't have a way to heat up lunch at work so a cold lunch is what he eats.
At home, the kids and myself tend to eat leftovers most days. I try to keep up on eating the leftovers as we have them so the food doesn't go bad. Sometimes there is enough for all of us, sometimes just enough for one of us. On the days we don't have leftovers to eat at lunch, I will serve something like these lunches below.
Soup and Sandwich, I make single serving soup cups with leftover soup when we have it.
Grilled Sandwiches
Burritos
Corn Dog Muffins
Tuna and Egg Salad usually appear on our lunch menu once a week
Easy Grocery Shopping
When you automate some of your meals each week it makes grocery shopping easier too. Because you end up purchasing multiples of the same items instead of a bunch of different items. Which when you find a good sale can save you money and the fewer items you have to track down in the store to add to your cart, the less time you spend shopping.
For our breakfasts of toast and eggs, I just have to make sure I buy eggs each week and a few loaves of bread. I've found our local bread store has a great deal on organic whole wheat bread for just $1 a loaf, so I purchase 5 loaves at a time to stock the freezer. I'll also buy 5 dozen eggs at a time knowing we will use them up before they go bad. Buying in bulk often cost less too.
For lunches, I like to keep stocked up on items for our usual lunches. Then when we don't have leftovers I can give the kids a choice of two or three items and let them pick. And because I always keep those ingredients on hand for those lunches, I can be sure I have what I need.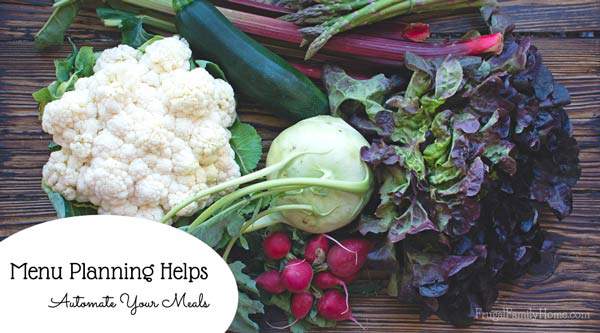 Saves Time
You spend less time shopping for a bunch of different items like I mentioned above, but you can also save time in preparing the meals too. I've found the more often I make a certain meal the faster I can get at preparing it. And that cuts the time I spend in the kitchen. Plus if you plan easy to make meals, the kids can learn to help prepare them too. Cooking is such a good skill for everyone to have.
Those are my best tips for helping to keep your family fed each and every week while making it a little easier on yourself. I would love to hear what kind of meals you automate at your house? If you would like to share your thoughts on this, scroll down and leave a comment below.
[signoff]
If you found this helpful I would love to have you share it with others. You can scroll down and use the social media sharing buttons to make sharing with friends really easy. Thanks in advance for taking the time to share, I do appreciate it.
If you missed any articles in this series, you can find them all, by following this link.
Find some of my past menu plans by following this link. You can also find more meal plan inspiration at Menu Plan Monday.