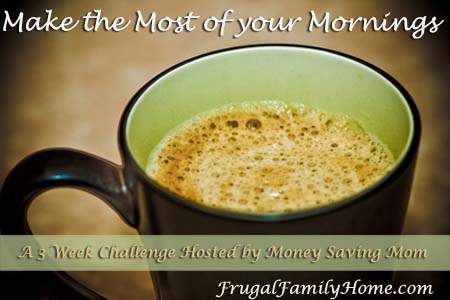 Photo Credit
I got to bed on time again. I am really doing well on the to bed on time and up on time. I did forget to run the dishwasher last night so I had to squeeze in the morning dishes and start the dishwasher. So I did not get all of my 5 tasks done but we had overnight guests. I was up on time this morning and I have my plan for the day. I am not sure the exercise will get in today but I have done quite a bit of exercise the last two days which I am happy to have gotten in. I also had a good breakfast today of waffles, eggs and sausage.
So far in this challenge the changes I am making
1. Bed by 10:30 each night
2. I have my top 5 things to do each evening
3. I have set a time to wake up at 6:30 and out of bed by 7:00
4. Each morning I will pray and name three things I am thankful for to help my day get off to a good start.
5. Have a plan for your day, I set up 5 goals to work on for the remainder of this year.
6. Make a Realistic To Do List, I am trying to keep mine to 5 tasks a day
7. Get some exercise in, I am committing to 10 minutes of exercise a day
8. Eat Something Nutritious
9. Stop telling yourself "I am not a morning person"
Today assignment is something that I do already so it will be an easy one to keep doing. I always get dressed right out of bed. I just am not one to stay in my pajamas after getting out of bed. So today's task is one I already do.
Do you like to stay in your pajamas or do you get dressed right out of bed?
[signoff]
Other Posts in this Series
Make the Most of your Mornings Day 1 and 2
Make the Most of your Mornings Day 3
Make the Most of your Mornings Day 4
Make the Most of your Mornings, Day 5
Make the Most of Your Mornings Day 6
Make the Most of your Mornings Day 7
Make the Most of your Mornings Day 8
Make the Most of your Mornings Day 9