Need lunch ideas? These 7 frugal lunch ideas all for under $1 a serving can help you have a delicious lunch all while staying on budget.
It's easy to get stuck in a rut for lunch ideas.
Eating sandwiches each day get boring. What if you had ideas that you could easily make for lunch for about the same cost or even less than a sandwich?
These 7 frugal lunch ideas below are all under a $1 and easy to make too.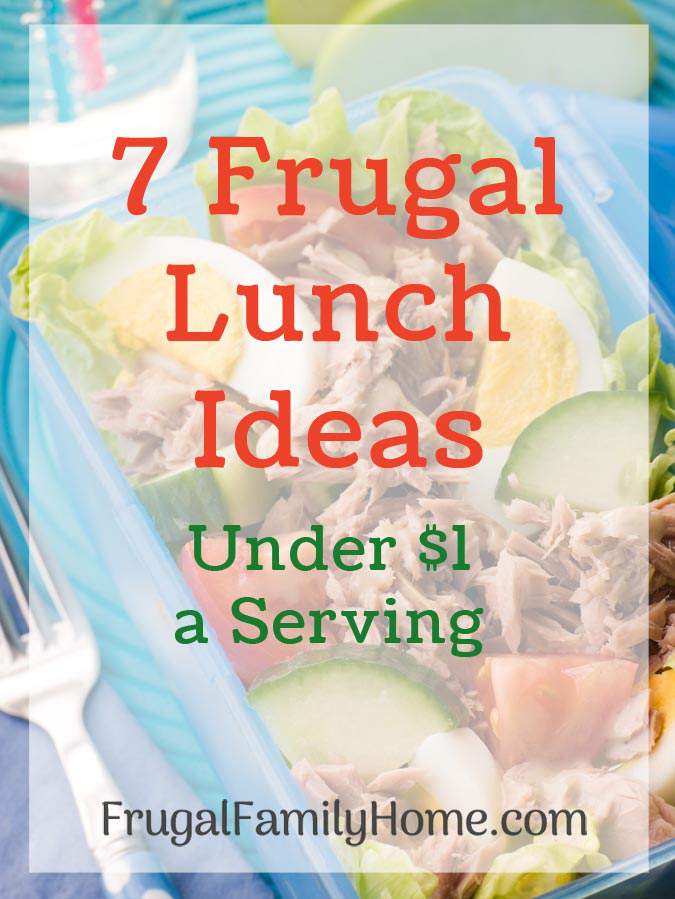 Lunch can sneak up on you as the day goes on. It's easy to just grab a fast food meal for lunch but at five dollars or more, it can really break your budget. These 7 frugal lunch ideas can help you stay on budget.
When you have a plan for lunch it can make a big difference in how much you spend each day on lunch. Some of these lunch ideas below can be made ahead and frozen. Which makes getting lunch made so much easier.
Which ones of these Frugal Lunch Ideas below would your family really enjoy?
7 Frugal Lunch Ideas
These lunch ideas are all frugal they are all under $1 and enough under that you can add a little fruit, salad, or vegetables sticks to round out your meal.
1. Leftovers from Dinner
Eating leftovers from your dinner the night before can help you save money by cutting your food waste. When you have a plan for leftovers they are less likely to sit in the fridge and get moldy and stinky.
Make a plan to eat your leftovers for lunch to keep your lunch cost lower and to stop food waste.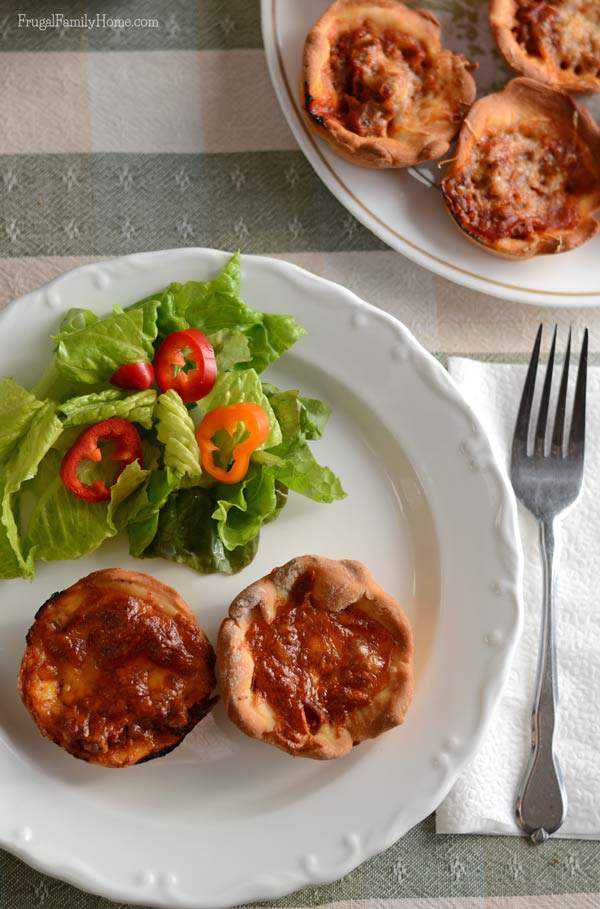 2. Pizza Cups $.72 a serving of 3 cups
These little cups of pizza deliciousness can be baked ahead and tucked into the freezer for a quick and easy lunch. They are easy to pick up and eat so no utensils needed either.
At under $1 for 3 of these little cups, it makes a hearty lunch on its own. Add a few celery or carrot sticks and you are set.
3. Chicken Wraps $.60 a serving
Cook chicken and slice or use leftover chicken from the night before in these chicken wraps. Place the chicken in a tortilla, add a little chopped lettuce, mayo and a sprinkle of cheese.
You've got a yummy lunch, add a handful or chips or a piece of fruit and lunch is done.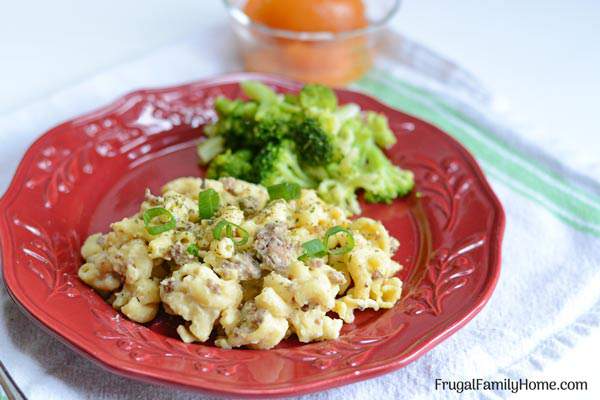 4. Cheeseburger Skillet $.60 a serving
This lunch is macaroni and cheese with ground beef added. We eat Cheeseburger Skillet often for dinner but it also makes a warm comfort food lunch too. Add a side salad and you have a hearty lunch at a great price.
5. Beef Cups $.69 for a serving of 3 cups
These beef cups are similar to the pizza cups above. They are easy to make and only take 4 ingredients if you start with canned biscuits, although I prefer to make my own biscuit dough from scratch.
These are great for making ahead and tucking into the freezer for a fast lunch. We enjoy ours with a little fruit to round out our lunch.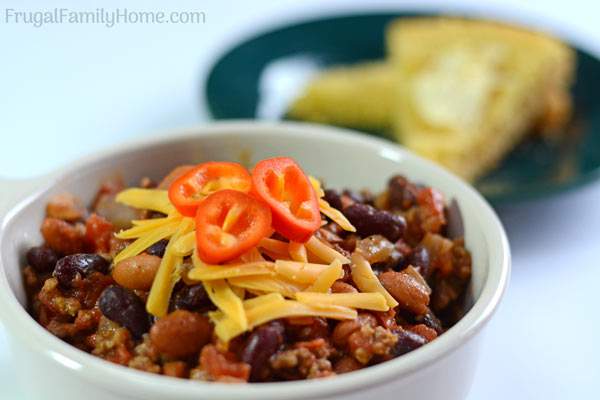 6. Skillet Chili $.85 a serving
Cooler days makes you crave a warm lunch. This skillet chili is the perfect solution. It's quick to make which is always good.
You can use canned beans or cook dry beans and pull them out of the freezer to make it even less expensive.
7. Crisp Bean Burritos $.41 a serving
If you have refried beans, tortillas, and a little oil you can make these crisp burritos in no time. If you have leftover chili from dinner that would be a great alternative to refried beans. Serve them on a bed of lettuce with a little cheese and salsa on top for a lunch anyone would love.
It's easy to get lured into the fast food drive through when you are hungry at lunch. But at five dollars or more each day it can really add up and break your budget quite quickly.
To stay on budget and have a hearty and delicious meal plan ahead and make a few of these 7 frugal lunch ideas. I'm sure it will save you money and they are delicious too.
What's your favorite lunch to make?
Pin it for Later…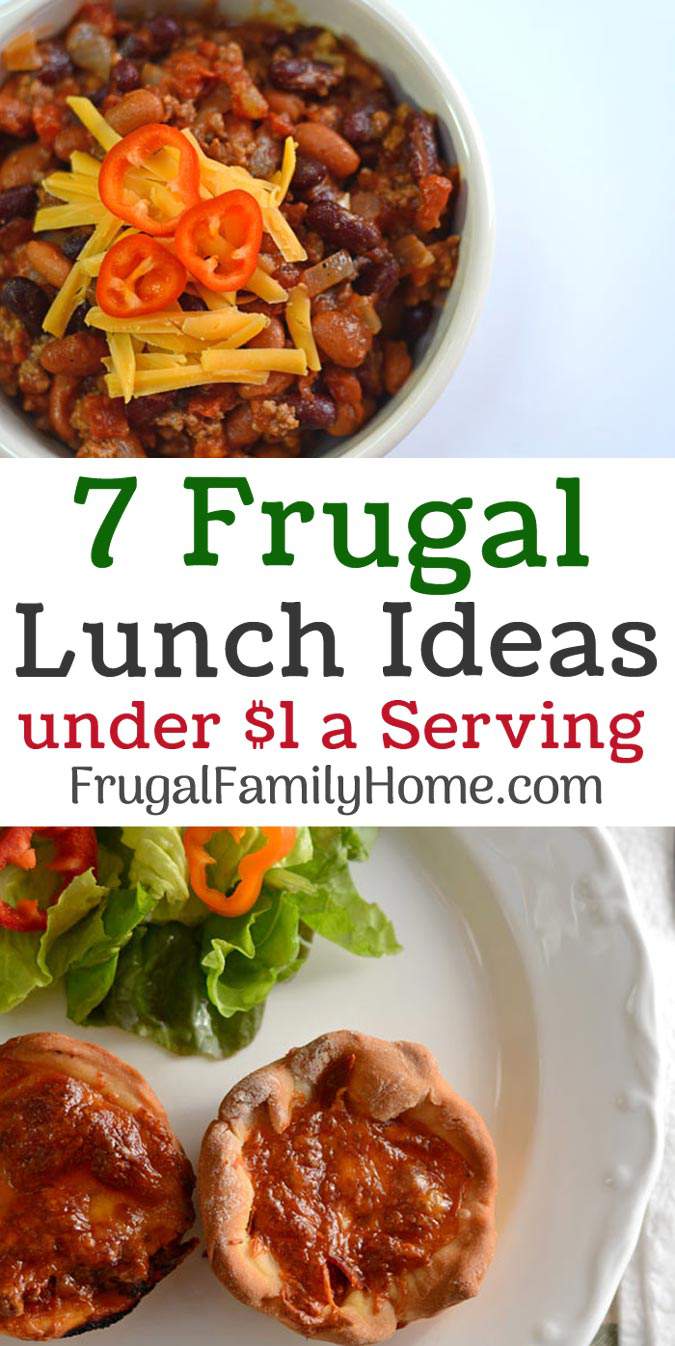 Other Recipes that Would be Great at Lunch…