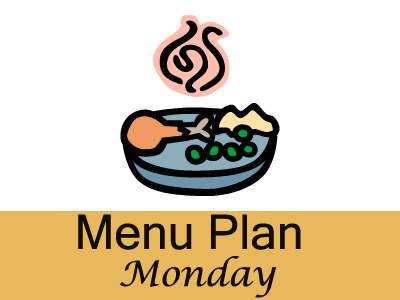 This week we have a busy week with a few doctor appointments and other errands to run. So I wanted to keep my dinner simple and easy this week.
Dinners
Grandma's Pork Chops, Roasted Vegetables and Salad
Spaghetti, Salad and French Bread
Pull Pork Sandwiches, Chips and Fruit
Beef and Bean Crisp Burritos, Salad, Salsa and Chips
Crock Pot Herb Rubbed Chicken, Potatoes and Carrots
Chicken and Bean Enchiladas, Salad, Chips and Salsa
Salmon Patties with Tartar Sauce, Rice and Vegetables
Lunches
Out to eat
Leftovers
Sandwiches and Soup
Breakfasts
Caramel Sticky Buns, Eggs and Sausage
Cinnamon Twist Scones with Eggs
Toast, Eggs and Oatmeal
Pancakes, Eggs and Sausage
What's cooking at your house this week?
[signoff]