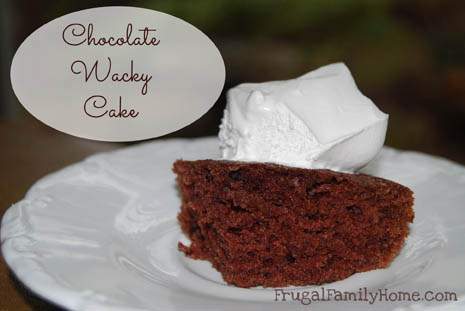 This cake is not only cheap and easy to make but you can make it with only items that are in your pantry. That's right no eggs or milk in this recipe at all, that is why it is called Wacky Cake. It is also great if you are baking for someone who has egg or dairy allergies.
This cake is a stir and dump into the pan cake. I think it only takes me about 10 minutes to mix it up. I had a little help today from my son who wanted to stir the cake for me. This is also a great recipe to make into a mix as a gift as most people keep oil and vinegar on hand in their pantry.
This recipe for a 9×13 cake pan and it costs $1.50 which works out to be $.04 if you cut it into 36 pieces. We get more than 36 pieces when I cut it but we don't eat large pieces of cake.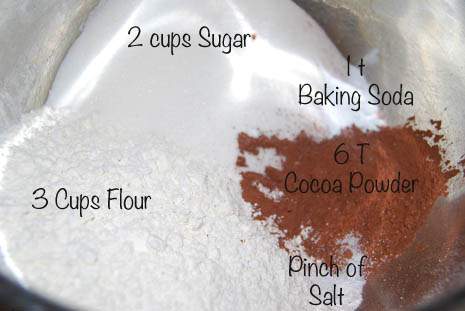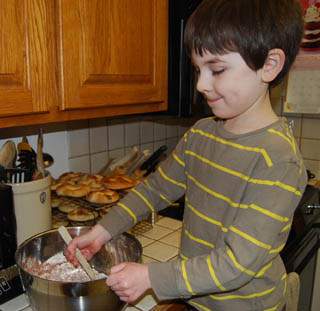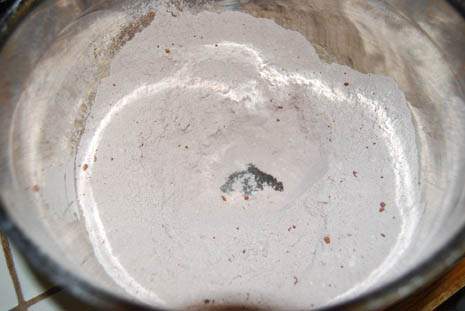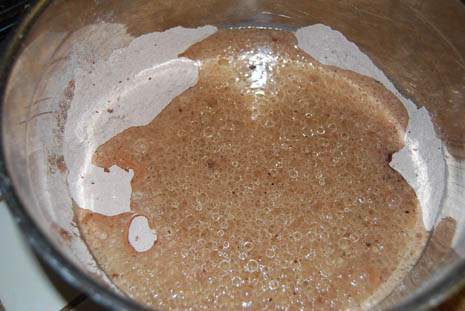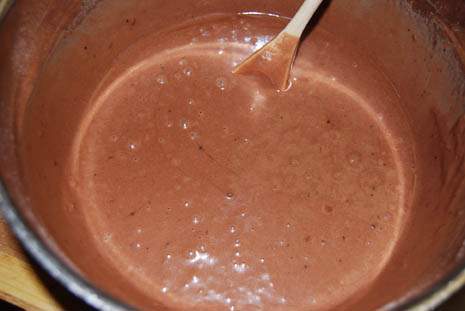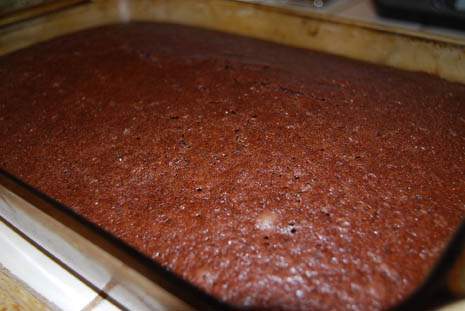 Wacky Cake
Serves 36
2 cups Sugar
3 cups Flour
6 T Cocoa Powder
pinch of Salt
1 t Baking Soda
10 T Oil
2 T Vinegar
2 t Vanilla
2 cups Cold Water
1. Mix all the dry ingredients together. Then make a well in the center of the dry ingredients in the bowl.
2. Mix the wet ingredients and add to the dry ingredient into the well.
3. Mix until all the dry ingredients are moistened.
4. Pour cake batter into a 9×13 pan that has been greased.
5. Bake 350 degrees for 35 minutes or until toothpick comes out clean when tested in the center of the cake.
6. Enjoy.
Other Posts in This Series
Day One, Oat Groats
Day Two, Rice Cereal
Day Three, Cinnamon Twists
Day Four, Jam Danish
Day Five, Caramel Sticky Buns
Day Six, Cheeseburger Muffins
Day Seven, Pinwheel Sandwiches
Day Eight, Pizza Cups
Day Nine, Crisp Bean Burritos
Day Ten, Twice Baked Taco Potatoes
Day Eleven, Crock Pot Whole Chicken
Day Twelve, Chicken and Bean Enchiladas
Day Thirteen, Cheesy Ham and Potato Crock Pot Dish
Day Fourteen, Hamburger Skillet Dish
Day Fifteen, Crock Pot Taco Soup
Day Sixteen, Kettle Corn
Day Seventeen, Dairy Free Chocolate Pudding
Day Eighteen, Homemade Soft Pretzels
Subscribe and you'll get Recipes
sent right to your inbox!
Click the button below and fill out the form.