Need a simple and easy dinner idea for dinner tonight? This is the perfect solution. It's a super easy crock pot pork chops dinner that's easy to make and so flavorful too.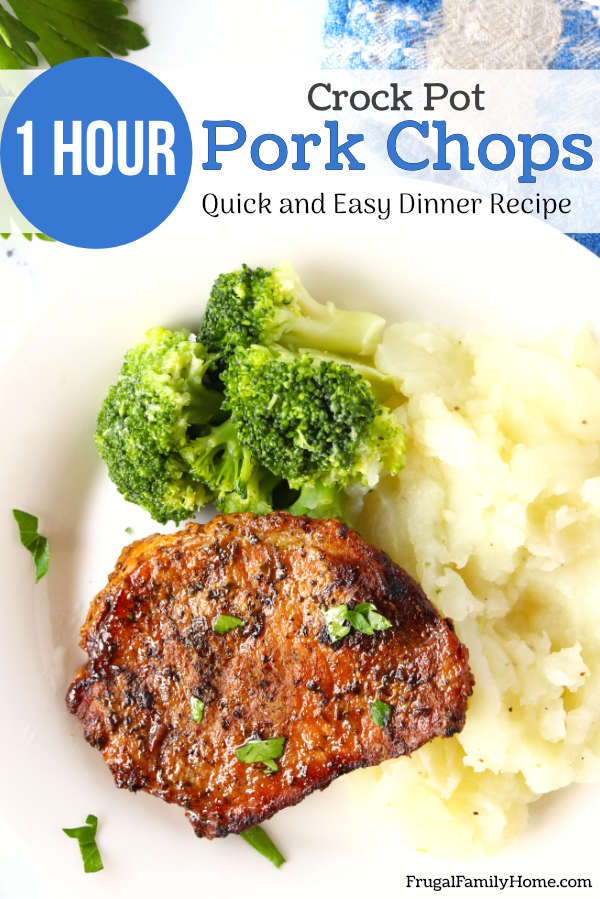 More Family Friendly Dinner Recipes: Macaroni Skillet Dinner | Chicken and String Bean Stir Fry | Beef Pot Roast
It's afternoon already and you need to get something ready for dinner. You dread making dinner because someone always has to complain.
Because one more dinner with complaints like, "Do we have to eat this?", will make you go crazy.
And you can't spend money like crazy on your average dinner. After all, you have a grocery budget to think about.
And chicken night after night will not cut it.
Easy Crock Pot Pork Chops Saves Dinner
That's where this easy pork chop recipe comes in to save the day.
Pork can be less expensive than beef. Especially if you get a pork loin and cut it into chops yourself. It goes from $5 a pound down to $2 more like the price of chicken.
But maybe your family is a little meh on pork. That might be because you haven't tried this recipe yet.
My hubby is a big pulled pork guy. He will eat pulled pork almost every night of the week. But put a pork chop in front of him and well, it's not his favorite.
They weren't his favorite until I made this recipe.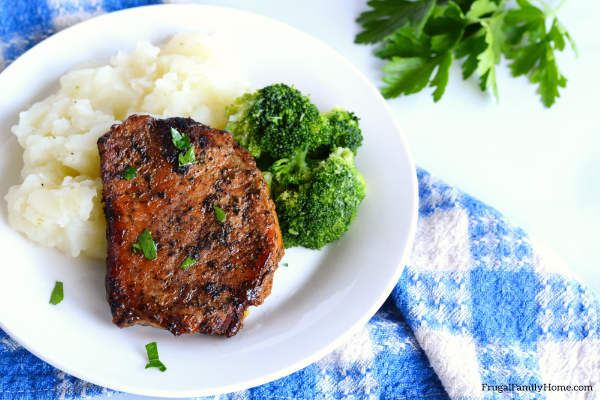 This recipe came about because I was running late getting dinner done and needed about an hour to do others things before we ate.
So I browned my pork chops in a pan and then finished cooking them in the crock pot.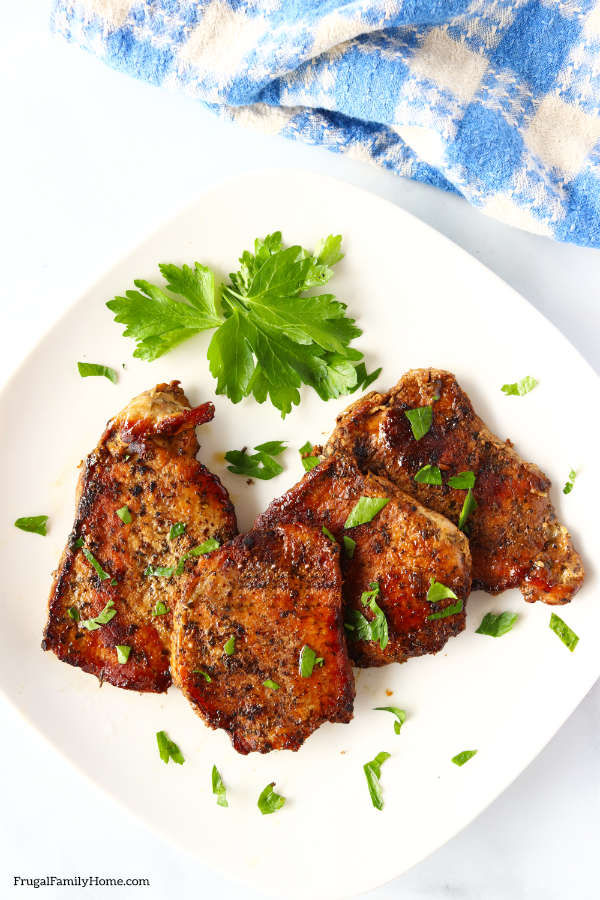 The results were amazing. These easy pork chops were so flavorful, like bursting with flavor.
And so tender, you could cut them with a fork. And moist, I mean really moist.
And my hubby gobbles these pork chops up without batting an eye. Yes, they have converted my husband too.
Let me show you how to make this yummy recipe for your family.
Easy Garlic Pork Chops in the Crock Pot
I've made a quick video to show each step of this recipe. But if watching a video isn't for you, keep scrolling for the photo and written tutorial and tips below.
What to Serve with This Pork Chop Dinner
A great bread recipe to go with this dinner is 1 hour no knead bread, it's quick and easy and so delicious too. Add a side salad or these yummy green beans and dinner is done.
Ingredients Needed for this Pork Chop Recipe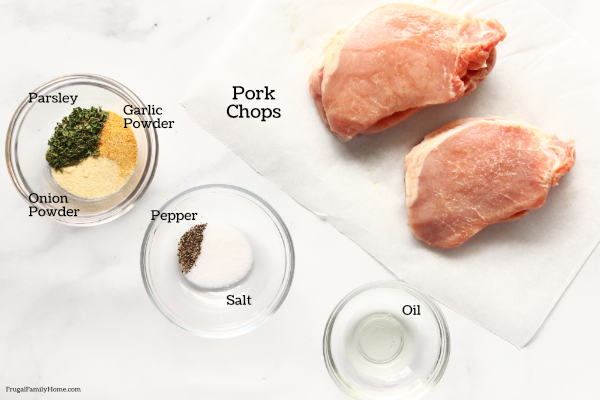 2 teaspoons Garlic Powder
2 teaspoons Onion Powder
2 teaspoons Parsley, dried
1/2 teaspoon Salt
1/4 teaspoon Pepper
4 Pork Chops
1 tablespoon Water
This seasoning mix works great on chicken and steak too. Well, really any meat at all.
You can double or triple the recipe and store it in an airtight container. Just be sure to take out just what you need for this recipe and then store the rest away.
You don't want to dip or scoop directly out of the season mix container. This can cause cross contamination.
Easy Crock Pot Pork Chop Recipe with Step-by-Step Photos and Tips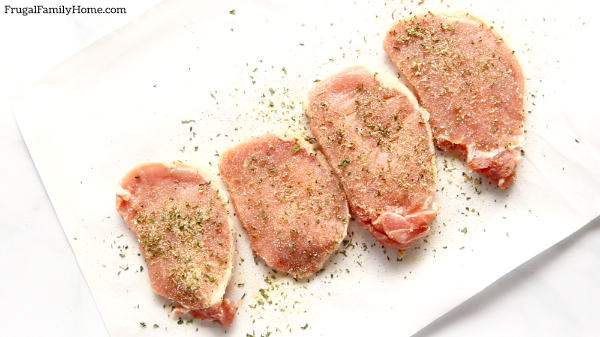 Step 1 Make the Rub
The rub you place on the pork chops before cooking adds so much flavor. Just mix the seasoning together and sprinkle.
Recipe Tip: For less mess place a sheet of waxed paper on the counter. Place pork chops on the waxed paper. Rub one side, then the other with the seasoning mix. 
When you transfer the pork chops to the pan, just throw away the waxed paper. No mess to clean up.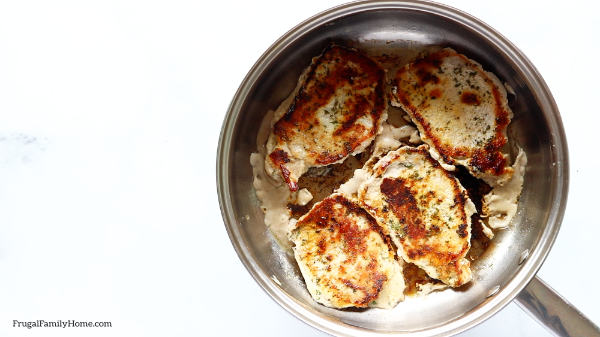 Step 2 Brown the Pork Chops
Heat a skillet with one tablespoon of oil in the pan. Add the pork chops and brown on each side. We aren't trying to cook them through, just browning them.
Recipe Tip: To get good browning on the meat, place the meat in the pan and leave it alone. 
If you try to pick up the pork chop to flip and it's still sticking to the pan, wait another half minute and try again. Once browned properly the pork chop should flip easily.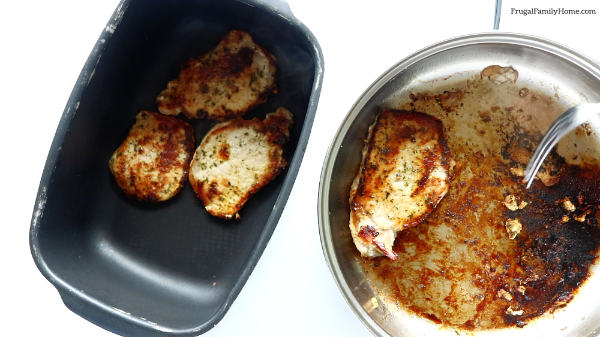 Step 3 Transfer Pork Chops to the Crock Pot
Once browned on both sided, it's time to place the pork chops into the slow cooker or crock pot. I try to keep them in a single layer on the bottom. Place the lid on top and set to set the temperature.
Recipe Tip: If you are in a hurry for dinner to be done in about an hour, cook on high. If you have more time, cook your pork chops in the crock pot on low.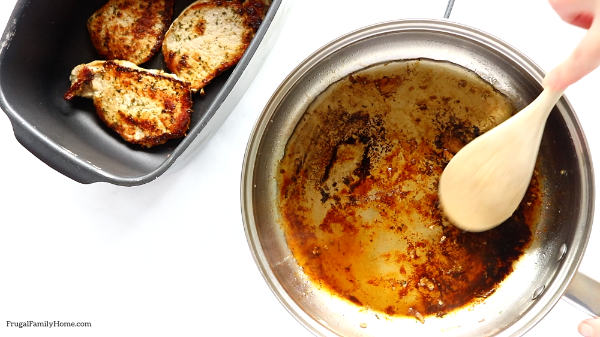 Step 4 Deglaze the Pan
This step imparts so much flavor to the pork chops, so don't skip it. We will make a pan sauce.
Place the skillet back on the burner and add the water to the pan. Using a spoon, scrape up all the bits and seasoning off the bottom of the pan.
Once all the bits are up off the pan, take the pan sauce you just made and pour it over the pork chops in the slow cooker.
Recipe Tip: deglazing can be used in many recipes, not just this one. By removing those bits off the bottom of the pan, you can add so much more flavor to a dish.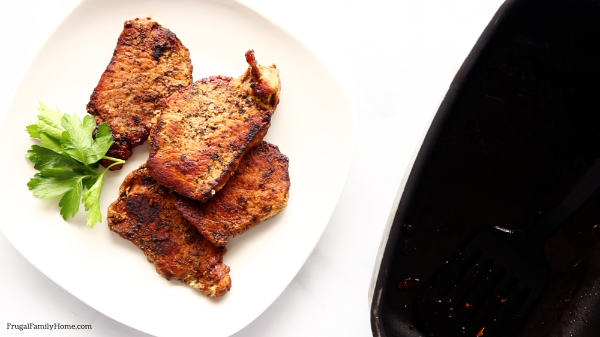 Step 5 Slow Cook the Pork Chops
Now you have your pork chops and pan sauce in the slow cooker, it's time to decide how long you have before dinner.
If you'll be eating in an hour or two, set it to high. If you won't be eating for 4 or more hours set it to low.
Cook until the pork chops are cooked through and an internal temperature of at least 145 degrees to 160 degrees for well done.
Recipe Tip: Pork should be cooked to at least 145 degrees to be safe. But can be cooked all the way to 160 degrees for well done. Use a meat thermometer to check for doneness.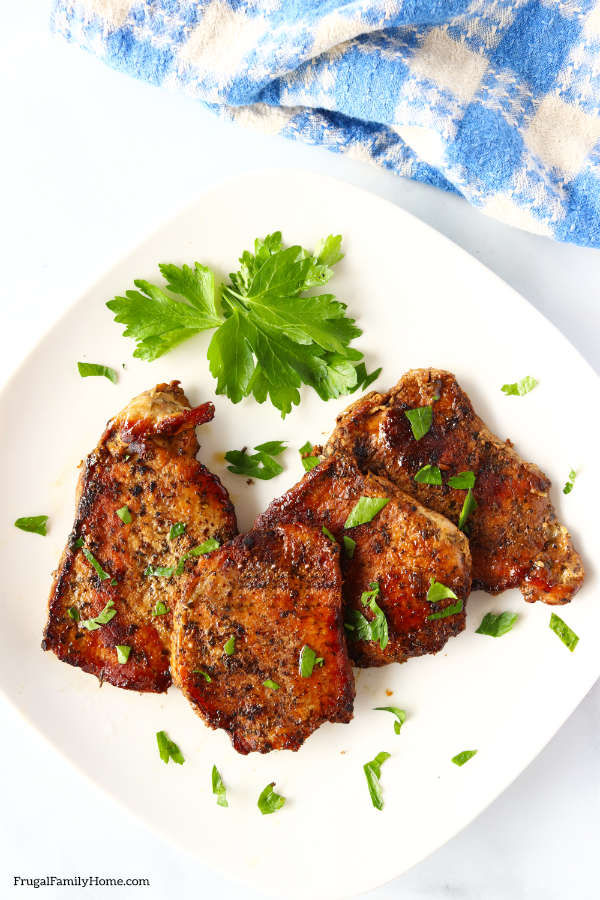 Your pork chops will be moist from the pan sauce, so flavorful from the rub, and fork tender because you cooked them in the crock pot. 
I believe these pork chops are just about the best and easiest pork chops you can make. 
More Pork Recipes to Try: Cranberry Pork Roast | Pan Fried Pork Chops | Garlic Stuffed Pork Roast | Honey Mustard Pork Chops
Grab the printable recipe below…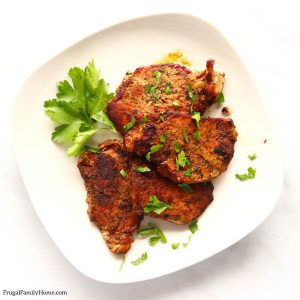 Easy Crock Pot Pork Chops
This easy pork chop recipe is flavorful because of the rub, tender because they are finished in the crock pot and moist from the pan sauce that is added. They are the perfect pork chops.
Instructions
Mix the garlic powder, onion powder, parsley, salt and pepper in a bowl. Sprinkle pork chops with seasoning on both sides.

Add the seasoned pork chops to a hot skillet and brown on one side, don't peek, let it sit and sear until it is loose and you can easily flip it.

Flip to the other side and sear.

Remove pork chops from pan and put into crock pot or on a plate.

Add the water (about 1/4 to 1/3 cup water) to pan to deglaze it and make a pan sauce.

Stir to loosen up all the bits of flavor stuck to the skillet. Remove from heat.

If using a crock pot, place the pork chops in the crock pot.

Pour the pan sauce over the pork chops place on high and cook 1 hour or place on low for 4-6 hours.

If using the oven, place the pork chops in an oven save dish, pour sauce over top and flip a couple to times to coat well.

Place the dish in the oven at 350 degrees for 5-15 minutes or until the pork chops are cooked through, at least 145 degrees to 160 degrees for well done.
Video
Nutrition
Serving:
1
Pork Chop
Calories:
79
kcal
Carbohydrates:
2.1
g
Protein:
5.8
g
Fat:
5.3
g