You wake up in the morning and want something special for breakfast. Something better than cereal or toast. You want something delicious. Why not make pancakes?! Use these easy homemade pancake recipes, made from scratch.
Yes, pancakes are the cakes you can eat for breakfast. And who wouldn't like that?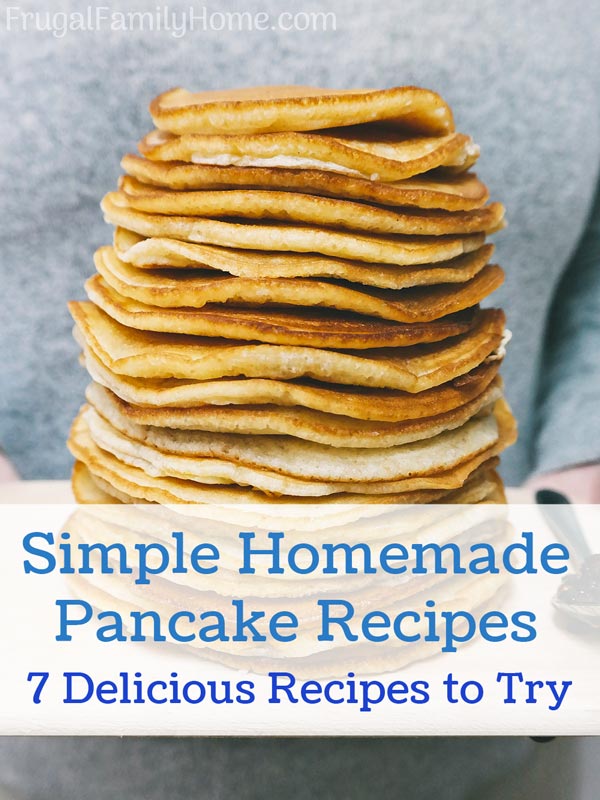 You don't need a box mix to make them, you can make your own from scratch, and it won't take you all day. Because eating breakfast for dinner is great but only if you started at dinner time, not at breakfast time.
These 7 homemade pancake recipes below are tried and true recipes. We use all the time at our house. They are all quick and easy to make.
And can be made dairy free and egg free if you have people with allergies in your home.
But before we get to the recipes, let me share with you a few tips for making perfect pancakes every time.
Tips for Making Perfect Pancakes from Scratch
If you are making pancakes from scratch you want them to turn out great. And to have your pancakes turn out great every time, you need these tips below.
Don't worry it's just a few things that I've found makes the pancakes turn out light and fluffy each time.
How to Make Your Pancakes Fluffy
You follow the recipe and still your pancakes aren't light and fluffy. You may wonder what the heck happened.
The key to having light and fluffy pancakes every time is to avoid over mixing the batter.
Over mixing the batter makes the pancake tough, not light and fluffy. The first tip is to avoid over mixing.
Here's how to avoid over mixing..
When adding your wet ingredients to the dry ingredients only mix until the dry ingredients are moistened. There will be lumps in the batter and that's ok.
My favorite way to mix the liquid in is to whisk slowly while pouring the liquid ingredients into the dry ingredients. This technique moistens the dry ingredients quickly with only a few strokes.
Making for fluffy and light pancakes.
When to Flip Pancakes
It's hard to know when to flip a pancake. Do you wait until a few bubbles form? Do you wait until the bubbles pop? When do you flip a pancake?
The best time to flip a pancake is when the bubbles are forming and popping. This is the key time to flip your pancake.
If you flip too early before the bubbles start to break, then the inside might be wet or doughy. And that loose batter on top may splatter the pancakes cooking next to them, when you flip.
If you wait too long and let all the bubble pop, your pancake can over cook on one side and not brown on the second side. And get dried out on the inside of the pancake.
You want to watch the bubbles and as you notice the bubble are forming and popping, it's time to flip your pancake.
Watch for bubbles to form but wait until you see some of them popping and then flip.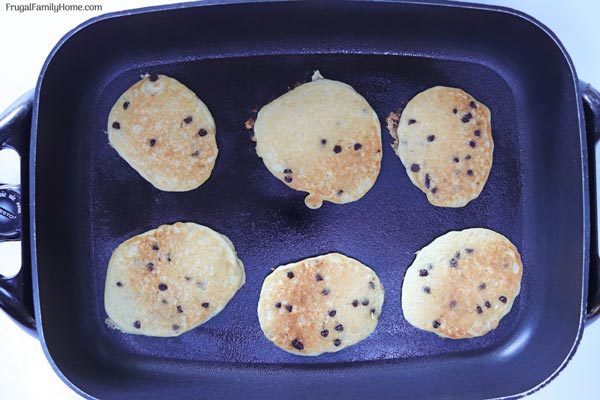 Some of the links below are my referral links. Which means when you purchase through them I can make a little money at no extra cost to you. For more information see my disclosure policy.
The Best Temperature to Cook Pancakes
Did you know there is actually a difference when you cook pancakes at different temperatures? There is and after much trial and error, I found pancakes turn out best when cooked at 375 degrees.
But one other tip for cooking pancakes is you want to heat your skillet to that temperature before you cook.
While you are mixing the batter turn on the burner with the skillet on it or your electric skillet and get it heating up.
Then it will be warm and ready to go when the batter is ready.
Getting Evenly Browned Pancakes, What You Need to Know
Getting evenly browned pancakes can be a challenge if you aren't using the right skillet. Yes it is true different skillets will give different results on browning.
To make sure your pancakes are evenly browned you could use an electric griddle. They have a temperature setting that is easy to set the griddle to 375 degrees and the pancakes turn out evenly browned.
But if you are like me and want your appliances to be used more versatile, I'd recommending getting this kind of skillet to cook your pancakes in. It not only browns pancakes beautifully but you can also cook so many other things in this skillet too.
If you are using a regular skillet, be sure to use a heavy skillet. They heat more evenly and that helps the pancakes brown more evenly too.
If you use these tips above, you'll make the best pancakes ever to impress your family and friends.
Now let's get to the recipes, because you are probably getting hungry by now.
7 Easy and Delicious Homemade Pancake Recipes to Make from Scratch
I don't want the words, "make from scratch" to scare you away.
Really if you can make pancakes with a box mix, you can make them from scratch. It only requires measuring of the ingredients. Which is easy peasy.
And all the recipes below have options for making them dairy free and egg free too. Just in case you have allergies in your family like we do.
Also, one of the 7 recipes below is for homemade pancake mix.
Just in case you want to make your own pancake mix to use. It helps to speed up making pancakes from scratch, for the busy mornings when you have a pancake craving.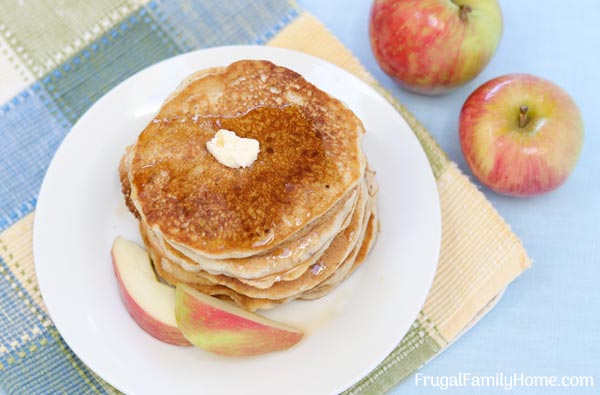 1. Apple Pancakes
These apple pancakes are like apple pie in a pancake. The apple flavor comes from shredded apples. Easy to mix in and no big pieces of apple to bite into.
A little apple pie spice is added to make them perfect. And they are less than $.50 a serving. Delicious and money conscious too, a winning combination.
Get the Printable Apple Pancake Recipe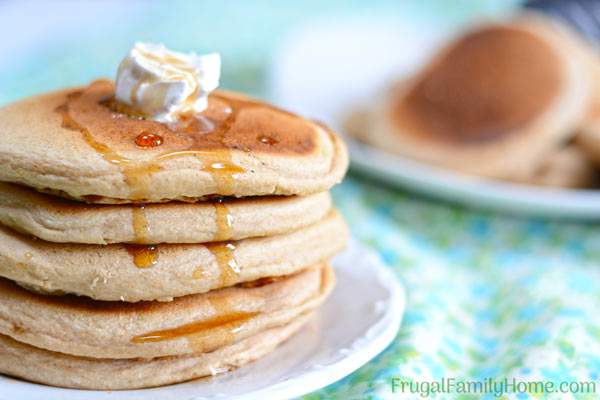 2. Whole Wheat Pancakes
Maybe you are trying to get more whole grains into your diet. Good for you! Then these whole wheat pancakes will be perfect.
They aren't heavy or tough. Oh no, these are light and fluffy whole wheat pancakes. In the recipe you'll find out the secret ingredient to help them turn out that way.
Get the Printable Whole Wheat Pancake Recipe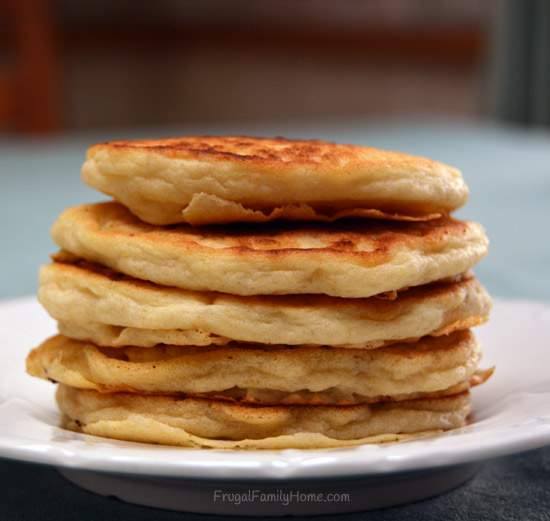 3. Easy Basic Pancakes
This is the first pancake recipe I came up with for making pancakes from scratch. This is my go to recipe for basic pancakes, that can be made dairy free and egg free.
I guess you could say this is where my pancake recipe making started. If you are into classic recipes, then this would be the one for you to try.
Get the Printable Easy Basic Pancake Recipe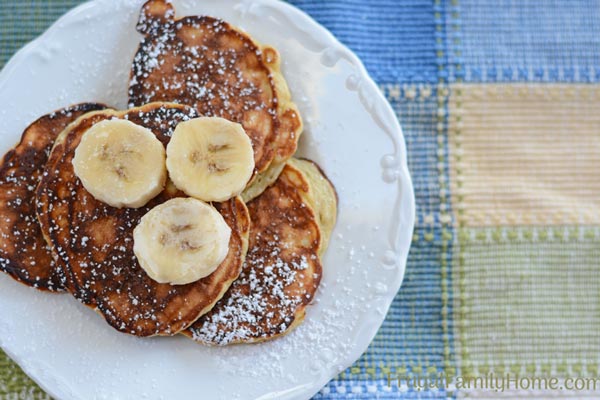 4. Banana Bread Pancakes
Bananas, an inexpensive fruit you can get all year round. And making banana bread is a great way to use up those past the prime eating bananas so they don't go to waste.
But did you know you can use those past prime bananas in pancakes too?
You can and this banana bread pancake recipe can show you how to make banana pancakes that taste like banana bread.
They are so good! Make this recipe today if you have over ripe bananas looking for a place to be used.
Get the Printable Banana Bread Pancake Recipe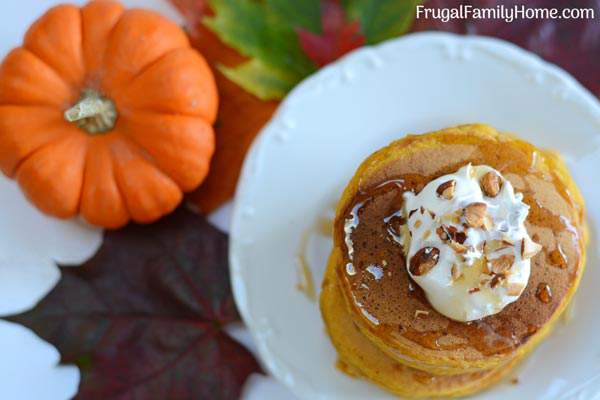 5. Pumpkin Spice Pancakes
These pancakes are perfect for Fall, or to make after you've made your own pumpkin puree. They have the flavor of pumpkin pie. Such a great fall pancake recipe you need to try.
Get the Printable Pumpkin Spice Pancake Recipe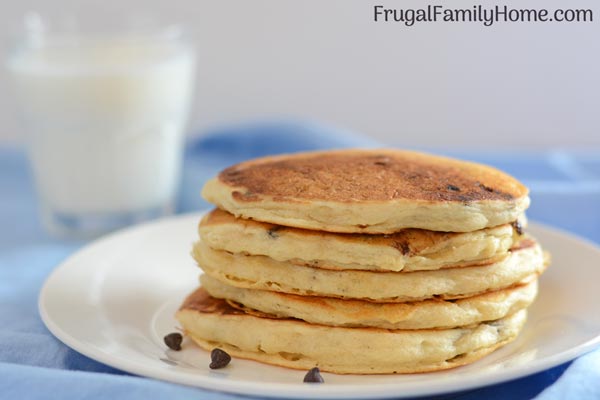 6. Chocolate Chip Pancakes
These are a favorite of my kids. I mean cake for breakfast with chocolate chips, what kid could resist.
And if you are sneaky like me, you can shred vegetables in like zucchini and the family won't even know. I did this recently and everyone gobbled them up.
Get the Printable Chocolate Chip Pancake Recipe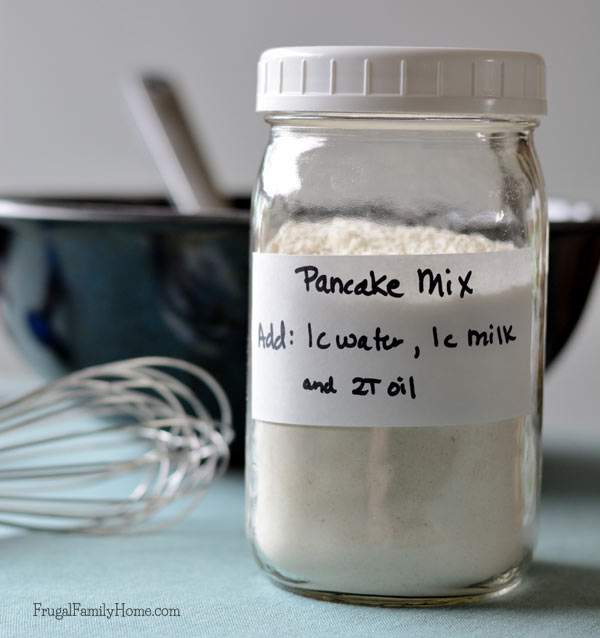 7. Homemade Pancake Mix
You won't ever have to buy pancake mix in a box again. This easy peasy recipe can have homemade pancake mix waiting on your pantry shelf ready to go.
Get the Printable Homemade Pancake Mix Recipe
Bonus Recipes Syrup for Your Homemade Pancakes
Because if you'll be making pancakes you'll want syrup to go with them. And why not make your own syrup if you don't use pure maple syrup. It can save you money making your own.
Homemade Pancakes Syrup
This is a simple recipe I've been using for years. It replaces the pancake syrup from the store and tastes so much better.
I purchased a bottle of the store-bought syrup, so I could replace my old bottle I store our homemade syrup in. It was wearing out. And that is when we realized we don't like store-bought syrup anymore.
See what you think by making your own homemade pancake syrup.
Get the Homemade Pancake Syrup Recipe
Easy Blueberry Sauce
This easy blueberry sauce is perfect for pancakes, ice cream, or even drizzled on top of cake.
If you have fresh or frozen blueberries, this is a delicious topping for your homemade pancakes. And it can be made while you are cooking the pancakes too.
Get the Easy Blueberry Sauce Recipe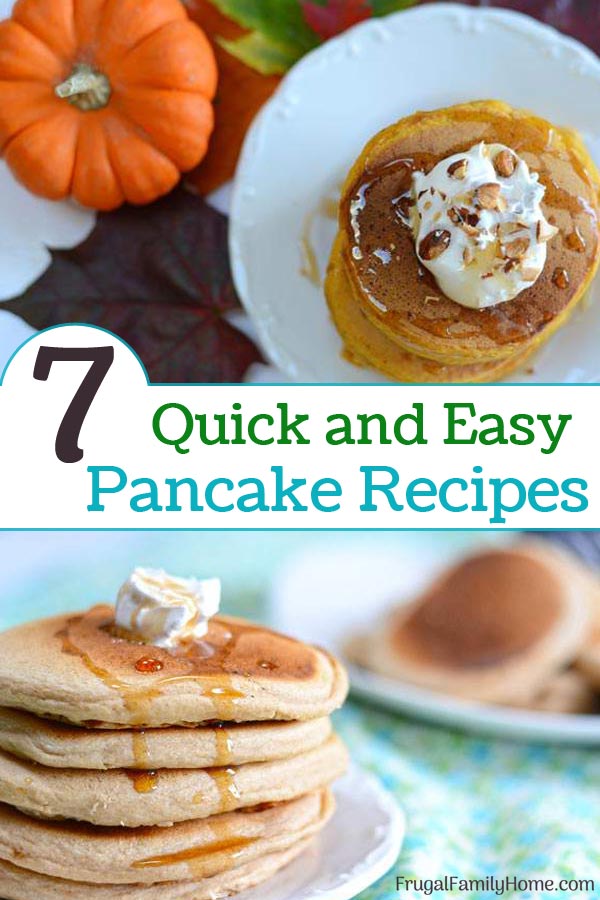 Now you know it's easy to make homemade pancakes from scratch you can ditch that box mix. Whip up your own pancakes and soak up all the comments (like pancakes soak up syrup) from your family about how great your pancakes are.
I would love to hear what pancake recipe you will try first. Leave me a comment below and let me know.
Subscribe and you'll get Recipes
sent right to your inbox!
Click the button below and fill out the form.