Freezer cooking doesn't have to be an all day task or nothing. Squeezing in a little time here and there, can really help you keep your freezer stocked. I keep my freezer stocked with just an hour here and an hour there each week or month. Here's how I do it.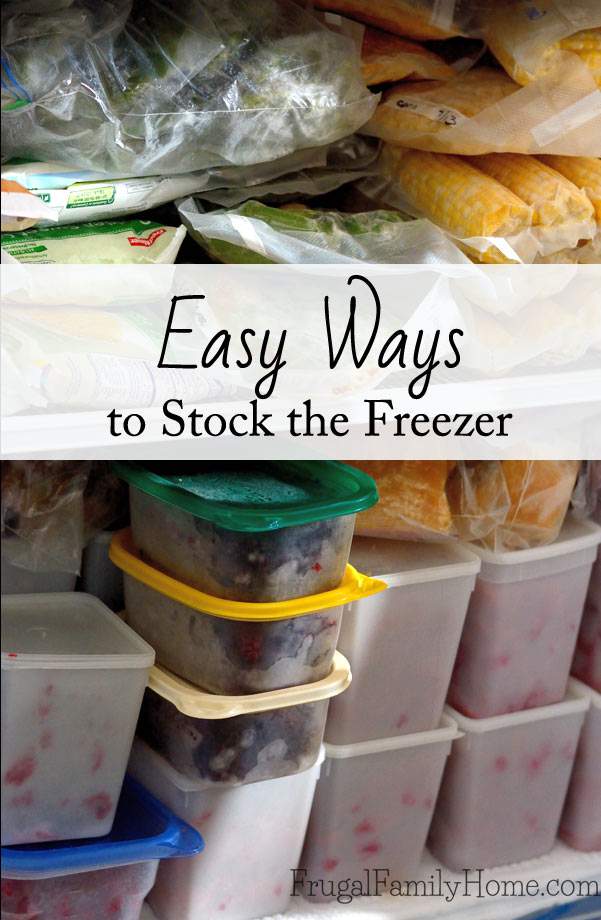 Why I Freezer Cook
I came up with both of these ideas below, because I hate handling raw meat. I want to handle it once and have it ready for my recipes. By using these methods below, I'm able to get the meat ready for the freezer and only have to clean up once instead of each time I make the meal. Saving me time and extra mess.
Buy in Bulk
I purchase our meats in bulk packages. I very, very, rarely purchase just enough meat for one meal. Instead, I usually purchase a large package of chicken, ground beef or steaks. Then when I get home I repackage them into meal sized portions.
I will often add in the marinade at the time of making the meat packages so I don't have to fuss with it when I'm ready to cook. The meat will marinade as it thaws in the refrigerator. Once thawed, I can add it to the slow cooker, bake, or boil it for a quick and mess free meal.
Pre-cook Meat for Meals
Those packages of precooked chicken, beef, meatballs and other items, can be really expensive. Those precooked meats are great for when you are short on time, but to save money make them yourself.
Chicken
For chicken, I will purchase a large package of chicken on sale or through Zaycon Foods. Then when I get it home I will grill or bake a bunch of the chicken breasts while I process the other chicken for the freezer.
Once the chicken is cooked. I will cool it, then cut it up, and package it in the right portions for recipes I like to make. I will usually cut the chicken in slices and dice some too. Chicken like this is great for recipes like casseroles, soups or even tacos. Making for a quick dinner when I'm short on time.
Ground Beef
When I purchase big packages of ground beef, I like to make meatballs and cooked ground beef for the freezer. I make the meatballs, cook and cool them. Then package them in meal sized portions. Then when I want to make teriyaki meatballs or hoisin meatballs or even spaghetti with meatballs it takes no time at all.
The cooked ground beef package are great in casseroles like slow cooker hamburger dish, hamburger skillet, quick burritos, tacos, and even sloppy joe's. When the meat is already cooked, it really cuts down on the mess and the time it takes to get dinner on the table.
Each of these tasks takes just a few minutes to get done. Usually in about an hour I can have half a months meat packages ready to go in the freezer. Making getting dinner on the table each night that much easier, plus a lot less mess to clean up too.
What do you like to make ahead for the freezer to make getting dinner on the table a little easier?
[signoff]
More post you might like,
How to Make Freezer Soup Kits
Freezer Batch Cooking, World's Best Chicken
Freezer Cooking, Ground Beef Packages
Freezer Batch Cooking, Chicken Pot Pie Filling
Ways to Save Money on Meat
See all the posts in this series,