Thanksgiving is over and maybe you are looking at a pile of leftover turkey. You don't want it to go to waste but it doesn't sound appealing at all. I hear you and I have 6 ideas for what to do with all that leftover turkey.
So you can have some easy dinner days in the next month to come, while you are busy getting ready for Christmas.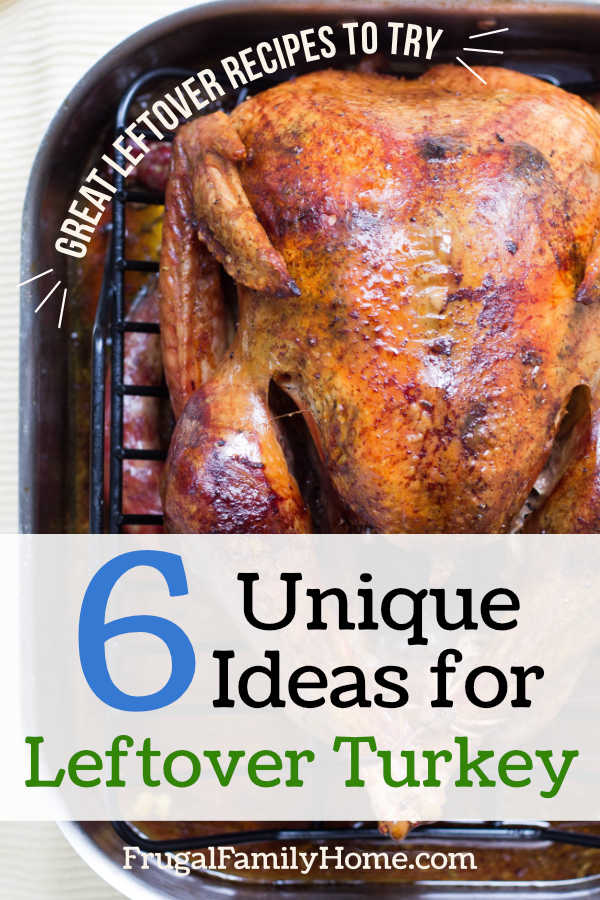 Some of the links below are my referral links. Which means as an Amazon Associate I earn from qualifying purchases and when you purchase through them I can make a little money at no extra cost to you. Thanks! See my disclosure policy for more information.
Before we get into the ways to use leftover turkey, lets talk turkey first (sorry I couldn't resist) and answer some common questions.
How Do You Store Leftover Turkey?
You can store your leftover turkey in an airtight container in the refrigerator for 3-4 days. Be sure to use it within that time. If you have more than you can use in that time. Be sure to freeze it to keep it longer.
It's best to keep out what you know you'll use in a few days and freeze the rest right away. I have a few ideas below for how to use turkey from the freezer or leftovers you have in the fridge.
How Long is Leftover Turkey Good for in the Fridge?
Most leftovers are good 3-4 days in the fridge. So if the leftovers you have will be used up within 3 days, you don't need to freeze them. But if it will take over 3 days to use your leftovers, be sure to freeze them right away.
How Do You Freeze Leftover Turkey?
Leftover roasted turkey freezes really well. And it's easy to freeze too.
Before your freeze it, remove the meat from the bones. Then portion it into recipe sizes or serving sizes. Protect it from freezer burn by using freezer containers or freezer bags. Be sure to remove as much air as possible to help keep freezer burn away. Vacuum seal bags work great for this.
The frozen turkey will keep in the freezer up to 3 months.
What's the Best Way to Reheat Turkey Leftover Turkey?
This is the best way to reheat leftover turkey and keep it moist.
1. Arrange your turkey into a casserole dish or baking pan in a single layer.
2. Cover with broth or if you don't have broth dot with a little butter.
3. Cover and bake at 350 degrees until warm, about 30 minutes.
Heating it this way will be sure to keep it moist and delicious. But now lets get into unique ways to use leftover turkey and thanksgiving leftovers too.
6 Easy Ways to Use Your Leftover Turkey
Below you'll find 6 ways to use leftover turkey. And while there are ideas for pot pie and soup, I've included ways to make them into freezer meals too. So if you are looking for a new way to use your leftover turkey today, or in the future you'll find ideas below.
Make Turkey Soup Kits
Every year after thanksgiving I use our leftover turkey carcass to make turkey broth in the crock pot. Then with the broth and the leftover turkey we make soup kits. These kits contain the broth and the meat, so you only need to add vegetables to have a delicious homemade soup in no time. See how to assemble the turkey soup kits here. 
Make Turkey Pot Pie, Or Turkey Pot Pie Filling for the Freezer
Turkey pot pies are delicious for something different to use your leftover turkey. They are a perfect comfort food for a cold winter day. They are pretty simple to make and you can use your leftover gravy, the turkey, and a few vegetables to assemble it fast. 
Or if you want to make the filling for the freezer you can substitute the chicken in this easy chicken pot pie filling recipe for the freezer. Then all you have to do is make a pie crust, add the thawed filling and bake. Making for an easy dinner for you. 
Make a Turkey Salad
You can chunk your leftover turkey and add it to a nice bed of salad. Load it with tomatoes, carrots, cucumbers and crisp bacon. Make your own homemade croutons with leftover rolls. And use the leftover cranberries sauce with a little buttermilk, mayo, salt, and pepper for a delicious dressing.
You'll have a quick, delicious, and healthy dinner that so easy to make. You can also freeze the prepared turkey for salad later too. Remove any excess air and use a freezer bag or a vacuum-sealed bag for longest storage.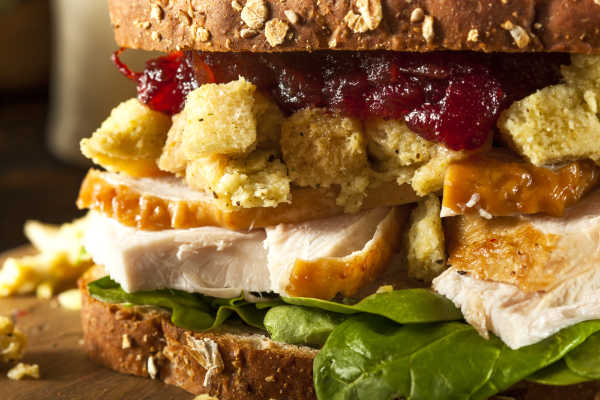 Make Sandwiches
Ok, this isn't too hard to come up with on your own, but making sandwiches is a great way to use up leftover turkey. And if you have leftover cranberry sauce, it can be used too.
If you want to freeze the turkey for later, this is how you can do that too.
Take two pieces of turkey add a thin layer of cranberry sauce to one slice of turkey and then add the other slice on top. Wrap in waxed paper and place in a freezer zipper bag. Repeat for other slices and freeze.
When ready to enjoy, take the amount needed out of the freezer and thaw in the refrigerator. Be sure to thaw completely as juices may be released and you don't want soggy bread.
To make sandwiches without freezing or to use the thawed frozen turkey on sandwiches later, try this.
Add the turkey with cranberry sauce to your sandwich. Or take a few slices of turkey and add cranberry sauce on them. Add to your favorite bread, with mayo and mustard and any vegetables you'd like. Enjoy.
For a fancier sandwich, spread mayo on one half of a croissant and cream cheese on the other half. Add lettuce or fresh spinach and pickles. Then add your thawed cranberry spread turkey or the fresh version. These sandwiches are so good.
Make Your Own Layered Casserole
This is where you can get creative with all your Thanksgiving leftover. So nothing goes to waste and you don't have to eat the same thing in the same way as your Thanksgiving day dinner.
Here are a couple of ideas to get your started.
If you have stuffing, vegetables, gravy, and turkey leftovers use them in this way. First layer the stuffing on the bottom of a casserole dish. Add your leftover vegetables. If they are in liquid, be sure to drain them first. Then add your leftover turkey on top and spoon over the gravy. Cover and bake until heated through. 
If you have sweet potatoes, turkey, and cranberry sauce leftovers. Place your sweet potatoes in the bottom of the casserole dish, slice or cube your leftover turkey on top. Then thin the cranberry sauce a bit with water or broth. Spoon over top and bake covered until heated through. 
If you also have leftover rolls, you can add them to make a crunchy bread topping. Remove the cover from the dish in the last few minutes of baking.  Butter your rolls, dice into small pieces and sprinkle on top. Bake until lightly browned for a yummy butter roll topping. 
Use the Turkey in These Easy Chicken Recipes
Finally, you can always use your leftover cooked turkey in easy dinner recipes like these. Just use the cooked turkey in place of the chicken. No one will know the difference and you can use up the leftovers in no time.
Chicken and Green Bean Stir Fry
Creamy Mushroom and Chicken Skillet
I hope this helps to give you ideas for ways to use your leftover turkey in a new way. Using leftovers helps to cut food waste, minimize your food cost, and makes getting dinner done easier too.
How do you like to use your Thanksgiving leftovers? Leave me a comment below and let me know. 

Subscribe and you'll get Recipes
sent right to your inbox!
Click the button below and fill out the form.