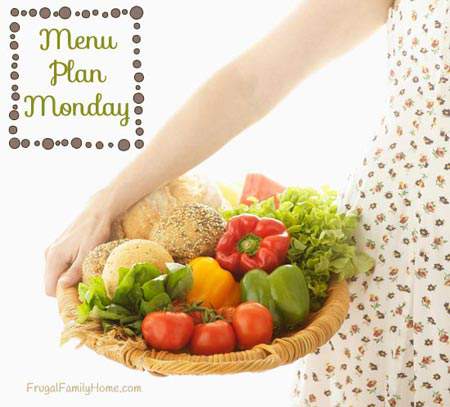 This past week was a stressful week. But it is over now and we are on to a new week and hopefully a better week too.  If you don't dinner plan, I would encourage you to give it a try. It really helps to keep our food budget low. It also helps to keep us from eating out too often too.
This week I'm making my son's favorite meal. Hamburgers with baked french fries, I think he could eat them everyday. I also making a tofu dish this week. It's a recipe I haven't made in a while but one we really like. Here's our full menu for this week,
Dinners
Crock Pot Pork Tenderloin with Cranberry Sauce, Mashed Potatoes and Salad
Spring Vegetable Couscous, Salad and Fruit
Hamburgers and Baked Fries
Build Your Own Haystacks with Fruit
Southern Fried Tofu, Noodles and Salad
Out to Eat
Macaroni Hamburger Skillet, Salad and Bread
Lunches
Leftovers
Sandwiches and Chips
Burritos, Chips and Salsa
Breakfast
Muffin with Dried Strawberries, Eggs and Sausage
Toast and Eggs
Pancakes, Sausage and Eggs
What's cooking at your house this week?
You can see more great menu plan ideas where I linked up at Org Junkie.