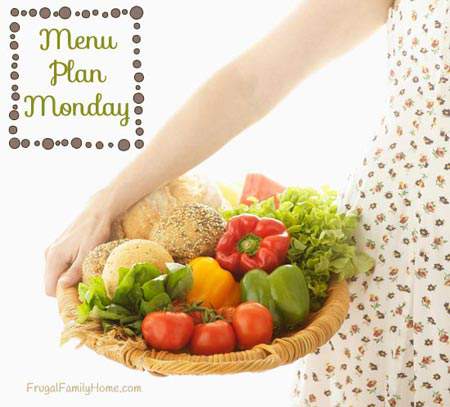 This week promises to be a busy week for us. I'm continuing to work on our bathroom remodel. So I'm keeping our menu plan easy to make, so we don't end up eating out. I have a few slow cooker meals planned along with some easy stove top meals.
Nothing too fancy this week, but at least we will all be well fed. Here' the plan for this week,
Our Menu
Dinners
Italian Chicken, Rice and Grilled Zucchini (from our garden)
Crock Pot Lasagna, Salad, and French Bread
Chili Dogs, Salad, and Fruit
Tuna Patties, Rice, and Sugar Snap Peas (from the garden)
Cheeseburger Skillet Dish, Salad and Cherries
Spaghetti with Meat Sauce, Salad, and French Bread
Soft and Crisp Tacos, Homemade Salsa, Refried Beans, and Chips
Lunches
Leftover most days
Sandwiches, Fruit, and Chips
Salad with Lunchmeat, Cheese and Homemade Croutons
Breakfasts
Toast with Eggs
Waffles, Sausage and Eggs
Toast, Eggs, and Turkey Bacon
 What's cooking at your house this week?

Find more menu plan inspiration at Org Junkie where I linked up.