Happy Monday to you. It's the start of a new week and a new opportunity for you to make a meal plan so you can avoid mealtime stress.
But I get it, it's hard to come up with meal ideas. To help, I'm sharing our meal plan for this week. It's full of easy to make meals that everyone will love.
See what's cooking this week…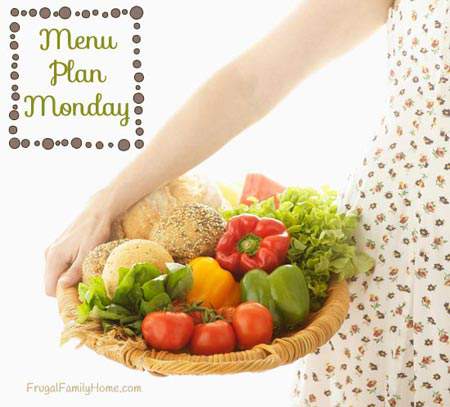 This week we are having one of my son's favorite meals again, Sloppy Joe's. I think he likes them so much because they are similar to a hamburger. Hamburgers are the one food I think my son could eat everyday.
If it's still a bit chilly where you live then the recipe for beef stew will be perfect for you. I love it because it's so easy to make in the slow cooker and the beef comes out so tender too. If you've made beef stew on the stovetop with meh results you need to try the slow cooker recipe instead.
I'm also going to be using one of my chicken soup kits to make chicken noodles. The homemade egg noodles are easier than you might think to make too.
We'll also be enjoying teriyaki pork chops. I use a homemade teriyaki sauce that is so good. Along with pork chops out of the freezer that I cut myself from a pork loin to save money.
Now onto the recipes so you can make them for your family too.
The Meal Plan
Dinners
Teriyaki Pork Chops, Rice and Vegetables
Sloppy Joes, Chips and Fruit
Chicken with Egg Noodles, Salad and Fruit
Slow Cooker Taco Soup, Chips and Fruit
Taco Haystacks with Fruit
Pizza and Salad
Lunches
Leftovers most days
Sandwich and Chips
Beans and Hot Dogs, Chips and Veggie Sticks
Breakfast
Toast and Eggs
Muffins, Eggs and Sausage
Pancakes, Eggs and Sausage
What's cooking at your house this week?

Do you need help planning your menu? Find my menu planning tips here with a free printable menu planner page and here for my frugal menu planning tips.
This post contains affiliate links. Thanks for your support. See my disclosure policy for more information