Struggling with
What to Cook for Dinner?
Make dinner easy, make this smothered pork chops in the crock pot.
I love easy to make dinners. Dinner that almost cooks itself while you are busy with other things. And that is why I absolutely love my slow cooker. It cooks meals for you while you are doing other things. 
A perfect kitchen companion. And this smothered mushroom pork chop recipe is one you have to try.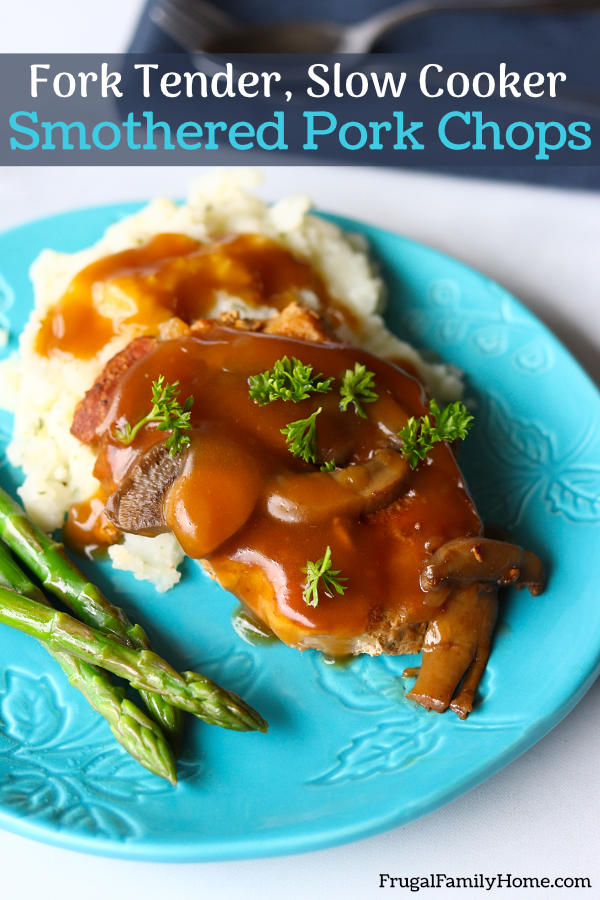 More Easy Dinner Recipes: Hamburger Skillet | Crock Pot Ham and Scalloped Potatoes | Creamy Chicken and Mushroom Skillet
Crock Pot Pork Chops with Gravy, No Soup or Gravy Packets Needed
My husband doesn't care much for pork chops. I don't know why but he doesn't. He'll gobble up pulled pork, pork roast but put a pork chop in front of him and it's kinda meh. 
But when I made this recipe for smothered mushroom pork chops, he devoured them. I knew at that moment I had a winner.
If your family is kinda meh on pork chops too, you need to give this recipe a try.
It's easy to make, in just a few steps. Watch the video below to see the full recipe. And if your family is like my family, you'll get rave reviews.
And this recipe doesn't use gravy packets or canned soup. So no preservatives you don't want because you know all the ingredients.
Plus, this recipe is dairy-free, low carb, gluten-free, keto-friendly, and easy to make. 
First, let's start with what you'll need.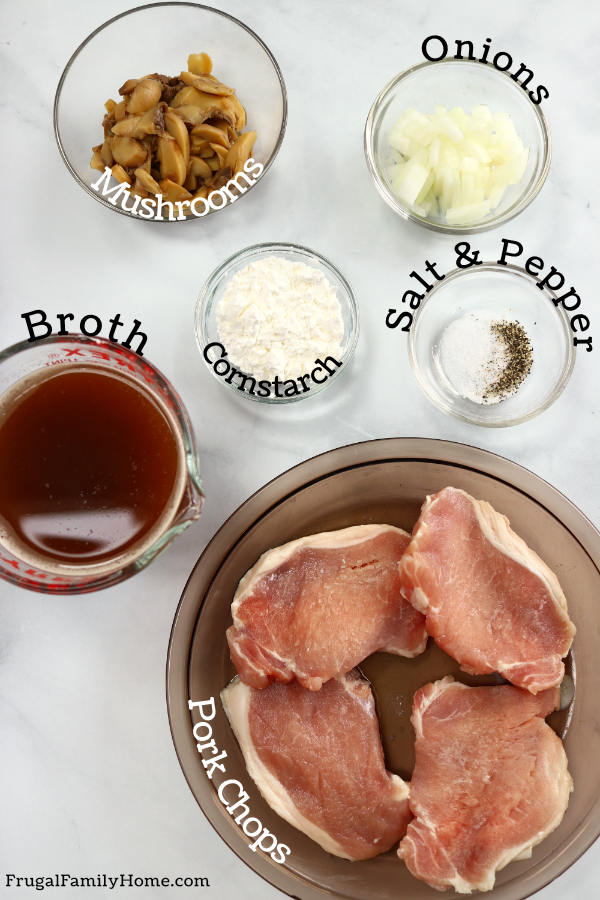 Ingredients for Smothered Mushroom Pork Chops
4 Pork Chops
2 cups Beef Broth
1 can Mushrooms or 8 Fresh Mushrooms Sliced4 Pork Chops
2 cups Beef Broth
1 small Onion, Diced
2 tablespoons Cornstarch, Flour, or Arrowroot
1 tablespoon Oil
Salt and Pepper
What kind of pork chops should I use?
You can use bone-in pork chops or boneless pork chops. We prefer boneless pork chops because I always have them in the freezer. 
Picky Eaters Tips…
If you have picky eaters who don't like onions, you can add onion powder to the pork chops when adding the salt and pepper. Then you don't have to use onions.
If you or your family don't like mushrooms you can skip them altogether.
Now let's get started cooking!
How to Make Smothered Mushroom Pork Chops in the Crock Pot
I made a quick video so you can see the recipe made start to finish. But if watching a video isn't your thing, you can read the step-by-step instructions below. With shortcuts to take if you are short on time.
Recipe Shortcut Tips and Step-by-Step Instructions
1. Season the Pork Chops and Brown
Sprinkle salt and pepper on the pork chops. Add the oil to a skillet on medium-high. Preheat the skillet, then brown on both sides. 
Shortcut Tip: If you are short on time, skip the browning process and just add the seasoned pork chops to the crock pot.
2. Brown the Onions and Mushrooms
In the same skillet add the mushrooms and onions to the pan. Then cook until browned. Add the browned onions and mushrooms on top of the pork chops in the crockpot. 
Recipe Tip: If your family doesn't like onion or mushrooms, just skip them altogether.
Shortcut Tip: If you are in a hurry, no problem just add the onions and mushroom on top of the pork chops. You don't have to brown them first.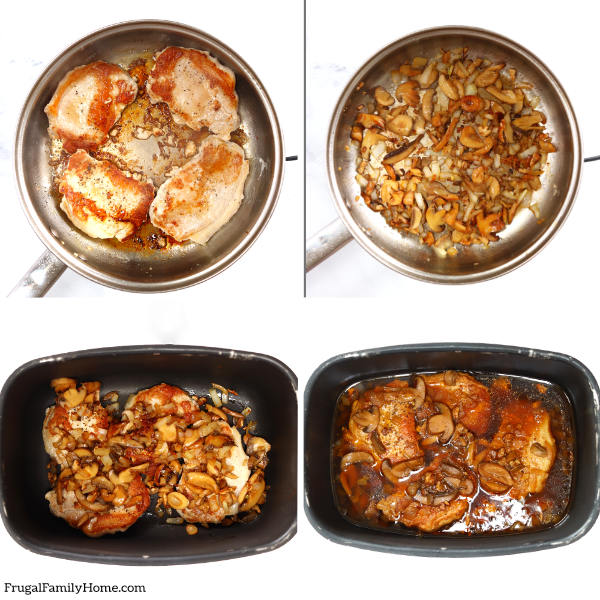 3. Deglaze the Pan
Add the broth to the skillet and stir over medium heat. Scrap up all the bits on the bottom of the pan. Then add the broth over the pork chop.
Shortcut Tip: if you aren't browning the pork chops, just add the broth to the slow cooker on top of the pork chops, onions, and mushrooms.
4. Cooking the Pork Chops
Set the crockpot to low for 6 hours and let the pork chops cook.
Shortcut Tip: If you are in a hurry or were late getting dinner started you can cook the pork chops on high for 2-3 hours or until cooked through.
Recipe Tip: Pork chops should be cooked to an internal temperature of 145 degrees. The best way to check the temperature of your pork chops is with a meat thermometer.
5. Remove Broth
Once the pork chops are done remove the broth and let the pork chops, onions, and mushrooms stay in the slow cooker.
Place the broth in a saucepan and heat over medium heat. Dissolve the cornstarch, flour, or arrowroot in 2 tablespoons of water. Stir. Add to the broth.
Stir and cook until the gravy is thickened.
Shortcut Tip: Don't want to thicken the gravy outside the crock pot. Add the cornstarch right to the crock pot.
It's easier to remove the pork chops first. Then add the cornstarch mixture. Stir and return the pork chops to the crock pot. Cook over high until it thickens the gravy.
6. Serve and Enjoy
Place the pork chops on a plate and spoon the mushrooms and onions over top with the gravy. And enjoy your fork-tender, delicious smothered mushroom pork chops.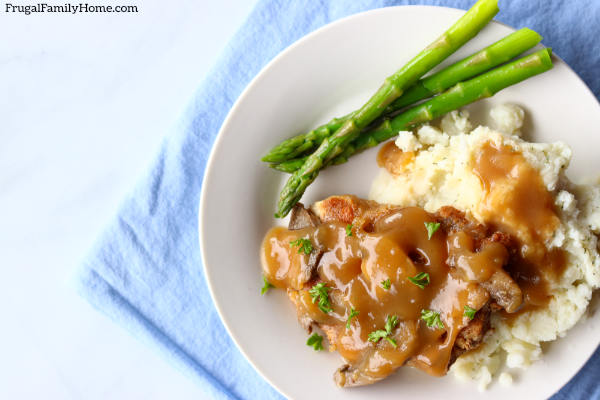 How to Store Leftovers
Place any leftover in an airtight container and place it in the refrigerator. Store for up to 3 days. 
If you need to store the leftovers longer. I suggest placing them in an airtight freezer container and freezing them.
What Sides Go with Smothered Pork Chops?
We love to have garlic and chive mashed potatoes with pork chops. But you could also serve them with rice or even homemade egg noodles. A good low carb side dish would be cauliflower rice too.
If you are looking for a good vegetable side dish bacon brussel sprouts or ginger garlic green beans would be a good choice. For a salad side dish I love our family recipe for coleslaw, it's so good.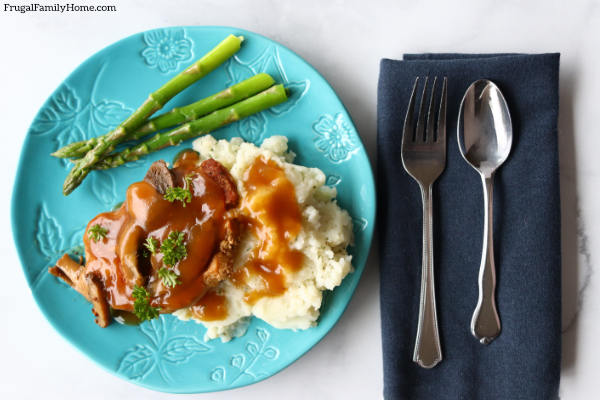 How to Save Money on Pork Chops
Pork chops can be expensive in the store. They can be anywhere from $3 to $6 a pound. But you can cut your own boneless pork chops and save.
I buy a full pork loin at the grocery store or Costco for around $1.99 a pound. Then I cut two roasts off the ends. And I cut the center portion into pork chops.
What's great about this method is you not only save money but you can have thick or thin pork chops or a mix. Watch this video I made on cutting a pork loin for making freezer meals.
The roasts you cut off the ends work great in this Cranberry Pork Roast recipe. Or in this Garlic Pork Roast recipe. And you can even use one of the pork roasts you cut to make Pulled Pork in the crock pot too.
Variations of this Recipe…
This recipe also works with chicken too. So if you don't like pork chops or don't have any try it with chicken thighs or breasts.
You can also add minced garlic to the onions and mushrooms if you like garlic too.
Print the Recipe…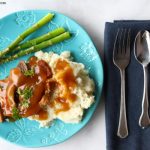 Print
Crock Pot Smothered Mushroom Pork Chops
These pork chops turn out fork tender made with their own gravy. It's a perfect comfort food dinner the whole family will love.
Ingredients
4

Pork Chops

2

cups

Beef Broth

1

can Mushrooms or 8 Fresh Mushrooms Sliced

1

small Onion

Diced

2

tablespoons

Cornstarch

Flour, or Arrowroot

1

tablespoon

Oil

Salt and Pepper
Instructions
Sprinkle the pork chops with salt and pepper. Set aside while the skillet is heating over medium high heat.

To a hot skillet add the oil. Then place the pork chops in the pan and brown on each side.

Move the pork chops to the slow cooker. And add the onions and mushrooms to the skillet.

Stir and cook until browned. Spoon on top of the pork chops.

Take the beef broth and add it to the skillet over medium heat. Stir to get all the bits off of the pan. Add the broth to the crock pot.

Cover and cook over low for 6 hours or until heated through.

After the pork chops are done cooking. Remove the broth to a saucepan.

Mix the cornstarch with 2 tablespoons of water. Stir.

Heat the broth over medium heat and stir in the cornstarch. Cook until thicken.

Remove pork chops from slow cooker and place on a plate. Spoon the mushrooms and onions over top. Drizzle with gravy.
Video
Notes
To Make this a Meal: Serve with mashed potatoes and a vegetable.
To adjust this recipe for picky eaters. Use onion powder instead of onions and omit the mushrooms if desired.
Nutrition
Serving:
1
pork chop
|
Calories:
223
kcal
|
Carbohydrates:
7.9
g
|
Protein:
26.5
g
|
Fat:
9.2
g
More Pork Recipes You'll Want to Try…
Slow Cooker Cranberry Pork Roast