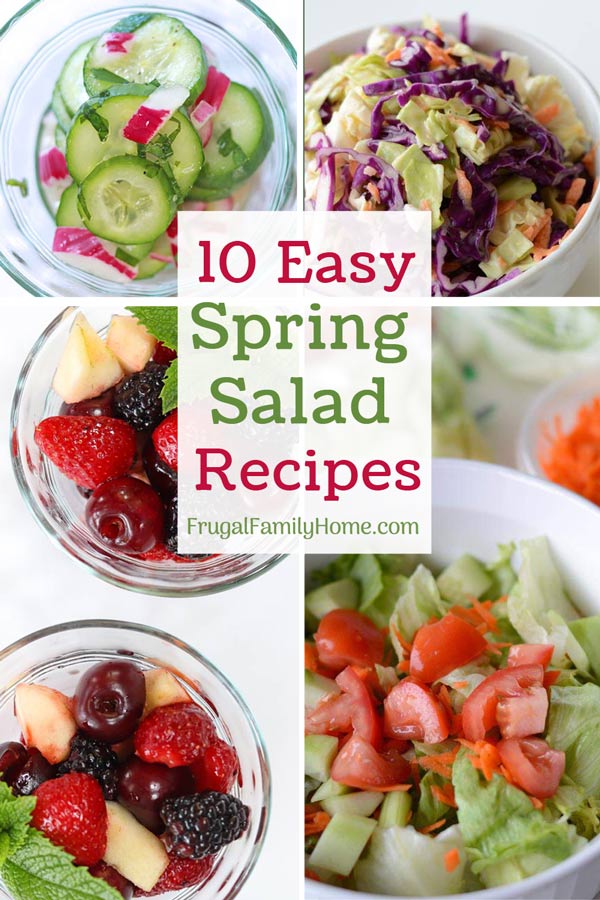 Can you ever have too many spring salad recipes?
Once we break out of the cold winter weather you get a craving for fresh flavors. Something crisp and fresh to crunch on.
These light, fresh and somewhat hearty spring salads are perfect when you are ready to start eating light and fresh.
Find your new perfect spring salad below.
10 Easy Spring Salad Recipes You'll Love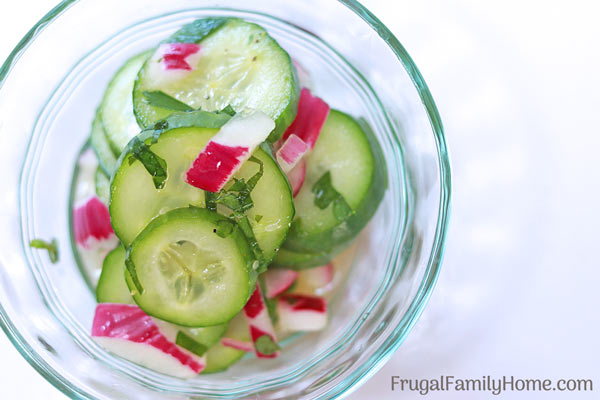 If you are looking for a light cucumber salad to enjoy with a sandwich or as a light meal. This healthy cucumber salad will really hit the spot. It has onions, cucumbers, and a light homemade dressing that has the perfect balance of sweet and sour.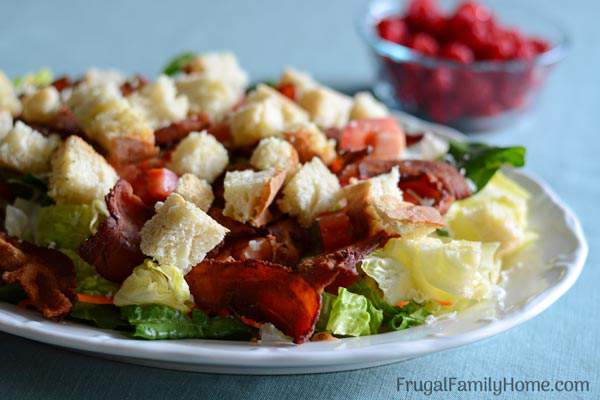 If you are looking for a fresh spring salad recipe that could be used as a main dish this BLT salad is perfect. It's still light and fresh but more hearty with the addition of bacon to it. This would also be a great prep ahead lunch.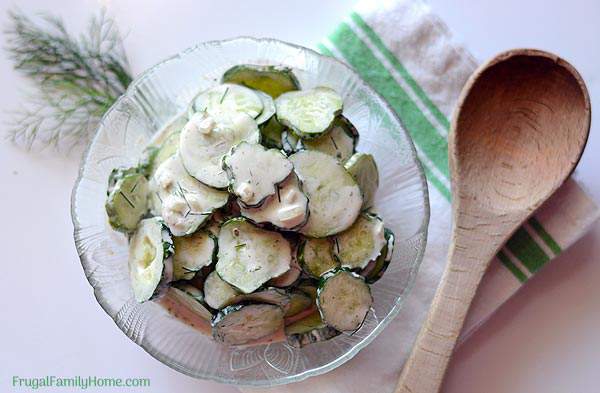 This creamy cucumber salad is one of my favorite spring salad ideas. It has the right balance of creamy smooth dressing with crunchy cool cucumbers. No need to wait for summer this cucumber salad is a great salad to enjoy in the spring.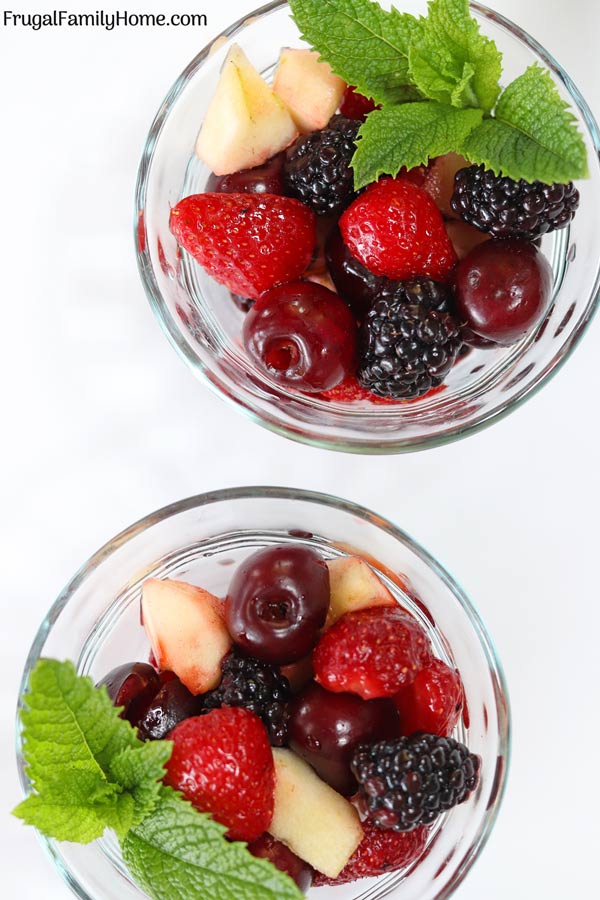 Now if you are craving fruit instead of vegetables you have to try this berry fruit salad. When those yummy strawberries start ripening, it's time to make a delicious spring fruit salad. And after a long winter of bananas, apples, pears and oranges, it's great to have a few fresh sweet berries to enjoy.
The very berry fruit salad is a great spring salad with strawberries. It's a great combination of delicious berries with other fruit and a light vanilla dressing to enhance the flavor of the berries instead of covering them up.
Another fresh and hearty spring pasta salad. With fresh peppers and tomatoes and a light vinegar salad dressing. It's a great combination of fresh vegetables, pasta, and beans. This spring salad recipe is hearty enough for the main dish too.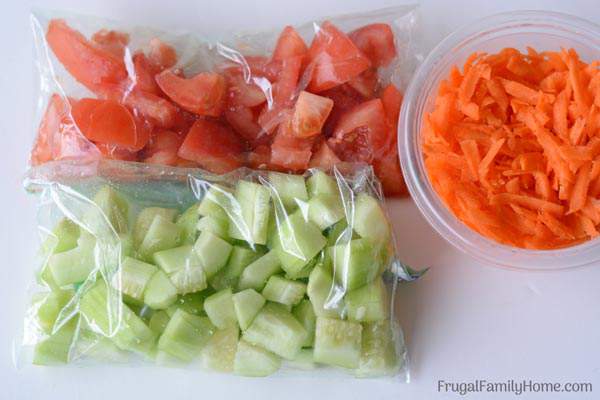 If you are short on time during the week but love to have spring green salads for lunch or dinner prep ahead your salad. With theses steps you can enjoy a great spring salad each night of the week.
These tips can help you prep and keep your salad fresh all week long so it will only take minutes to make your salad each day.
A yummy macaroni salad I've been enjoying since I was a kid. It's a family recipe that everyone raves about. I'd have to say it's the best macaroni salad.
It has the perfect balance of crunchy onion and celery. Blended with an easy creamy homemade dressing. And then intertwined with al dente pasta with just a little bite. Not only is this a great spring salad pasta recipe but it can easily be enjoyed in the summer too.
Now you might not think of potato salad as a spring salad but when you add fresh chives it can be. This bacon and chive potato salad is simple and easy to make but has a fresh spike of flavor with the addition of chives to it.
If you grow your own chives, be sure to add those pretty purple flowers too. They have great flavor and can add a pop of color to the salad.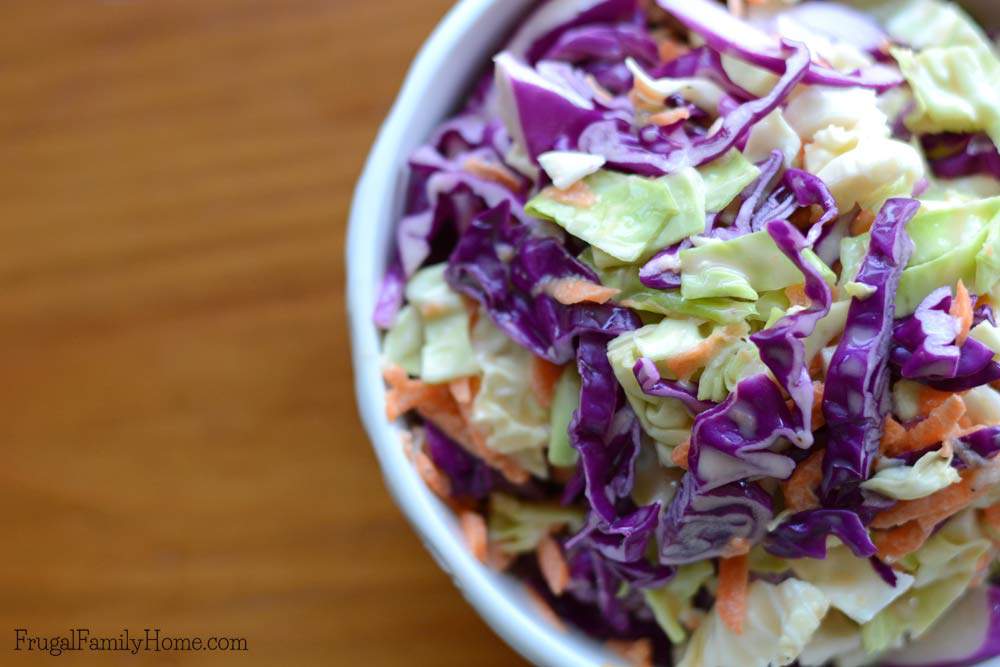 This basic coleslaw recipe is a wonderful combination of purple and green cabbage with carrots mixed in. It's a lot of crunch mixed with a slightly sweet dressing that you can't resist. You can dice the cabbage or shred it depending on how you like it best. It's a feast for the eyes with all the colors and tastebuds too.
If you love caesar salad this chicken caesar pasta salad will be wonderful salad to enjoy. With the addition of chicken it can be a heart dinner or lunch too.
Start with a layer of lettuce, add pasta and chicken next. Throw in tomatoes, and fresh green onions. Finally toss it with yummy dressing and you've got a delicious spring salad meal.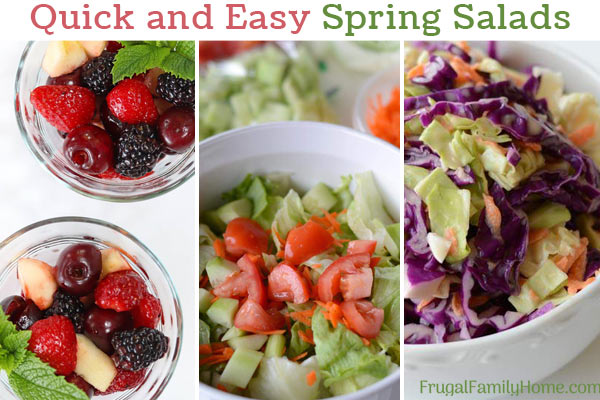 With these 10 spring salad recipes you can eat a different spring salad each day of the week. What spring salad will you try first will be the only question you need to answer.
More Yummy Meal Ideas
7 Frugal Breakfast Ideas
7 Frugal Lunch Ideas
7 Frugal Dinner Ideas
Subscribe and you'll get Recipes
sent right to your inbox!
Click the button below and fill out the form.