Make dinner without breaking the bank with these 7 frugal dinner ideas all for under $1 a serving. Make getting dinner done easier and stay within your budget with these dinner ideas.
It's getting late in the day, your husband will be home soon, your kids are getting cranky and hungry. And you need to figure out what you'll make for dinner.
What's for dinner, is a question your family asks and you might even be asking yourself. And when your budget is tight this is a question that can be harder to answer.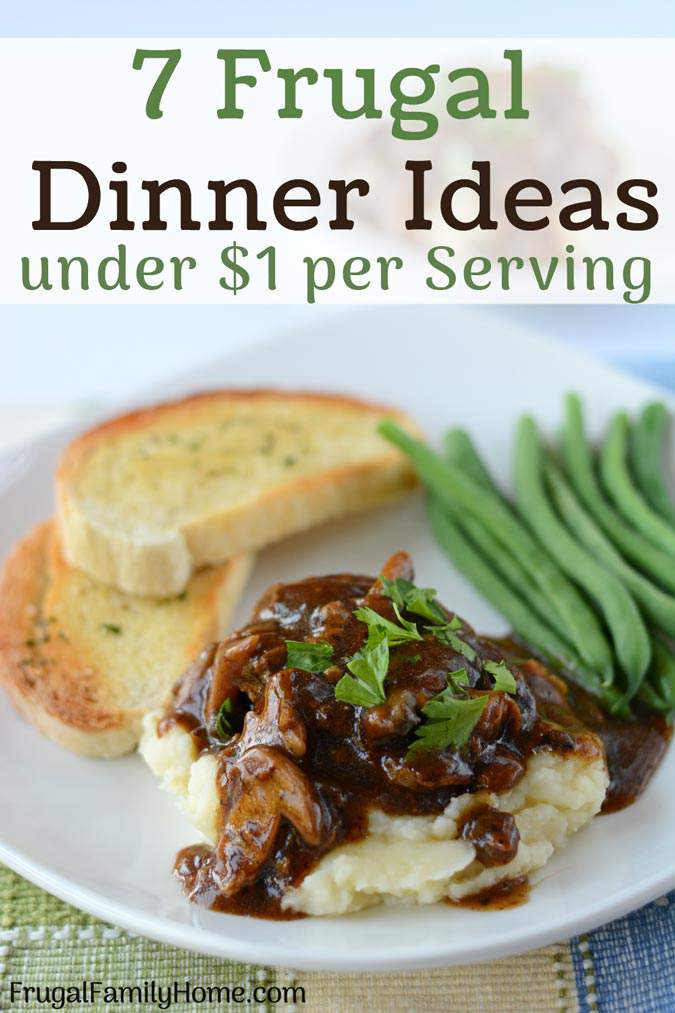 It's a something you have to face every night when dinnertime rolls around. It can be hard to come up with ideas for dinner that are easy and that won't break your grocery budget too.
It can be hard to find meal your whole family will eat and not be too expensive.
It's nice to have a few frugal dinner ideas or a week's worth of dinners that are low cost to fall back on when money is tight.
Or to add to the meal plan once or twice a week to keep the overall grocery budget lower.
If you are looking for a few tried and true frugal dinner ideas, these 7 frugal dinner ideas are ones I'm sure your family will enjoy. Plus they are all under $1 a serving.
At the end, I've also thrown in a bonus dinner idea that we use often when I'm meal planning for a quick and easy dinner that won't break the bank.
7 Frugal Dinner Ideas all Under $1 a Serving
Most of the recipes listed below make 5-8 servings. We always end up with enough for our dinner and leftovers for a couple servings at lunch too.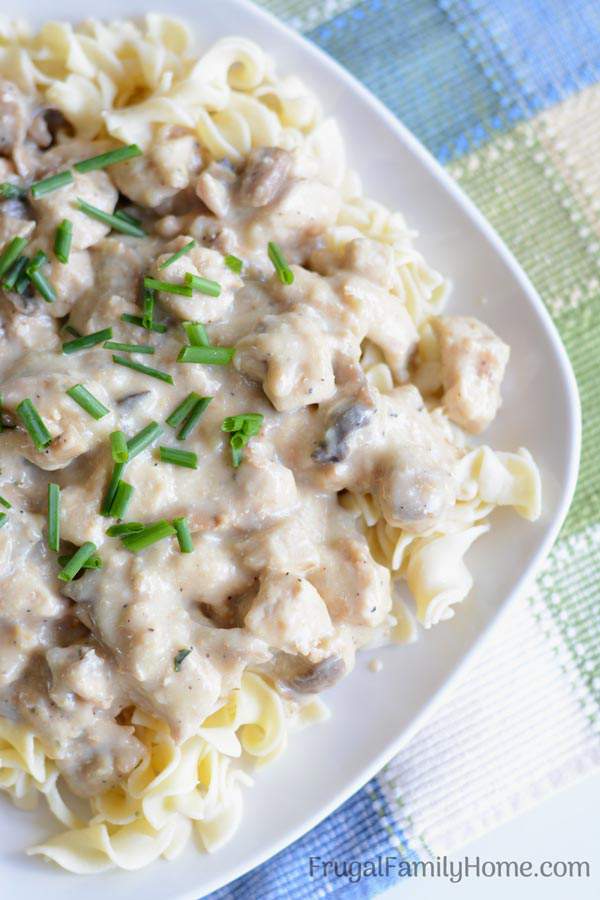 1. Chicken Mushroom Skillet $.74 a serving
This easy skillet dish starts with diced chicken that quickly cooks up with a can of mushrooms. Add in homemade cream soup and you have an easy dinner that is easy on your wallet too. We serve it over egg noodles with a salad on the side.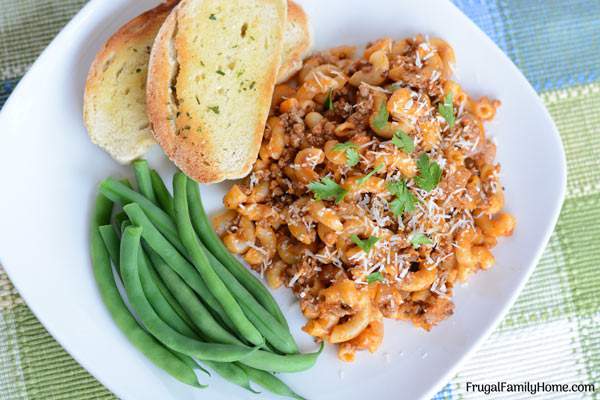 2. Hamburger Macaroni Skillet $.64 a serving
This is another skillet dinner that's quick to make and can be made ahead for the freezer too. A can of tomato sauce, a little ground beef, macaroni noodles, and seasonings is all it takes to make this inexpensive but filling frugal dinner.
Use mini lasagna noodles instead of macaroni to make it more like a skillet lasagna dish too. Serve with a salad and homemade french bread to complete the meal.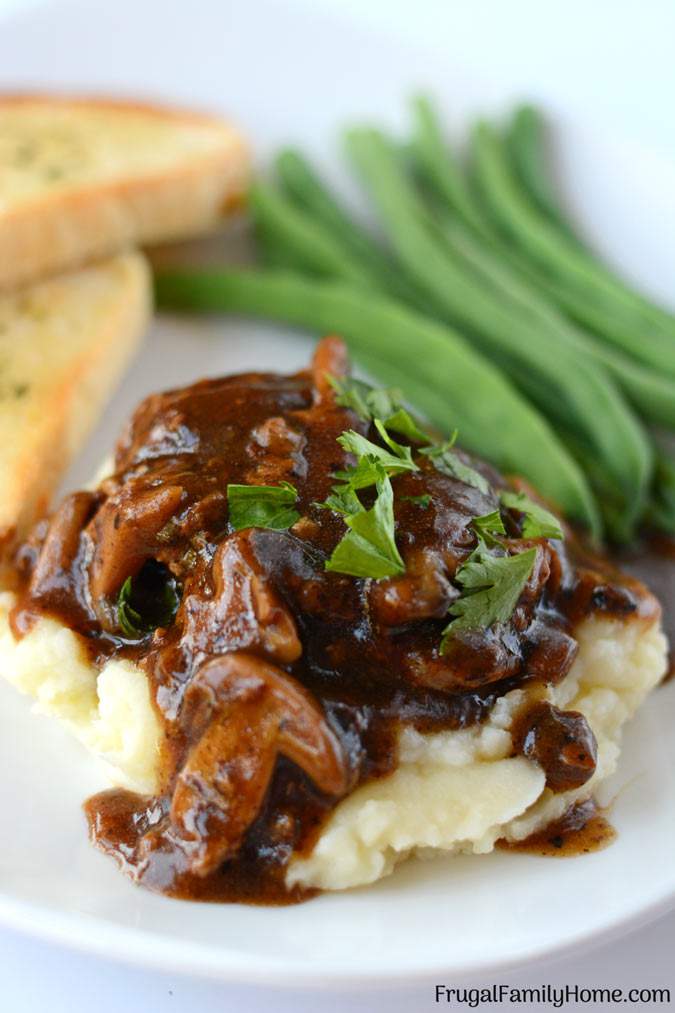 3. Easy Salisbury Steak $.67 a serving
My family loves homemade Salisbury steak. It's a yummy comfort food dinner of a deliciously tender steak patty covered in gravy with mushrooms. Serve with mashed potatoes and green beans to make this dinner just $.82 a serving for the whole meal.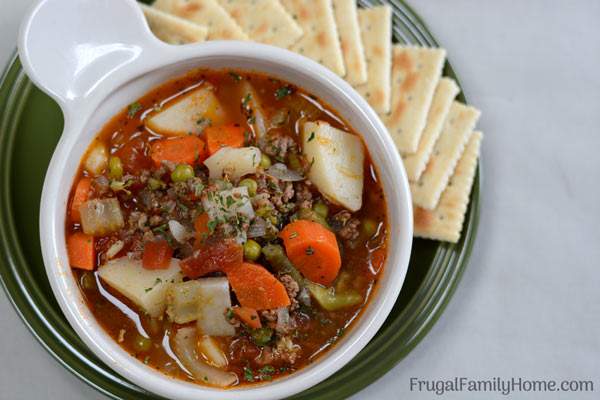 4. Hearty Hamburger Soup $.50 serving
Soup is always a good way to stretch your grocery dollar and use up vegetables that might be going bad soon hanging out in the crisper drawer.
This hearty hamburger soup comes in at just $.50 a serving. We enjoy soup often in the winter and at a price that like you can really feed your family well on very little.
Add in a batch of homemade biscuits and a serving of fruit to round out the meal.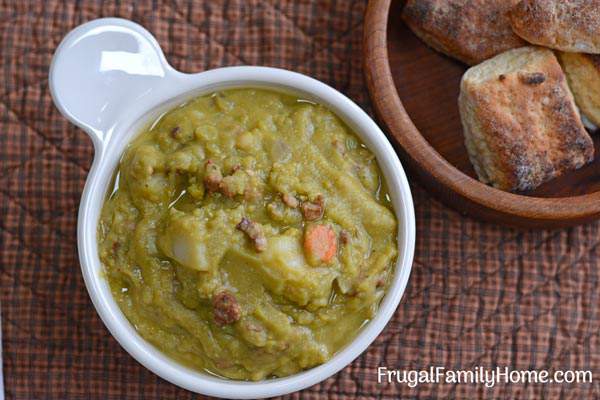 5. Crockpot Split Pea Soup $.85 a serving
This soup is a great soup for a busy day. Put everything into the crockpot and when you get home you'll have a delicious and hearty soup waiting. You can use ham or sausage in this recipe. It's not only a frugal dinner idea but also Weight Watchers friendly too.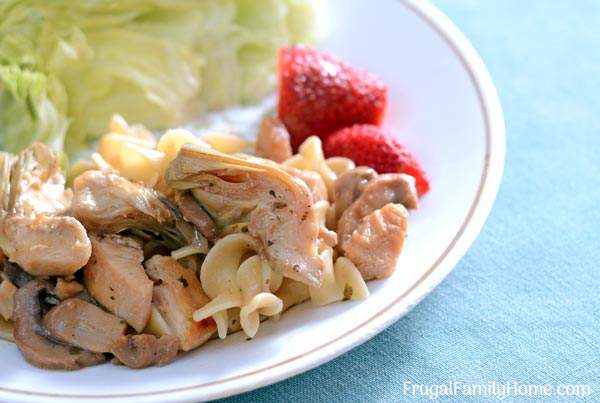 6. Chicken Artichoke Casserole $.80 a serving
This isn't your average casserole recipe. It's fancy enough for company and inexpensive enough to add to your meal plan often. Chicken, artichoke hearts, and mushrooms are mixed with a homemade sauce and baked.
Then served over a bed of egg noodles. To make it even more inexpensive you can serve it over rice instead.
The flavors are great and you can make the main casserole ahead of time and tuck it away in the freezer for a quick thaw and bake meal later.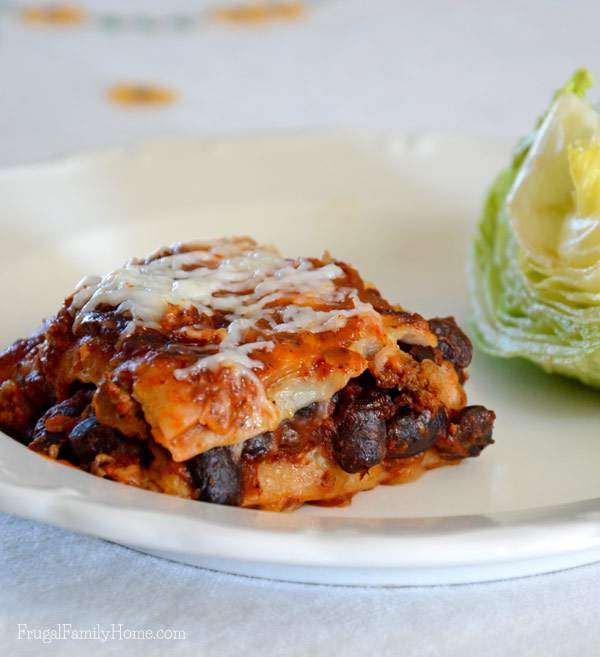 7. Beef and Bean Enchiladas $.88 a serving
If your family loves enchiladas this easy to make layered bean and beef enchilada dinner are sure to please.
It's quick to assemble and you can use canned enchilada sauce to make it even quicker to make. Just layer the ingredients into the crockpot set it and forget about it until your ready to eat dinner.
We enjoy this dinner with a salad and a serving of fruit.
Bonus Idea, Breakfast for Dinner
If those 7 frugal dinner ideas weren't enough I've got one last suggestion for you. Growing up my mom often make breakfast for dinner and I do the same for my family now.
It's a quick dinner and it inexpensive too. Eggs are usually $.10 each. Add in a link or two of sausage at just $.10 each. Then make a batch of homemade pancakes, waffles, or toast and hash browns and you have a quick and easy dinner for well under $1 a serving.
I try to add in breakfast for dinner at least 3 times a month into our meal plan. If you have a busy evening coming up consider trying breakfast for dinner and see how quick and easy it is to make.
Those are 7 frugal dinner ideas all under $1 a serving. I hope you've found a new frugal dinner for your family.
Add a few of these into your meal plan each week to help keep your grocery spending lower and your family happy at the same time.
Find More Frugal Meal Ideas
Breakfast for Under $1 a Serving
Lunch for Under $1 a Serving
Pin it for Later….