Inside: You'll find 10 easy and frugal weight watchers recipes for dinner. These recipes are easy to make and some are even freezer friendly.
When you decide to lose weight you often end up spending more money on food. But that doesn't have to be how it is.
I've taken 10 popular frugal recipes from the blog and I've added the Weight Watchers Smartpoints values to them. You can keep your grocery budget in check even while you are losing weight.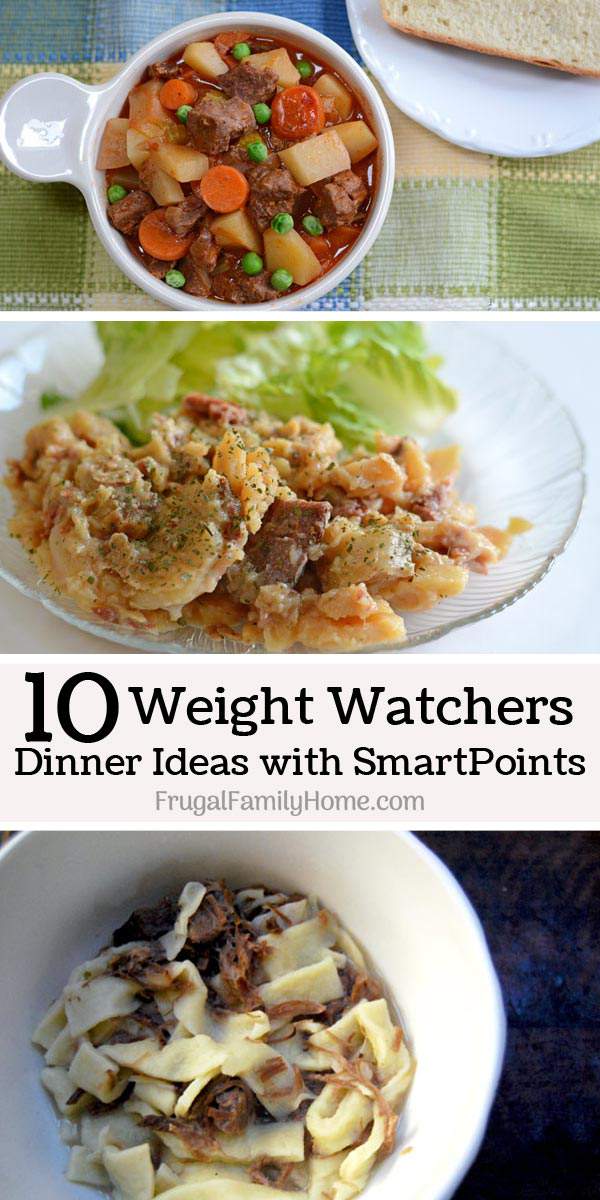 Weight Watchers Meals
You might be wondering why I choose to make a recipe list for Weight Watchers when there are so many other diet plans out there. My main reason is my dad's wife has had great success with the Weight Watchers program. She lost about 80 pounds in a year while doing Weight Watchers.
If you have a Weight Watchers point calculator like the one I borrowed from my dad's wife, you can determine which of your tried and true recipes are ones you can continue to enjoy while on the Weight Watchers plan.
10 Weight Watchers Recipes for Dinner
All of these recipes are easy weight watchers meals to make. They are tried and true recipes that our family enjoys often. All of them are also frugal meals too. The points assigned to each of these easy weight watchers meals are Smartpoints.
Crock Pot Split Pea Soup ~ 5 Points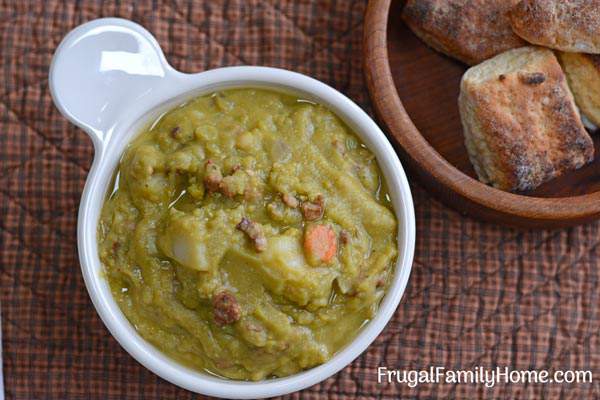 This crock pot split pea soup works out to be able $1 a serving and is my husband's favorite. I've made it with both sausage and lean ham in the past, either way is equally delicious. Be sure to make it with lean ham instead of sausage to keep this delicious soup at just 5 SmartPoints per serving.
We love to make these steaks on the barbecue in the summer but they are equally yummy make under the broiler too. Sometimes we serve these with a baked potato and salad. But these steaks are also delicious over a salad any time of year. You can make the steak ahead, slice it and have it ready to place on the salad. You should make your steak size about 5 ounces to keep it in line for Weight Watchers points assigned above.
Muffin Tin Meatloaves ~ 6 Points
I don't know about your kids but my kids don't care much for a regular meatloaf, but they will gobble up these mini meatloaves without any trouble. I like that this recipe is already portioned for you and you can enjoy 3 mini meatloaves for dinner for just 6 points.
Scalloped Potatoes and Ham ~ 6 Points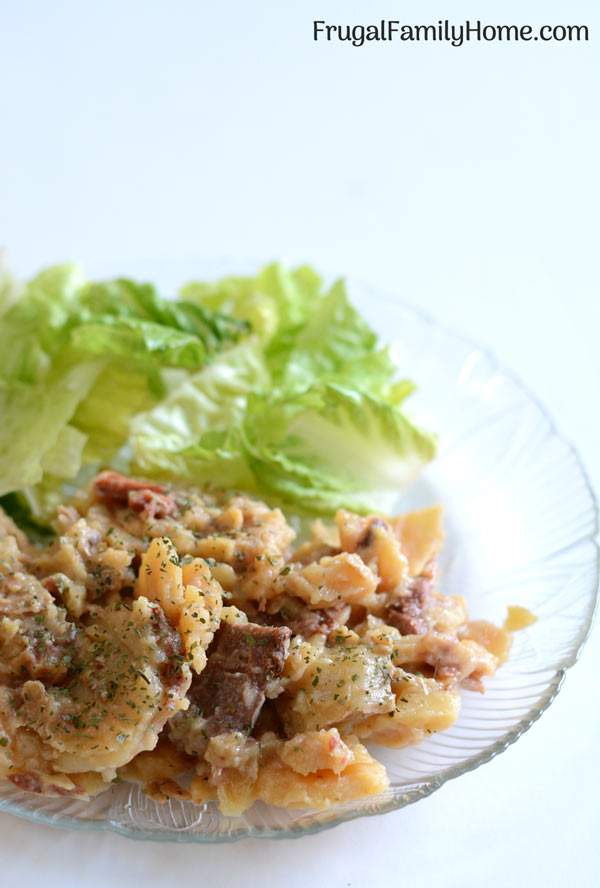 This recipe is made in the slow cooker making it an easy meal to make on a busy day. I use a vegan cheese sauce in it to keep it dairy free too. Just a few minutes in the morning and you can have a Weight Watcher meal that the whole family will love waiting and ready for you when you get home.
I remember enjoying a nice bowl of these homemade beef noodles that my great grandma made when I was young. Now I make the same dinner for my family and I was so happy to see that it is Weight Watchers friendly too. Don't let making your own egg noodles scare you away from this recipe. It's not hard at all to do. With only 6 points for this yummy comfort food dinner, I'm sure it will become a favorite of yours.
Cheeseburger Skillet Dish ~ 7 Points
This is a great skillet dish that is quick to make and kid friendly too. My whole family loves this skillet dish and I love that it's so easy to make. Inexpensive, quick to make, kid friendly, and Weight Watchers friendly too, what more could you ask for in a recipe?
Slow Cooker Garlic Pork Roast ~ 7 Points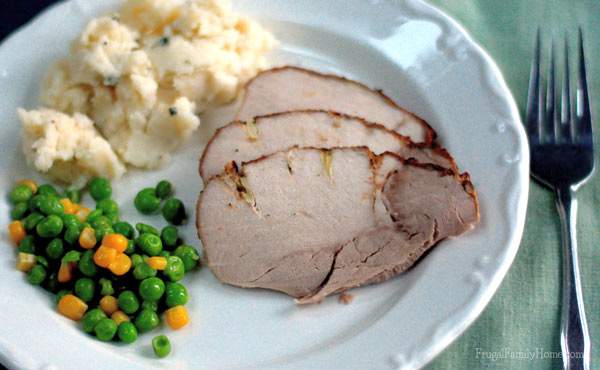 This dish is fancy enough to make for a special occasion but also easy enough to make it any day of the week. You can prepare the roast ahead of time and pop it into the freezer so all you need to do is thaw and place in the slow cooker to get dinner started.
Chicken Vegetable Couscous ~ 7 Points
This is a yummy chicken dish that comes together really quickly when you have cooked chicken breast waiting in the freezer. Or when you have leftover cooked chicken. Use fresh or frozen vegetables and you'll have a skillet dish that is just 7 points.
Beef and Bean Enchiladas ~ 7 Points
This is another yummy Weight Watchers crock pot meal that is easy to set and forget about until you are ready to eat. You can use canned beans, precooked ground beef, and canned enchilada sauce to make the assembly of this recipe even quicker.
Slow Cooker Beef Stew ~ 7 Points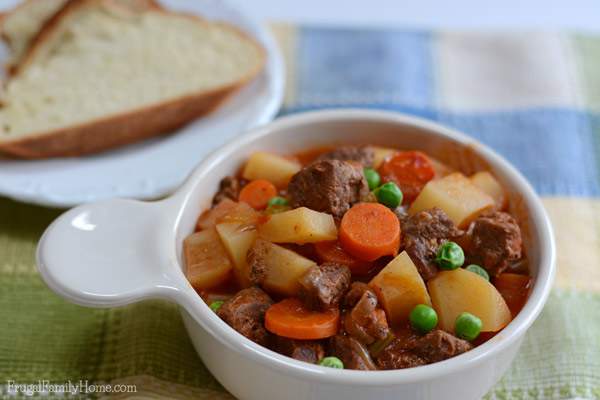 This is by far my favorite comfort food recipe. When you make beef stew in the slow cooker it has time to build a nice flavor, so much better than the stove top version. It's also a great recipe for a busy day since it can be placed in the slow cooker in the morning and you can come home to a delicious dinner in the evening.
Menu Planning and Meal Prep Tips for Weight Watchers Meals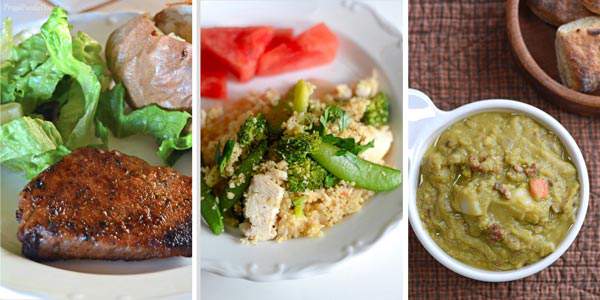 If you and your family like to enjoy the same meals over and over you could make each of these 3 times in one month and have a month worth of easy and frugal Weight Watcher meals and have your dinner planning done for the month.
I've also found if I plan a little ahead I can more easily stick to a diet too. For recipe items we eat often I'll make freezer packages for them. I only have to handle the raw meat once and it's ready right out of the freezer. I try to cook the meat right after shopping or the next day.
If you like to enjoy chicken, bake or grill a bag or large tray of skinless, boneless, chicken breast for the freezer. You'll have cooked chicken ready to go when you need it for a recipe or for a quick meal. The cooked chicken works great in soups, casseroles, and even tacos or burritos. See how I like to cook the chicken for the freezer here.
I do the same with my ground beef. I'll purchase 5 pounds or more at a time. I'll cook it without seasoning and divide it into meal size packages and freeze. When I need cooked ground beef for a recipe, part of my work is already done.
When you find little shortcuts to make, preparing the meals you have on plan and find recipes your whole family loves to eat, it's easier to stick with your diet changes for the long haul and reach your goals.
More Articles You'll Enjoy
Why Exercising is Not Enough
Cutting Back without Cutting Out Foods