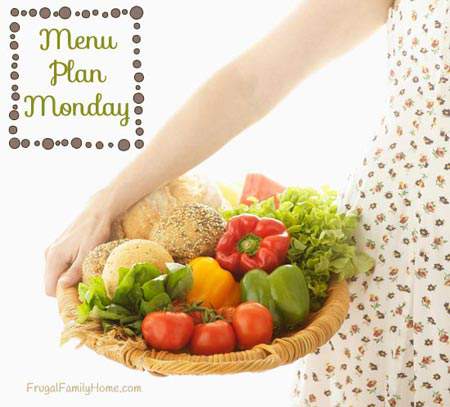 This week I'm trying out another new recipe, Mushroom Chicken. If it turns out I'll be sure to share it. A couple of weeks ago I had a recipe turn out really well for Cranberry Pork Roast, but I neglected to take any photos. So that recipe will have to wait until I make it again.
I'm making a few meals from our freezer this week. The chicken noodles will be made using the soup kit that I have in the freezer. I'm also making one of our favorite freezer meals, Island Chicken. The rest of our dinners this week are family favorites.
Our Menu,
Dinners
Island Chicken, Rice and Vegetables
Pan Fried Pork Chops, Mashed Potatoes and Vegetables
Chicken Egg Noodles, Salad and Fruit
Mini Meatloaves, Mashed Potatoes and Salad
Mushroom Chicken over Egg Noodles, Salad and Fruit
Chessy Ham and Potatoes, Salad and Fruit
Kielbasa Sausage Skillet with Salad
Lunches
Leftovers most days
Sandwich and Chips
Salad with Cheese and Lunchmeat with Grilled Bread
Breakfast
Toast and Eggs
Pancakes, Eggs and Sausage
Strawberry Chocolate Chip Muffins with Strudel topping, Eggs and Sausage
What's cooking at your house this week?

This post is linked up at Org Junkie