Apples, cinnamon, nutmeg all baked up with warm soft bread. It's the ultimate comfort food dessert. It's one my grandma used to make and now I'm sharing her apple brown betty recipe with you.
A Little About Apple Brown Betty
Now if this homey comfort food dessert sounds so good to you but you say, "Hey, I'm not a baker. I can't make this." I say, yes, you can because it's such a simple and easy recipe to make. 
There is virtually no mixing involved at all. And no working with dough either.
It's the perfect non baker, baked apple dessert recipe. So even if you are a non baker, you can make this dessert. 
My grandma used to make this recipe for us. And I thought as a kid it was named after here. Because well, here name was Betty Brown. So naturally I would have thought apple brown betty was named after her.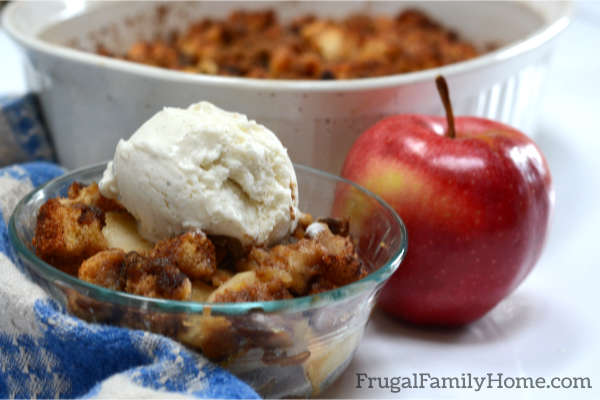 The History of Apple Brown Betty
With a little research I found the history of apple brown betty.  Brown betty first came up in 1864. It was a dessert made in colonial times. I can see why, it uses bread that can be day old and apples which were plentiful in the fall. 
A perfect way to use an in season fruit with bread that was a little stale. Frugal and delicious, my kind of recipe. 
Did you know that there is a Apple Brown Betty Day? It's October 5th. The perfect day to make this recipe to celebrate. 
 So even though this recipe wasn't named after my grandma. It's still a delicious dessert with both her first and last name in it. Now let's learn a little more this dessert. 
What is Apple Brown Betty?
Apple brown betty is a easy dessert made with sugar and spices, apples and bread. Yes, that's it. No dough to stir up or knead. No pastry to roll out. No crumble topping to make. See it really is easy to make.
It's perfect for fall when all the fresh crisp apples are at the market. You can have your pick of so many apples to use in this dessert.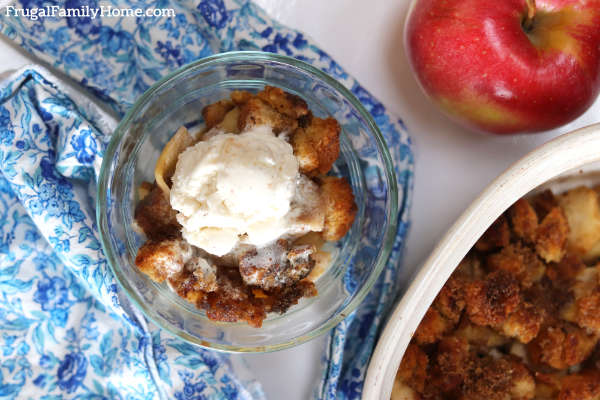 Apple Brown Betty vs Apple Crisp
There are so many fruit desserts. There's cobbler, crisp, buckle, brown betty and it seems like I'm missing one but you get the idea. 
They all are desserts with fruit but each is a little different.
Apple crisp has layers of apples with a crumble topping made of sugar, flour and spices. Sometimes with oatmeal, sometimes not.
Apple brown betty is alternating layers of apples with bread crumbs or cubes and spices. No batter or crumble topping needs to be made. Making for a much easier to make and heartier apple dessert.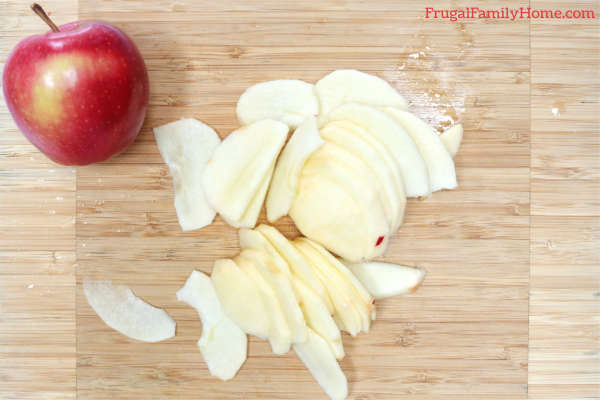 What Kind of Apples to Use
I use whatever apples I have on hand but if you like the tart taste of granny smith they would be perfect in this recipe. Or any other baking apple.
If you like a sweeter apple, golden delicious or honey crisp apples are a good choice.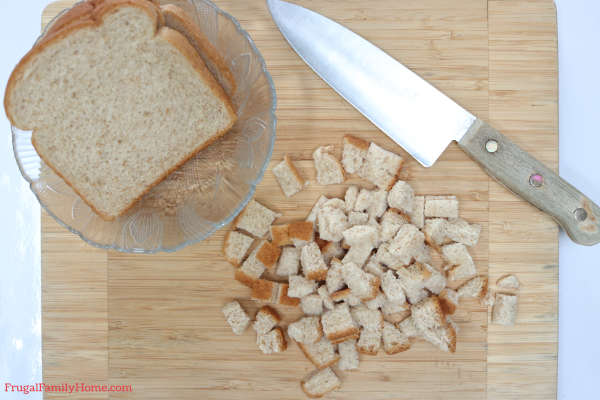 What Kind of Bread to Use
Traditionally Apple Brown Betty recipe is made with white bread. But if you rarely have white bread on hand, wheat sandwich bread will work well too. 
If your bread is super grainy with lots of seeds that can change the texture. So wheat sandwich bread is best if you won't be using white bread.
Now you know a lot about this apple brown betty recipe let's make it.
How to Make Apple Brown Betty
I've made a quick video so you can see just how easy this apple recipe is to make. But if watching a video isn't for you, keep on scrolling down for the printable recipe and written instruction. 
Step 1 Prepare the Apples
You'll want to slice your apples thinly. You can cut the apple in half, then core and slice. I like to use a melon baller to remove the core. It's quick and easy to do. See how it's done in the recipe video above. 
You can peel the apples or leave the skin on. I remove the skin because on some apples it can be thick and chewy. But if you love the skin or you have thin skinned apples, leave it on. 
If you are concerned about your apples going brown while preparing the rest. You can place them in a solution of 4 cups of water and 1 tablespoon of salt.
That's how I keep the apples I prepare for freezing from turning brown in the freezer and it works here too.
Step 2 Preparing the Bread
You'll want to take your bread slices and tear or cut them into small pieces. The smaller the pieces the more bread pudding-like the brown betty will be. 
If you have picky eaters who complain about soggy bread, like I do, keep the bread pieces bigger in cubes.
Once you have your apples sliced and bread torn or cubed. It's time to assemble.
Step 3 Assembling the Apple Brown Betty Recipe
Place the bread pieces into a bowl and melt the butter. Toss well to coat the bread pieces.
In a casserole dish with a lid, add half the apples. If they've been soaking drain and rinse a little first.
Then sprinkle with 3 tablespoons of the brown sugar and then half of the bread crumbs.
Mix the spices together and sprinkle half on top of the bread crumbs.
Continue layering with the rest of the apples. Then add 3 tablespoons of brown sugar. Finally add the rest of the bread crumbs and sprinkle with the rest of the spice mix.
Then follow up by sprinkling the rest of the brown sugar another 3 tablespoons.
Cover and bake. But during the last 5 minutes of baking uncover so the top can brown.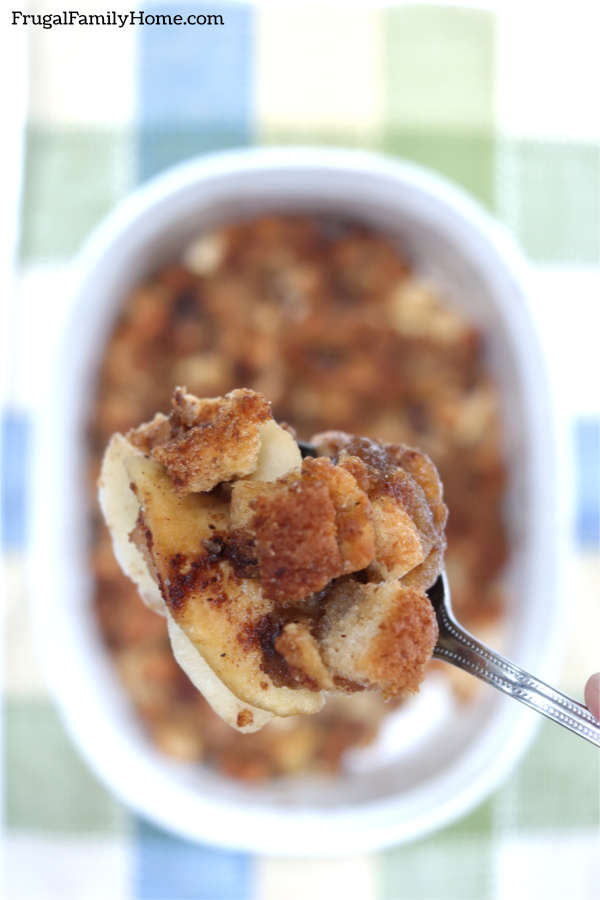 That's how easy it is to make apple brown betty, even for the non baker.
Get the printable recipe…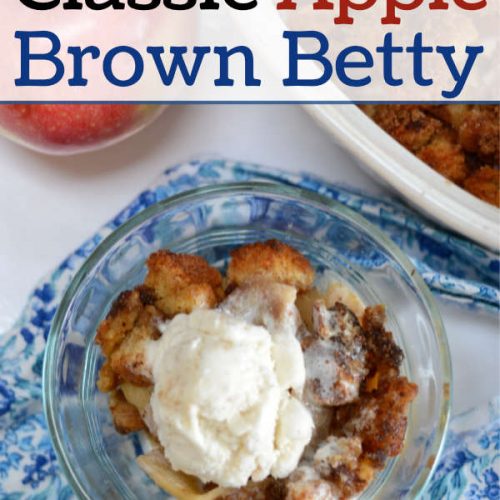 Apple Brown Betty
This is a simple and easy apple brown betty dessert that even a non baker can make. If you can cut fruit and bread, you can make this yummy comfort food dessert.
Ingredients
4

Apples

cored, peeled and sliced thinly

7

slices

of Sandwich Bread

White or Wheat, Cubed or Torn into Small Pieces

3/4

cup

Brown Sugar

1/2

teaspoon

Cinnamon

1/4

teaspoon

Ground Ginger

1/2

teaspoon

Ground Nutmeg

5

tablespoons

of melted Butter

Margarine, or Coconut Oil if you need to eat dairy free
Instructions
Preheat the oven to 375 degree.

In a small bowl mix the cinnamon, ginger, and nutmeg together, set aside.

In a medium sized bowl place the prepared bread and drizzle with the melted butter or other fat. Stir to coat the bread with the butter.

Spray a lidded casserole dish with cooking spray or butter it.

Add half of the apples to the bottom of the dish.

Sprinkle apples with 3 tablespoons of brown sugar.

Add half of the bread crumbs on top of apples and brown sugar. Then sprinkle with half of the spice mixture.

Add the rest of the apples on top.

Follow by 3 tablespoons more of brown sugar.

Then top with the rest of the bread crumbs.

Sprinkle with the rest of the spice mixture.

Finally sprinkle on the last of the brown sugar, another 3 tablespoons.

Cover and cook for 30-40 minutes. Uncover during the last 5 minutes of baking to brown the top.

Top with whipped cream or vanilla ice cream and serve warm.
Video
Notes
You can make this recipe dairy free by using melted coconut oil or dairy free margarine instead of the butter.
Nutrition
Calories:
236
kcal
Carbohydrates:
41.2
g
Protein:
2.2
g
Fat:
8.3
g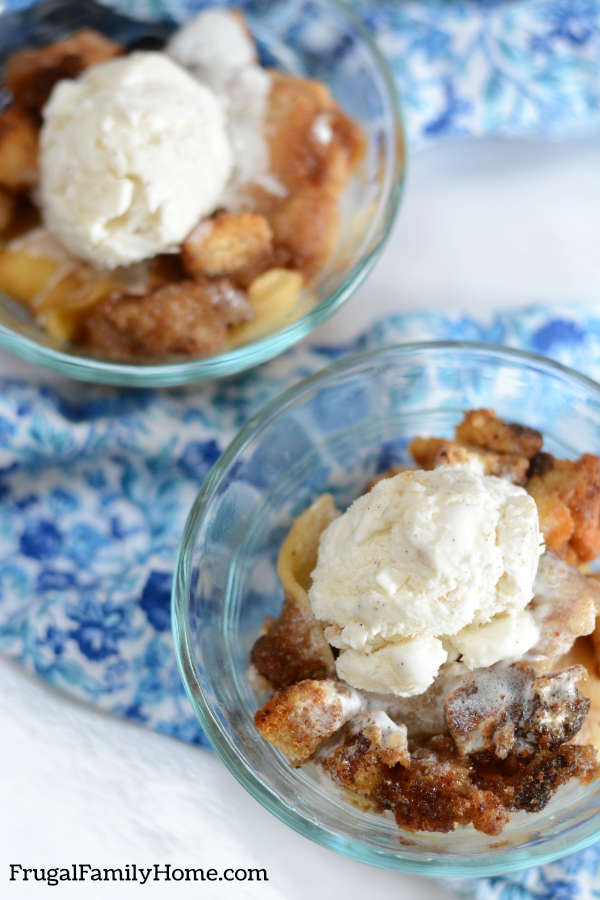 That's how easy it is to make this apple brown betty recipe. It's a simple layered fruit and bread dessert that tastes so good. It's one of our favorite fall apple desserts.
More Easy Apple Desserts to Try…
Simple Apple Pie with Video Tutorial
No Cook Apple Pie Filling for the Freezer
Pin this Recipe for Later…