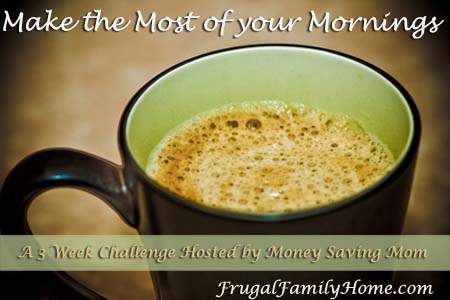 Photo Credit
Last night I was in bed on time. I was able to get all of my 5 tasks done before bed and I was glad I did all 5 tasks. If I hadn't we would have had frozen bread for breakfast. This routine has saved me a few times. I was up on time this morning, I dressed right away, and ate some eggs and yogurt for breakfast. So far I was off to a good start and I went right into finishing my new morning tasks. I spent a little too much time this morning on my e-mailing and blogging but other than that I stayed true to my tasks. I did get started about 10 minutes late on my exercise, but I did get my exercise in today! Here is what I am working on,
So far in this challenge the changes I am making
1. Bed by 10:30 each night
2. I have my top 5 things to do each evening
3. I have set a time to wake up at 6:30 and out of bed by 7:00
4. Each morning I will pray and name three things I am thankful for to help my day get off to a good start.
5. Have a plan for your day, I set up 5 goals to work on for the remainder of this year.
6. Make a Realistic To Do List, I am trying to keep mine to 5 tasks a day
7. Get some exercise in, I am committing to 10 minutes of exercise a day
8. Eat Something Nutritious
9. Stop telling yourself "I am not a morning person"
10. Get Dressed in Something that makes you Feel Good
11. Want to make a change? Replace a bad habit with a good one
12. Have a Morning Plan of Action
Today was a day to evaluate how things have been going for the last two weeks and change anything that doesn't seem to be working for me. Since I have been implementing these changes, I have found all the changes seem to be working fine for me. I will have to see how everything goes next week when we start back to doing our homeschooling full-time. I may need to make some changes at that time but for now I am sticking with my plan as is.
How is your morning routine working for you? Are you as productive as you want to be?
[signoff]
Other Posts in this Series
Make the Most of your Mornings Day 1 and 2
Make the Most of your Mornings Day 3
Make the Most of your Mornings Day 4
Make the Most of your Mornings, Day 5
Make the Most of Your Mornings Day 6
Make the Most of your Mornings Day 7
Make the Most of your Mornings Day 8
Make the Most of your Mornings Day 9
Make the Most of you Mornings Day 10
Make the Most of your Mornings Day 11
Make the Most of your Mornings Day 12