If you are looking to add a little of the flavors of fall to your meal plan, then these fall breakfast ideas will be perfect. There are easy breakfast recipes for busy mornings and healthy fall breakfast recipes too.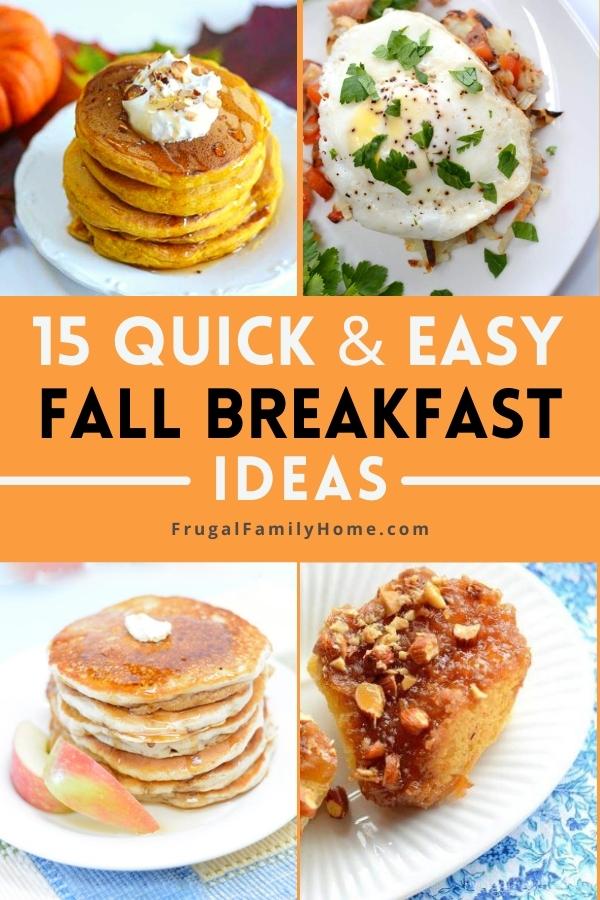 One of my favorite things about fall is a chilly fall morning.
It's almost too cold to want to crawl out of bed. But these recipes are a great way to pull your family from their warm covers to the breakfast table.
Breakfast comfort foods are great to make on a weekday morning to send your family off on their day with a great start after enjoying delicious fall flavors. 
And these fall breakfast ideas are so easy you can make them even on a weekday morning. But they are also great for a brunch with company. No one needs to know how easy they are to make.
All of them are great with sausage or bacon on the side. With fresh fruit or yogurt. And eggs anyway you like them to make a hearty and complete fall breakfast.
Are you ready for the recipes? Look through the list to find a new recipe to try.
15 Fall Breakfast Ideas for Fall Mornings
The recipes below are all tried-and-true recipe we love to eat. They are easy to make packed with the flavors of fall. Pick one for breakfast this week. I'm sure your family will love it.
So if you are wondering "what to eat for breakfast in the fall?" Here are 15 fall breakfast ideas for you.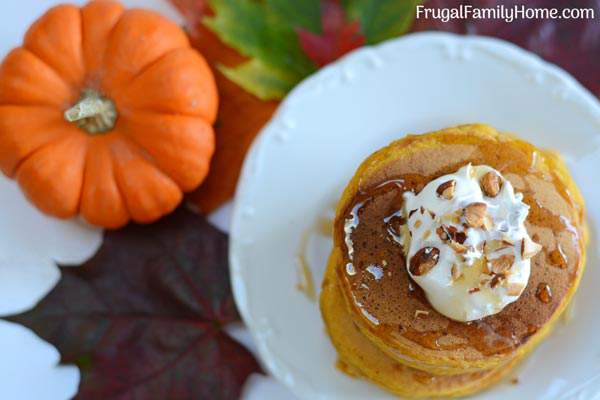 These pancake sure taste like fall with their pumpkin flavor from the pumpkin puree and pumpkin pie spice. They are simple and easy to make. They can be made dairy free with dairy free milk like almond milk. Add a fried egg and you have a complete breakfast.
Get the printable recipe for Fluffy Pumpkin Pancakes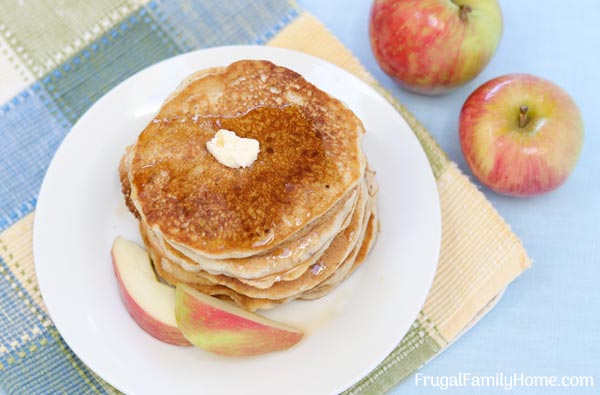 If pumpkin pancakes aren't for you, try this apple version instead. They have a delicious flavor and can be made dairy free or vegan. Try these if you love apples.
Get the printable recipe for Apple Pie Pancakes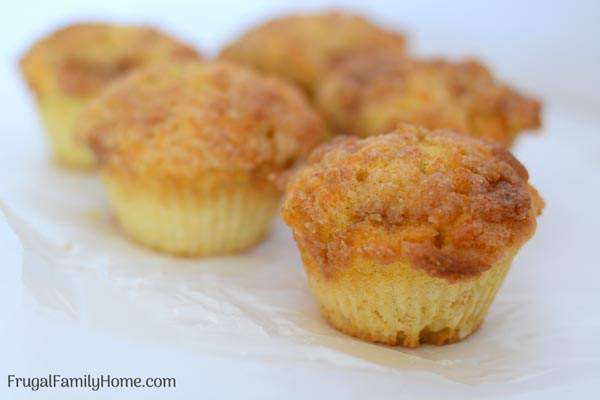 These little gems are easy to make. They bake up in about 20 minutes and are moist and airy. With the perfect flavors of fall in each mouthful.
But if you want a little fancier muffin, try this. When you are adding the batter to the muffin tins, you could fill them half the way, add a little dollop of cream cheese to the center and finish filling them to make pumpkin cheesecake muffin.
Get the printable recipe for Easy Pumpkin Muffins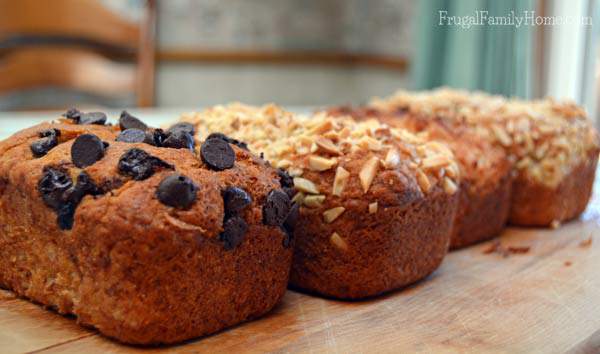 I love making quick breads and have them ready to go for breakfast. And this recipe is my great grandma's recipe for banana bread. No butter or milk needed, so it's dairy free.
Get the printable recipe for Grandma's Banana Bread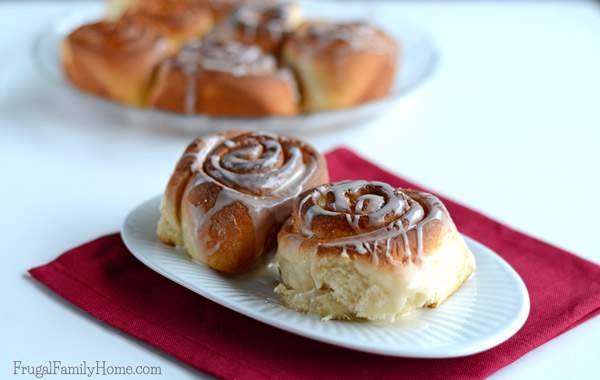 5. Cinnamon Rolls (two to choose from)
I have two recipes for you for cinnamon rolls, depending on how much time you have to make them. The first is a traditional recipe for cinnamon rolls that you mix, knead, and rise the dough. Don't let that scare you, they are so good. In fact, I had a friend tell me they like these cinnamon rolls over Cinnabons.
The second recipe for cinnamon rolls can be ready in 30 minutes. Yes, just 30 minutes from bowl to belly. Really, they can be made that fast. They are made without yeast, so they are more like a scone consistency but so fast to make and delicious too.
 Get the printable recipe for Yeast Cinnamon Rolls or 30 minute Cinnamon Rolls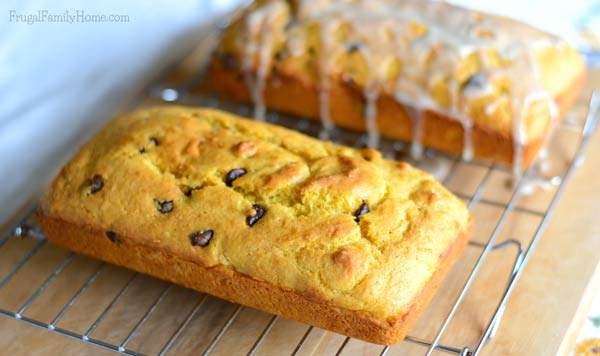 This is great for breakfast or brunch but also for a dessert too. This pumpkin bread has chocolate chips added, but you can leave them out. And it's drizzled with a delicious maple glaze.
Get the printable recipe for Maple Glazed Chocolate Chip Pumpkin Bread
These cute little muffins are loaded with apples and then a sweet nut crumble topping is placed on top. Making for a little sweet crunch as you bite into them. These are great for breakfast with eggs and bacon, but also a great snack or dessert to pack in the kids' lunch.
Get the printable recipe for Mini Apple Muffins with Nut Topping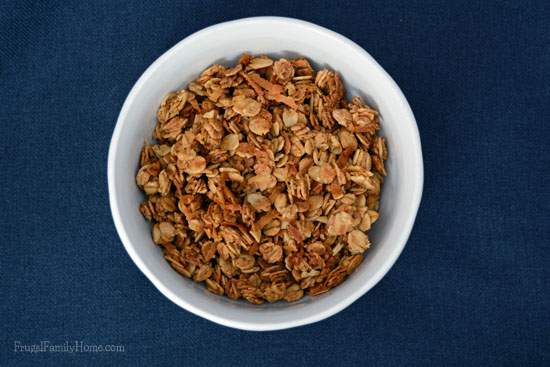 One of my favorite things about making homemade granola is saving money, because store bought granola is expensive. The other thing is smelling it baking on a cold fall day in the oven. It smells so good and makes the entire house feel homey too.
And having it waiting and ready to go makes for a quick breakfast too. Just add a little fresh fruit and milk, then serve. It sure beats throwing granola bars at the kids as they leave for school.
Get the printable recipe for Homemade Granola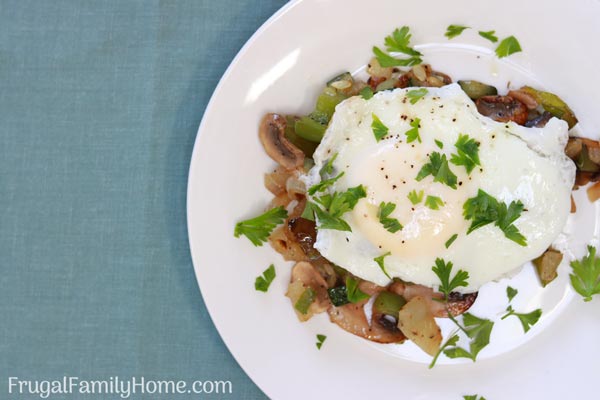 If you still have zucchini hanging around from the garden and you can't eat another slice of zucchini bread, then this recipe is for you. Transform those lingering zucchini into a delicious breakfast hash. It's one of my favorite healthy breakfast ideas. It's like an egg skillet loaded with veggies. And it's good too!
Get the printable recipe for Zucchini Hash
This is a hearty breakfast idea that starts with sweet potatoes, adds, bacon, spinach and eggs. So yummy and gluten-free, dairy free, and paleo friendly. If you are looking for a breakfast to keep you full until lunch, this one will.
Get the printable recipe for Sweet Potato Breakfast Stacks
11. Traditional French Toast
Take day old bread, dip it in whipped eggs and cook on a griddle or in a frying pan. Serve with sweet maple syrup and sausage on the side. Or for a healthy fall breakfast ideas, try topping with pumpkin pie Greek yogurt instead.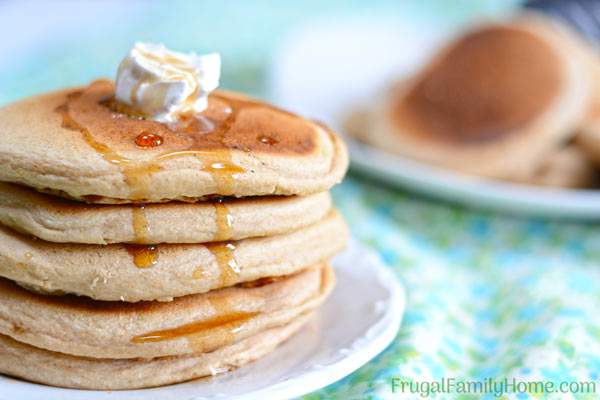 Now this basic pancake recipe is made with whole wheat to have extra fiber. And you can dress them up for fall by adding a sprinkle of cinnamon and nutmeg. Add a few candied pecans and you have a delicious healthy pancake for fall.
Get the printable recipe for Whole Wheat Pancakes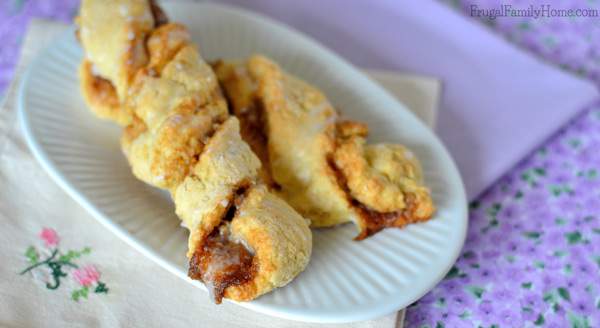 These cinnamon twist scones are easy to make, because don't we all love easy recipes?! But they are so good. Use brown sugar in them. It will caramelize a bit while baking to add a little sweet crunch.
Get the printable recipe for Cinnamon Twist Scones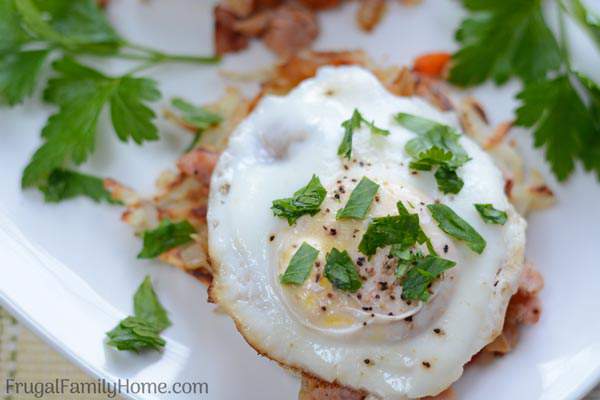 We love taco haystacks for dinner so I thought why not make a breakfast haystack. This one has lean ham with vegetables to make it healthy. Then the hash is topped with a fried egg. To make a complete hearty breakfast for those cold fall mornings.
Get the printable recipe for Breakfast Haystacks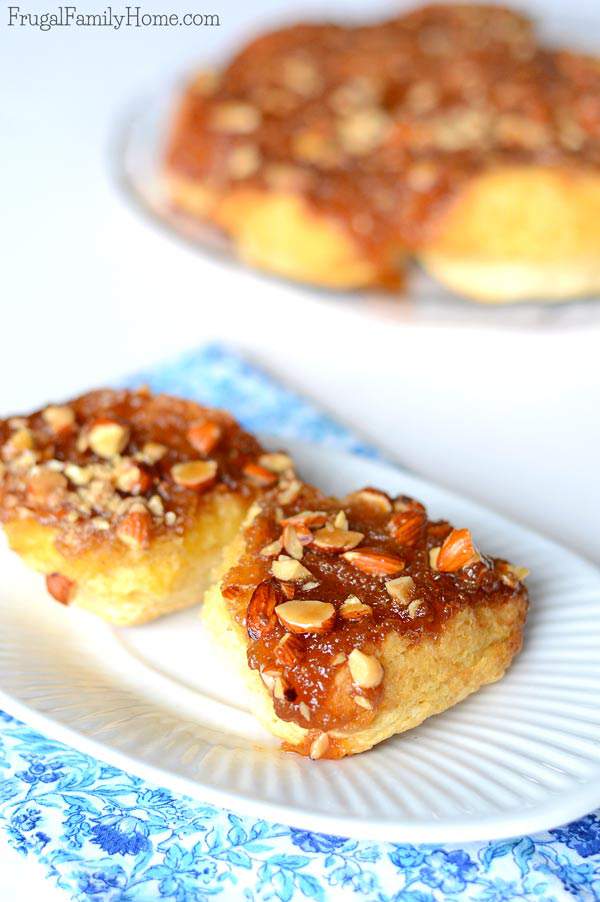 Oh, these sticky buns are so easy but so good, your family will make them disappear. It starts with an easy biscuit recipes then you place them in a layer of melted butter and brown sugar with chopped nuts. Bake them and, when they are done, flip them over onto a place to reveal sticky sweet buns dripping in caramel.
Get the printable recipe for Sweet Sticky Buns
Those are some of the best fall breakfast recipes to make for your family. I'd love to know which one you'd like to try first. Leave me a comment below to let me know.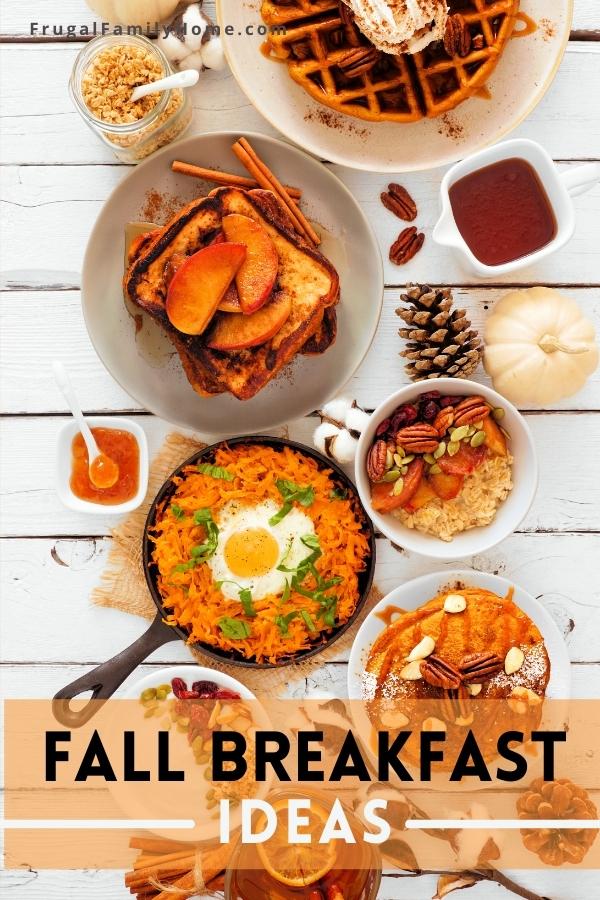 And if you want new delicious breakfast recipes and other recipes sent to your inbox, each week, sign up and new recipes will magically land in your inbox.