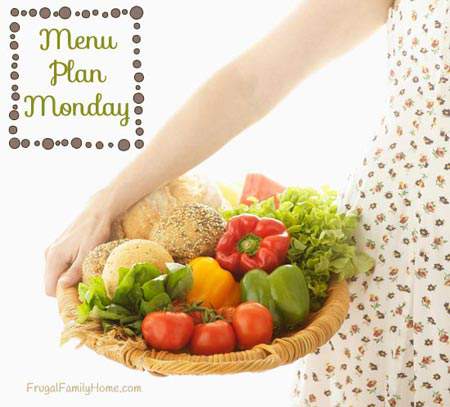 This week I will be picking up 40 pounds of chicken from Zaycon Foods. I'm splitting it with a friend so I will  have 20 pound of chicken to get ready for the freezer. Then we should be set for a while for chicken.
I love it when I can take a few hours and get a bunch of meals ready for the freezer. Makes getting dinner on the table just a little easier.
This week's menu was made up of requests from my family. My husband loves omelets for dinner, my son picked the hamburgers and fries. I think he could live on those two items if I would let him. 🙂 Here's our menu for this week.
Our Menu Plan
Dinners
Chicken Pot Pie Soup with Fruit
BBQ Meatballs, Mashed Potatoes and Green Beans
Grilled Chicken, Rice and Vegetables
Omelets, Hashbrowns and Toast
Burritos, Salad, Chips and Salsa
Chicken Stir Fry with Rice
Hamburgers with Baked Fries
Lunches
Leftovers most days
Snack Type Lunch, crackers, lunchmeat, fruit and vegetables
Sandwiches, Chips and Fruit
Breakfast
Toast and Eggs
Strawberry Chocolate Chip Muffins, Eggs and Sausage
Sausage Biscuit Breakfast Sandwiches with Fruit
What's cooking at your house this week?

If your new to menu planning check out my menu planning helps.
This post is linked up at Org Junkie