The hardest part of cooking dinner is what to cook each night. But this meal plan for a week, can help. It has dinner ideas, breakfast and lunch ideas too. So you'll know what to make for meals at least for a week.
Below find the recipes and the full meal plan with breakfast, lunch, dinner and a dessert idea too. All done for you.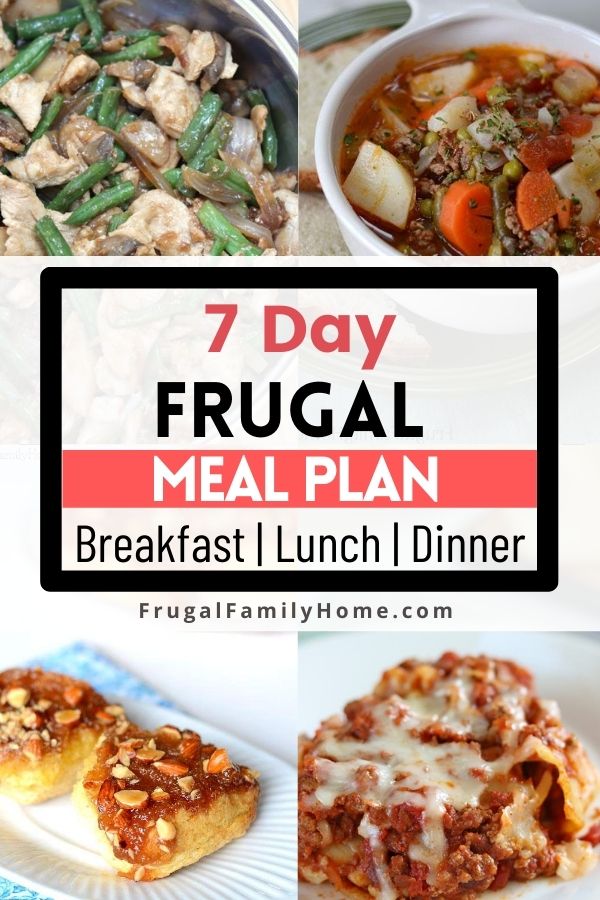 This meal plan for a week includes frugal easy recipes.
No elaborate recipes to follow, no weird, odd ingredients. Just an easy family friendly meal plan your family will love.
This weekly meal plan is designed to keep food waste down by using leftover items from one meal in another for the week. Because wasted food is wasted money.
If spending less on food is important, all the meal ideas are frugal meals. Most under $1 per serving for dinners and lunches. Breakfast recipes are about $.50 or less a serving.
With this plan, you can feed your family on about $3.00 a day per person. So you can eat well and save money.
The recipe links are included below to each of the meal ideas.
If you want the full plan with a grocery list and all the recipes in a printable form, find the link below.
7 Day Family Meal Plan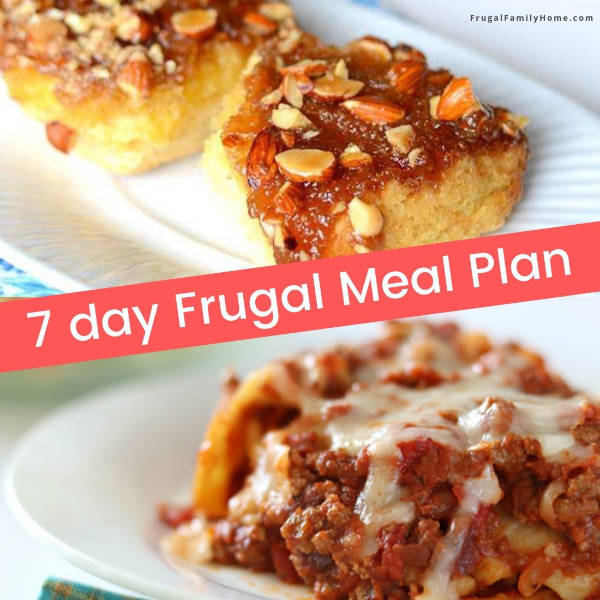 Day 1 Meals
Breakfast, Oatmeal
Oatmeal is a quick and easy breakfast for a busy morning. You can buy the oatmeal packages at the store relatively cheap. Or you can make them at home even cheaper. Here's the recipe we use for DIY Oatmeal Packets.
Lunch, Cheeseburger Biscuits
This recipe has the flavors of a cheeseburger rolled up into a muffin. They are easy to make with a baking mix. Best of all, you can make them ahead of time and freeze them. Which makes for an easy heat and eat lunch. Get the recipe for Cheeseburger Biscuits.
Dinner, Sausage and Vegetable Sheet Pan Dinner
Sheet pan dinners are so quick and easy to make, and this one is no exception. When the vegetables are roasted, they turn sweet and delicious. Your family will gobble them up. Get the recipe for the Sausage and Vegetable Sheet Pan Dinner.
Day 2 Meals
Breakfast, Whole Wheat Pancakes
These fluffy and light pancakes can be made without eggs and milk. You can use whole wheat flour or regular all purpose flour so you can use what you have on hand. This is our absolute favorite pancake recipe.
Lunch, Snack Lunch Also Known as DIY Lunchables
My kids call this lunch a snack lunch. But it's basically a homemade Lunchable. We use crackers, lunchmeat, veggie sticks and fruit for lunch on a snack lunch day. Here's how we make them.
Dinner, Twice Baked Taco Potatoes with Salad
This is what you'd get if you merged a baked potato with a taco. This simple meal is so good and freezer friendly, if you have any leftover that is. Give this recipe a try, your family will devour them.
Day 3 Meals
Breakfast, Toast and Eggs
Sometimes you just need a quick breakfast, and this is our go to quick meal. Make a piece or two of toast, cook eggs your favorite way, and you're all set. No recipe needed!
Lunch, Sandwiches and Fruit
Sandwiches are what we eat when we don't have leftovers from dinner or I need a quick lunch. They are also super easy to pack to go too. Everything from peanut butter and jelly to a creamy egg salad will work for this lunch. Make your favorite sandwich add a piece of fruit and lunch is done.
Dinner, Crock Pot Taco Soup and Fruit
Soup is always a filling and frugal meal. This unique version of taco soup is our favorite. With beans, ground beef and a delicious flavor of tacos in a soup. Sprinkle with cheese and chips and you have a yummy meal. Best of all, it's made in the crock pot so you can set it and forget about it until dinner. Get the recipe.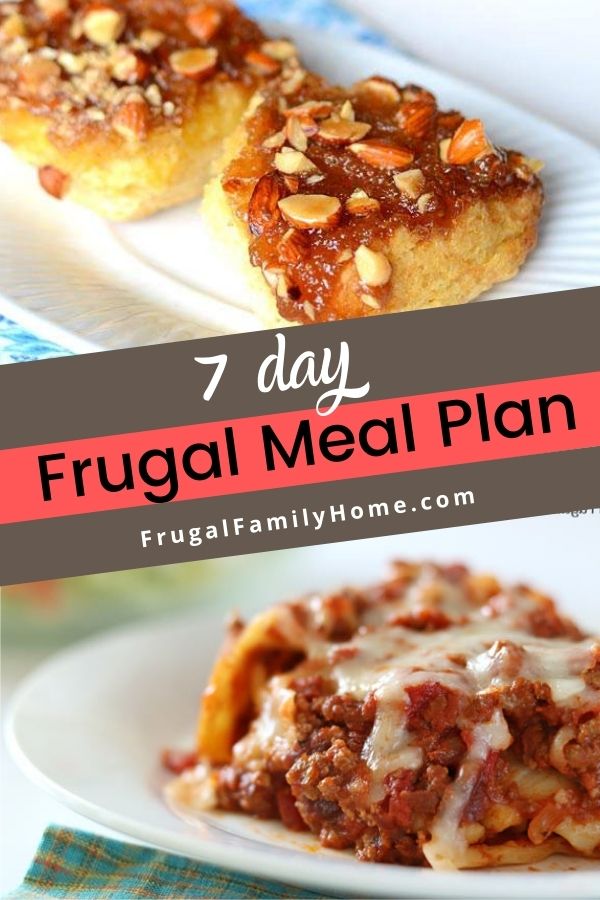 Day 4 Meals
Breakfast, Caramel Sticky Buns with Fruit
Are you craving something sweet for breakfast? If you are, then this recipe is for you. It's a quick bun recipe that is drizzled in caramel goodness. So easy to make too. Get the Caramel Sticky Buns recipe to try.
Lunch, Crispy Bean Burritos with Carrot Sticks and Fruit
Instead of a standard bean burrito make them yummy and crisp. These are simple to make. You can make them ahead for the freezer for an even quicker lunch. Your family will gobble them up. Want cheesy burritos? Add cheese before rolling them up. Get the recipe here.
Dinner, Crock Pot Lasagna, Salad, and Garlic Bread
If you love lasagna but don't have the time to assemble and bake it, make this easy crock pot version instead. This is another of my  family's favorite meals. They gobble it and I love that it's so easy to make too. Pair it with a side salad and garlic bread and you have a delicious meal that takes only minutes to make. Get the recipe for crock pot lasagna.
Day 5 Meals
Breakfast, Quick No Yeast Cinnamon Rolls with Fruit
Cinnamon rolls are possible for breakfast, even on a busy weekday. These yummy no yeast cinnamon rolls can go from bowl to belly in about 30 minutes. Yes, they are really that quick. Get this easy Cinnamon Roll recipe to try.
Lunch, Quick Skillet Chili, and Crackers
Make chili in the skillet? Why yes you can. It's a quick and easy chili recipe. Double the batch so you'll have leftover chili for tomorrow's lunch too. Find the recipe here.
Dinner, Slow Cooker Hamburger Dish
While this slow cooker dinner sounds simple, it is definitely delicious. Assemble in the morning and come home to a meal that is ready to go from cooker to plate in minutes. Get the full slow cooker recipe to try.
Day 6 Meals
Breakfast, Eggs and Homemade Hash Browns
Another simple breakfast idea for busy days. Cook eggs to your liking and make homemade hash browns to eat alongside of them. Here's how to easily make homemade hash browns from scratch. No more frozen hash browns for you with this recipe.  
Lunch, Chili Baked Potatoes with Fruit or Salad
Serve your leftover skillet chili on baked potatoes today for lunch. It's quick, easy, and filling too. Add either a salad or fruit to round out this quick lunch idea.
Dinner, Chicken Green Bean Stir Fry with Rice
Who says eating healthy has to be expensive. Stir-fry is a great way to eat healthy and stay on budget. If fresh green beans are not in season, use frozen green beans instead. This is a quick skillet dinner you'll love. Serve over crispy noodles or rice for a full meal. Get this healthy dinner recipe.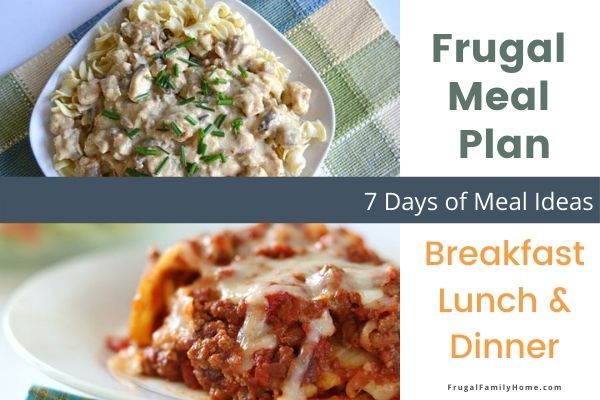 Day 7 Meals
Breakfast, Oat Groat Cereal
If you haven't heard of oat groats yet, you need to try them. Oat groats are the whole oat grain. Start these the night before and let them soak, then finish cooking in the morning. This healthy breakfast is hearty too. Finish with milk and fruit if you like. Here's the recipe for Oat Groats.
Lunch, Hamburger Soup with French Bread
This soup is vegetable packed and yummy. A great lunch idea on a rainy, cold day. Pair it with the other half of the French Bread you had with the crock pot lasagna so it doesn't go to waste. Get the recipe for hamburger soup.
Dinner, Chicken Mushroom Skillet over Noodles with Steamed Broccoli
And our last dinner of the week is an easy skillet meal with mushrooms, chicken and a creamy homemade sauce you'll love. You can serve it over eggs noodles or without. Find the recipe for this superb skillet dish here.
Dessert for the Week, Homemade Brownies
A meal plan wouldn't be complete without a dessert recipe to enjoy throughout the week. And who can resist brownies? This recipe is one my grandma and great aunt would make all the time. It has a fudge like middle and slightly crisp, flaky top. I think they are the perfect brownie. This sweet treat is a great way to end your meals. Get the brownie recipe.
Get the Meal Plan for a Week with the Grocery List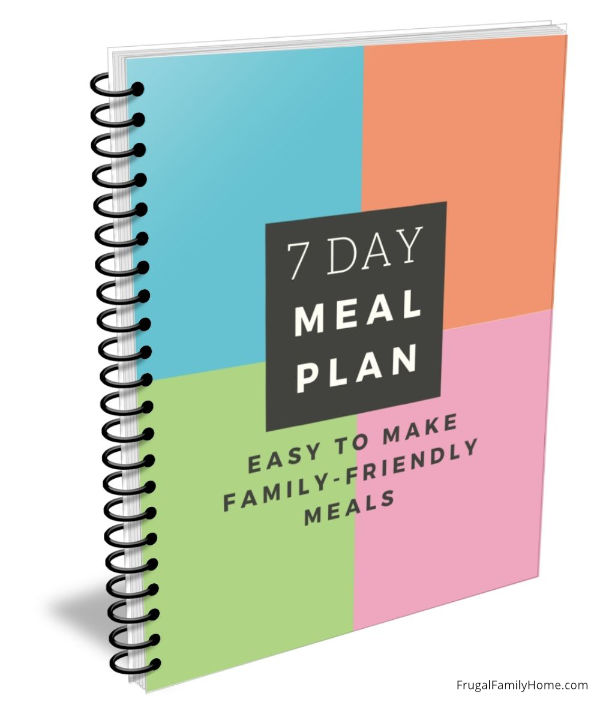 If this meal plan sounds perfect for your family, grab all the recipes and the grocery list in printable form. Use the button below!
If you love this meal plan and would like to learn how to build your own meal plans in minutes a week instead of hours, you'll want to learn about Meal Planning Simplified. It's a course on making meal plans that fit your family in just a few minutes a week. Find out more about Meal Planning Simplified.