Every night your family needs to eat dinner but making all those meals each week after a long day can be hard. Plus eating out can get way to expensive really fast when you are on a budget. But what if I told you I make dinner every night for my family and you can too, would you believe it doesn't have to be that hard at all? If you want to cook dinner for your family every night but it seems overwhelming to you, I have a few tips to show you how to cook dinner every night for your family.
How to Cook Dinner Every Night for Your Family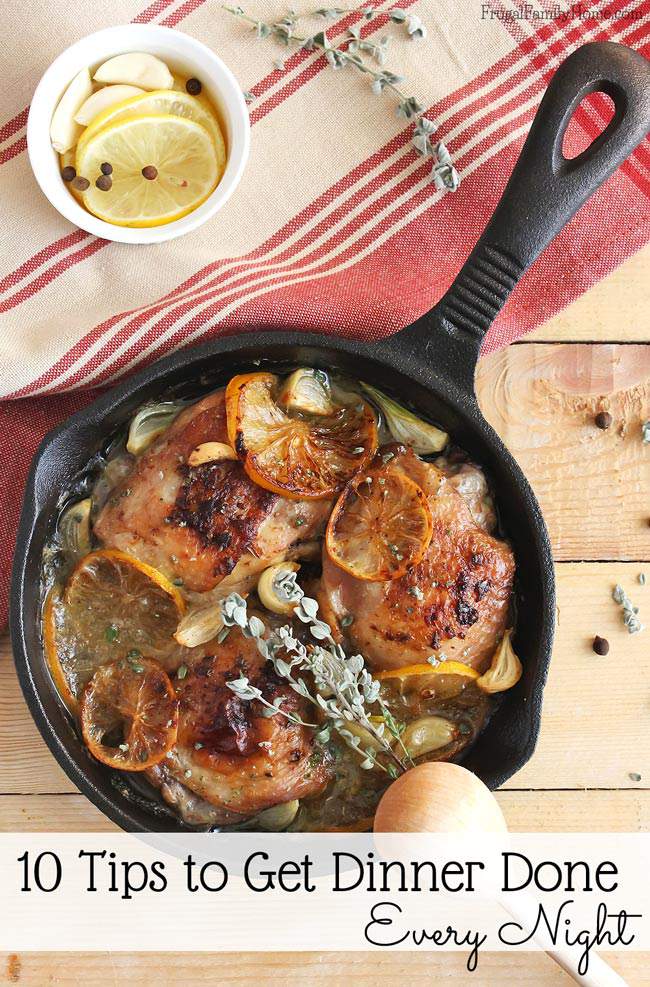 I wasn't always a cook dinner every night girl. We regularly used to eat out at least once to three times a week. I enjoyed eating out and having the night off of cooking. But I really didn't like the expense. Having to pay two  or three times as much for a meal out was hard for me. We were working to get out of debt and I really wanted to be home full time but our spending habits had to change for all that to happen.
There was going to have to be some give and take. Unfortunately, that meant that the take-out dinners had to be fewer and far between. Which meant one thing I was going to have to cook every night. At first, I dreaded it but once I discovered these secrets below the whole process became so much easier.
10 Tips to Help Get Dinner Done, Plus a Bonus Tip
Have a Plan
Cooking every night can be quite a chore if you don't have a plan. I like to make a plan for a whole month at one time, this way I'm only doing the chore of planning meals 12 times a year instead of 52 times. It does take a little longer but I love having the task done in one sitting. When you know what you are going to make you can get things ready when you have time earlier in the day or the night before. Want to get started menu planning? Here's how I menu plan, step 1 of monthly menu planning  and step 2 of monthly menu planning.
Prep Items on Down Times of Day
I like to do all of my cutting and prepping right after lunch. I have the lunch dishes to clean up and the kids usually have something else they can do right after lunch so it's the perfect time to prep for dinner. I like to get as much done as I can. If we are having stir fry for dinner, I'll cut all the vegetables and place them into containers. I'll take the stir fry meat pack out of the freezer to thaw. I'll measure out the water for the rice and have the rice measured too. Then when it's time to get dinner going it's just a matter of combining and cooking.
Batch Cook
When cooking your sides for dinner be sure to cook enough for the whole week. I try to keep my sides similar if I can. If we will be having rice, baked potatoes, or mashed potatoes as sides for a few dishes that week, the first night I'll make enough for the whole week. Then when I need that side dish again, all I have to do is heat it up.
I also do this for salad. I will wash enough lettuce for the whole week and place it in a bag in the refrigerator. Be sure to spin it dry and add a paper towel to absorb any extra moisture. I'll also cut up any other vegetables that are needed for the salad and store them separately. Then when I need a salad I only have to chop the lettuce and add the prepared vegetables to the top.
Use Your Slow Cooker
On busy days, I love to use my slow cooker. I love that I'm able to fix it in the morning and then forget all about dinner until it's ready to serve. It makes getting dinner on the table so much easier. A few of our favorite slow cooker dishes are Ham and Cheesy Potatoes, Easy Slow Cooker Hamburger Dish, Beef and Bean Enchiladas, and Slow Cooker Garlic Pork Roast.
Make Simple Meals
When you are cooking each and every night, be sure to plan some really simple meals. Simple meals are meals you can make easily and quickly. Things that don't take much effort like hamburgers and baked fries, or pan fried pork chops and mashed potatoes.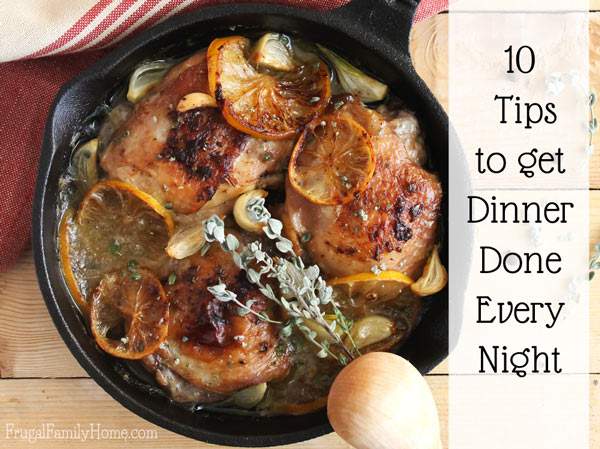 Make Skillet Meals
Skillet dishes are great for the summer when it hot and you don't want to heat up the house, but they are also great for those nights you just don't feel like cooking. A few of our favorite skillet dishes are skillet pizza pockets, hamburger skillet dish, and ground beef lettuce wraps.
Make a One Pot Meal
One pot meals as so nice to make. You just place everything in the pot or roasting pan and let it cook in the oven. Making a roast or a whole chicken are great one pot meals. You might want to try this recipe for Coconut Lime Chicken it's a great one pot meal for those times when you find whole chicken on sale. Plus if you have leftovers you can use them for another meal.
Transform Leftovers into a New Meal
Whenever you have leftovers from the night before, use them for the next night's dinner. When I just have a little of leftover meat and vegetables, I like to make a crustless quiche. Soups are also another way to transform leftovers into something new. This soup turned out delicious when I used our leftover steak, potatoes, veggies, and a little cheese sauce.
Have Breakfast for Dinner
My family loves breakfast for dinner and I love that it is so very easy to make. I'll often make pancakes, waffles, or omelets for dinner. It never takes me more than 30 minutes to make and it's a nice change from our usual dinners. I'll often switch to a breakfast for dinner meal when I've had a hard day and just don't feel like cooking.
Prep Meat for the Freezer
Like I talked about earlier, I not only prep my vegetables ahead of time but I also make meat packs for the freezer. I often purchase our meat in bulk either through Zaycon Fresh or when I find a great sale at the store. Because I hate handling raw meat, I make sure to prep the meat for the freezer ready to go into my meals.
Sometimes that is just cutting the meat into a dice or slice for recipes. For other meat packs, I'll actually cook the chicken ahead of time and freeze it. Or I'll place the prepared meat into a zipper freezer bag and add a marinade. Then after it's thawed it's ready to cook in the oven, in the slow cooker, or on the grill. Making for a quick dinner. If you want to get started with freezer meat pack cooking check out my chicken freezer plan and my pork loin freezer plan.
Bonus Tip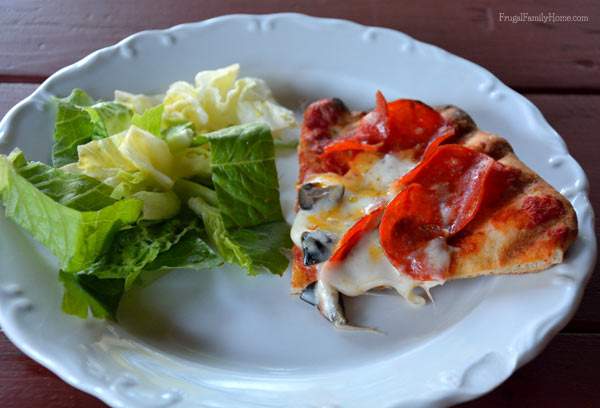 Make pizza once a week. My family loves pizza and I find I can make 3 pizza in just about 30-45 minutes even with making the dough. Here's how I do it. I prep the ingredients for the pizza right after lunch. I'll shred the cheese, chop any veggies for our pizza and make the pizza sauce. I also make a salad as a side for our pizza.
Then half an hour before we want to eat, I'll start the oven while I make the dough. You can find my pizza dough recipe here and since it doesn't need to rise it's quick and easy to make. Once the dough is made I'll divide it into three pieces and start rolling out the pizza. Since I have all the toppings ready to go the kids will top the pizza dough after I get it rolled out. One pizza goes into the oven while we work on the next and about a half hour later all three pizzas are done and we are ready to eat.
Those are my 10 tips for how to cook dinner every night for your family, plus my bonus tip. If you cook every night for your family what else could you add to my list? If you don't cook every night but want to start doing just that what tip do you think will help you the most?
[signoff]
If you love to find easy and simple recipe to make for your weeknight meals, be sure to follow me on Pinterest. I'm alway adding new and easy recipes to my frugal foodies and dinner recipes board. I would love to have you follow along.
How to Make Cooking From Scratch More Manageable,