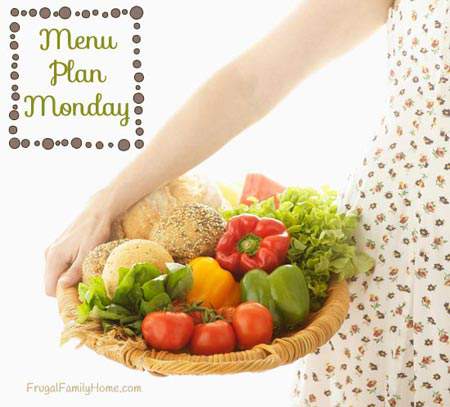 I hope your week is starting out good.  This week should be just an average week for us. I love those boring normal weeks, don't you?
I'm trying to create a new recipe this week, if it works out I will be sure to share it with all of you.  I also have some of our favorites this week too. I would like to say I will be making some of the twice baked taco potatoes for the freezer but we never have enough left over for that. Maybe this week will be the week some actually make it to the freezer. 🙂
Our Menu,
Dinners
Twice Baked Taco Potatoes, Salad and Fruit
Salmon Patties, Rice, Vegetables and Homemade Tartar Sauce
Soy Balsamic Pork Chops, Mashed Potatoes and Salad
London Broil, Baked Potatoes and Salad
Leftover Soup, Rolls and Fruit
Pineapple Chicken, Rice and Broccoli
Stromboli and Salad
Lunches
Leftovers most days
Corn Dogs, Chips and Fruit
Homemade Mac and Cheese, Vegetable Sticks and Fruit
Breakfast
Caramel Sticky Buns, Eggs and Sauage
Toast with Eggs
Waffles with Sausage and Eggs
What's on your menu plan for this week?

This post is linked up at Org Junkie